A new study, published in JAMA Psychiatry, investigates the effect of a problem-solving education intervention, delivered through the community-based agency Head Start, on preventing depression in low-income mothers. The results of the randomized clinical trial suggest that a short-term, cognitive behavioral program may help prevent an increase in depressive symptoms for mothers with lower-level baseline depressive symptoms.
"The efficacy of problem-solving education demonstrates the promise of embedding maternal depression prevention programs in Head Start," write the researchers, led by Michael Silverstein, a professor at the Boston University School of Medicine and doctor at Boston Medical Center.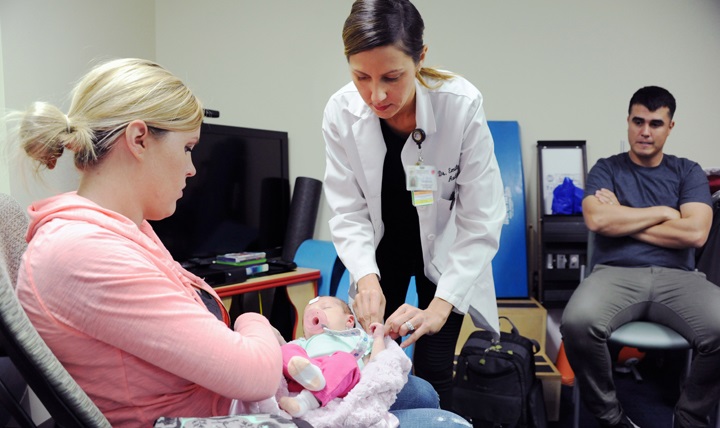 Low-income and minority mothers experience maternal depression at disproportionately high rates. Recent research also suggests that transitioning into poverty may worsen mental health for mothers. In 2009, the Institute of Medicine called for community-based initiatives to treat parental depression in order to improve parents' access to services. The researchers identified the federal program Head Start as a possible venue since it serves about 1 million low-income families a year.
They write, "Because of disparities in access to mental health services for low-income and minority populations, embedding effective mental illness prevention strategies in accessible community- based venues such as Head Start is a potentially important public health strategy."
The authors sought to test the effectiveness of a 6-session cognitive behavioral program called Problem-Solving Education (PSE) for low-income mothers at risk of developing a major depressive episode. From 2011 to 2016, the authors conducted a randomized clinical trial at 6 Head Start centers in Boston, MA. They recruited 230 at risk mothers who were randomly assigned to PSE or usual Head Start services.
Mothers were considered "at risk" of a major depressive episode if they reported experiencing depressed mood or anhedonia, or had a history of depression. The authors report that this is the first study to "embed a lay-delivered intervention in a community-based agency charged with addressing the needs of low-income families."
The average age of mothers was 31.4 years and 66% of participants were Hispanic. Forty-two percent of participants had a history of a major depressive episode. The intervention did not have an effect on problem-solving skills. However, improvement in problem-solving did not appear necessary to prevent increases in depressive symptoms.
The researchers found that for participants with mild depressive symptoms, the PSE intervention significantly prevented an increase in depressive symptoms. The adjusted incident rate ratio was 0.39, meaning for every 100 people in the control group who have an increase in depressive symptoms, only 39 people in the PSE group would experience symptom increases.
PSE did not have an effect on participants with moderate to severe depressive symptoms. PSE also did not have a significant effect on preventing the development of a major depressive episode within the 12 month follow up period. The researchers report, "The PSE intervention substantially reduced the rate of symptomatic person-time during a full calendar year, particularly for those with low symptom burdens at baseline."
This study adds to the evidence that short-term psychosocial treatments (e.g., Interpersonal Therapy) may help prevent depression in mothers. The authors note that the intervention was not effective for mothers with more severe symptoms and suggest that "as a stand-alone intervention, PSE may not be intense enough to break through clinically significant symptoms to produce its effect."
The researchers highlight that participants in depression prevention research "have rarely represented the US demographic groups with the poorest access to conventional treatment services." They call for more research on the effectiveness of prevention programs in community-based settings in order to develop "meaningful public health programs" to support low-income and minority mothers.
****
Silverstein, M., Diaz-Linhart, Y., Cabral, H., Beardslee, W., Hegel, M., Haile, W., … & Feinberg, E. (2017). Efficacy of a maternal depression prevention strategy in Head Start: A randomized clinical trial. JAMA Psychiatry. Advance online publication. doi:10.1001/jamapsychiatry.2017.1001 (Abstract)