A recent multinational study, led by researcher Hannah Jongsma, found that the treated incidence of psychosis is higher among racial/ethnic minorities, men, younger people, and in areas with lower levels of owner-occupied housing. This study highlights the pronounced variation of experiences of "schizophrenia" across the globe.
"The incidence of psychotic disorders varied by person and place, indicating that both individual and catchment area–level risk factors are important in predicting incidence."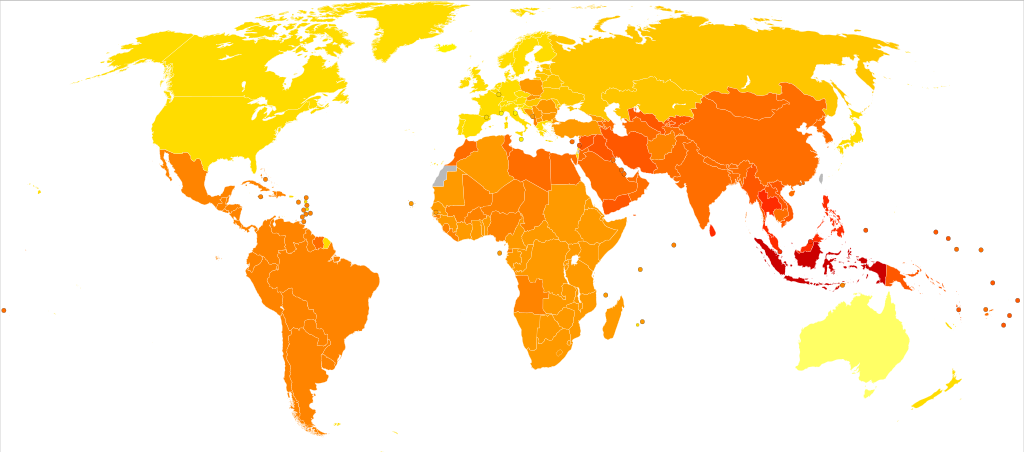 Previous research detailing the incidence of "psychosis" globally, has been assumed that the experiences referred to as "psychosis" are similar across contexts. However, subsequent studies, conducted in the U.S. and Europe, have documented considerable differences across experiences that coincide with factors such as age, race and ethnicity, neighborhood, and other environmental attributes. In these studies, men, younger adults, individuals from racial or ethnic minority groups, and people born and raised in urban settings were found to be more likely to experience symptoms associated with psychosis.
Apart from the one international study conducted by the World Health Organization, researchers have not investigated the incidence of "psychosis" world-wide, nor has it been explored in relation to these contextual factors.
In this study, the incidence of "psychosis," as defined by the ICD-10 diagnostic criteria, was examined across multiple countries to investigate genetic and environmental determinants. More specifically, how age, sex, racial/ethnic minority status, latitude, population density, unemployment, and whether owner-occupied housing or single-personal household environments related to the incidence of "psychosis."
Jongsma and researchers collaborated with centers in England (n = 2), France (n = 3), the Netherlands (n = 2), Italy (n = 3), Spain (n = 6), and Brazil (n = 1). Participants included 2,774 individuals (F =1196, M =1578; median age = 30.5 years) identified as experiencing their first episode of "psychosis." The study was conducted between May 1, 2010 and April 1, 2015.
A total of 2,183 (78.7%) individuals were identified as having a nonaffective "psychotic disorder." These results demonstrated an 8-fold variation in incidences of all "psychotic disorders," ranging from 6 per 100,000 person-years in Santiago, Spain, to 46.1 per 100,000 person-years in Paris, France. This 8-fold variation was calculated with standardization for age, sex, and racial/ethnic minority category.
Rates were highest among racial and ethnic minority groups and men, specifically 18 to 24 years of age. Incidences of "psychosis" were lower in areas with more owner-occupied homes. For individuals identified as having nonaffective "psychotic disorder," rates were similar, and for people identified with affective "psychosis," lower rates were associated with high area-level unemployment, an unexpected finding.
The results of this study also identified a higher risk of "psychosis" for women older than 45 years-old. The authors additionally noted that this study's findings "add further evidence to the observation that early intervention services with an upper age limit of 35 years (or lower) may lead to sex-related mental health inequalities: only 50.8% of women (605 of 1190) with psychosis were identified before 35 years of age in our settings, compared with 67.9% of men (1070 of 1577)."
"This study confirmed marked heterogeneity in risk for psychotic disorders by person and place, including higher rates in younger men, racial/ethnic minorities, and areas characterized by a lower percentage of owner-occupied houses," report the authors.
The researchers discuss how first episode psychosis (FEP) also varied according to environmental factors:
"Incidence of FEP varied not only by person, but importantly, by place, suggesting that the social environment may shape incidence patterns of FEP."
****
Jongsma, H. E., Gayer-Anderson, C., Lasalvia, A., Quattrone, D., Mulè, A., Szöke, A., … & Berardi, D. (2017). Treated incidence of psychotic disorders in the multinational EU-GEI study. JAMA Psychiatry. (Link)