A new study, published in the Journal of Clinical Psychiatry, examines the interplay between discrimination and symptoms of anxiety and depression for transgender and gender diverse (TGD) individuals. The authors, led by clinical psychologist Jae Puckett from Michigan State University, also investigated the ways various coping mechanisms may diminish or prolong symptoms of anxiety and depression. Their results point to strategies for offering supports that reinforce adaptive coping strategies and demonstrate an urgent need for decreasing experiences of discrimination.
The results show a high percentage of the TGD population experiencing discrimination over the last year. Additionally, they found the higher levels of discrimination experienced, the higher the likelihood of symptoms of anxiety and depression. Regarding the types of coping mechanisms, the authors found that anxiety and depression were significantly positively associated with detachment/withdrawal-oriented coping responses (i.e., internalization and drug/alcohol use), as opposed to approach-oriented ways of coping (i.e., education and advocacy).
"We found that there were more anxiety and depression symptoms for participants who encountered higher levels of discrimination, which was partially explained by detaching and internalizing blame," they write.

"These results likely speak to the toll of adverse, discriminatory experiences as they accumulate. As discrimination increases, it may become more difficult to respond with educating others and engaging in advocacy work, possibly because the individual's resources diminish via the increased burden of discrimination."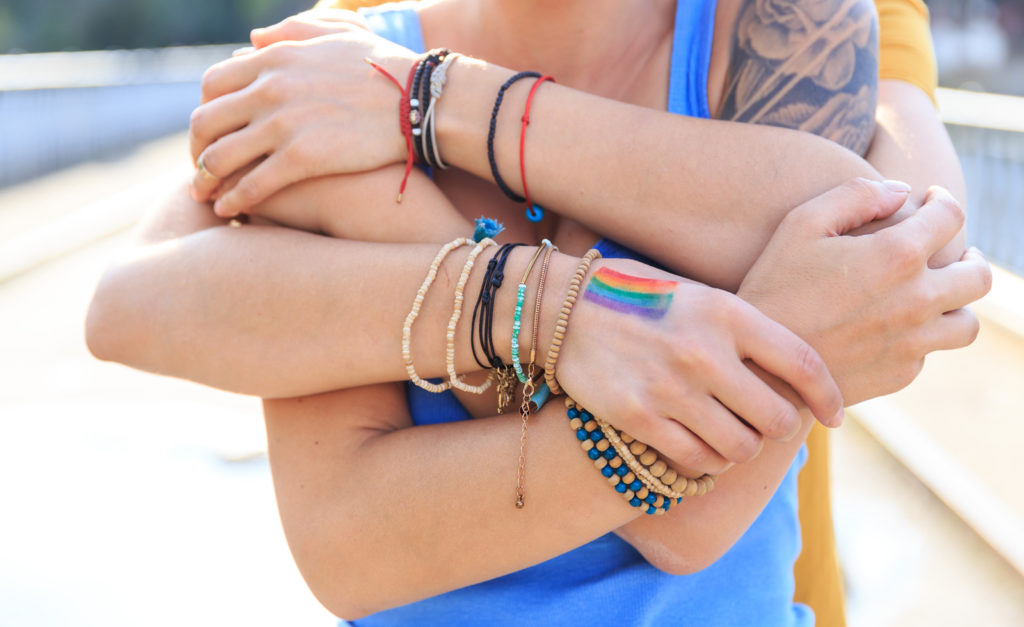 Transgender and gender diverse people include "people whose gender identity differs from that typically associated with their sex assigned at birth." Research has shown that this population is vulnerable to mental health disparities driven mainly by exposure to life stressors, such as minority stress. Minority stress is described as stress particularly experienced by minority groups that go "above and beyond the general stressors that all people may encounter" and occurs across settings, such as employment, housing, and public accommodations, among others.
Since the existing research shows that exposure to life stressors can contribute to symptoms of anxiety and depression for minority groups, in this article, Puckett and colleagues aim to understand better TGD people's lived experiences. They elaborate that their intentions "will facilitate better conceptualization of psychological distress for TGD people and the development of more effective methods of alleviating distress."
They begin by evaluating the most common forms of discrimination and account for the potential influence of demographic features, such as gender, race/ethnicity, socioeconomic status. Next, they conduct multiple mediation analyses to identify ways coping plays out in the face of discrimination and psychological distress. These coping responses are then assessed as either buffering or exacerbating the effects of discrimination.
The study includes 695 participants, with about half identifying as either transgender men or transgender women, and the other half identifying as genderqueer, non-binary, and other identifiers. Most participants were white with low income, limiting the ability to understand the intersectionality of race and income and preventing generalizability of the results for people of color who identify as gender minorities.
Puckett et al. examined medical and mental health treatment, access to public restrooms, identity documentation, housing, and employment as an index of exposure to various types of discrimination. They issued a 20-item version of the Coping with Discrimination Scale to measure ways of coping amidst discrimination. Lastly, the incorporated scales to register depression and anxiety symptoms, including the short form of the Patient-Reported Outcomes Measurement Information Systems (PROMIS)-Depression scale and the short form of the PROMIS-Anxiety scale.
A total of 76.1% of the participants were found to have experienced discrimination in the last year. Those experiencing greater discrimination were associated with more symptoms of depression and anxiety. Regarding coping mechanisms, they found that "overall, participants reported using education and advocacy the most to cope, followed by internalization, detachment, resistance, and drug and alcohol use."
Of these forms of coping, symptoms of depression and anxiety were positively associated with coping via detachment, via drug and alcohol use, and via internalization, while there was no significant association between depression or anxiety and coping via education/advocacy and via resistance. To facilitate more effective coping, the researchers encourage more research on how these associations form and evolve.
The article offers clinical implications, naming that "although an immediate change in the sociopolitical context may be outside an individual's control, modifying, and changing one's responses to such stressors may be an empowering way of managing oppression."
They suggest the results can inform mental health professionals to take a position of validating a TGD person's experiences of discrimination and subsequent symptoms of anxiety, worry, and fear, instead of interpreting their responses as catastrophic thinking or other pathological explanations.
They write, "therapists may then be able to help TGD people relate to their symptoms in more empowering ways that assist them in living their lives authentically and fully."
Puckett, Maroney, Wadsmorth, Mustanki, and Newcomb confirm their study supports previous research findings on the high levels of discrimination against TGD people. They conclude:
"Our results provide novel, empirical evidence for the insidious cycle experienced by gender minorities wherein TGD people are discriminated against, engage in attempts to cope via a range of strategies, and yet still have heightened levels of anxiety and depression."

"This should serve as a call for the development of targeted therapeutic interventions to help TGD people cope with on-going discrimination in ways that will be more sustainable and empowering, while also taking social actions to address discrimination that targets TGD people."
****
Puckett, J. E., Maroney, M. R., Wadsworth, L. P., Mustanski, B., & Newcomb, M. E. (2019). Coping with Discrimination: The insidious effects of gender minority stigma on depression and anxiety in transgender individuals. Journal of Clinical Psychology, 1– 19. https://doi.org/10.1002/jclp.22865 (Link)