A new study, published in Contemporary Drug Problems, explores how policing near a supervised consumption site (SCS) in Vancouver, Canada, affects access to the site and the lived experiences of people who use drugs. The author emphasizes the need to gain further understanding of the power dynamics between the police and community and SCS staff and clients and pushes for harm reduction approaches to policing.
The author, Benjamin Scher, of the University of Waterloo, highlights concerns associated with policing practices near harm reduction programs:
"In addition to having little to no effect in preventing the distribution and consumption of illicit drugs, policing practices such as heavy patrols around community centers and harm reduction providers have shown to increase the use of dangerous injecting practices, the prevalence of violence, the chance of fatal overdose as well as to further marginalize people who use drugs from health, housing and advocacy services."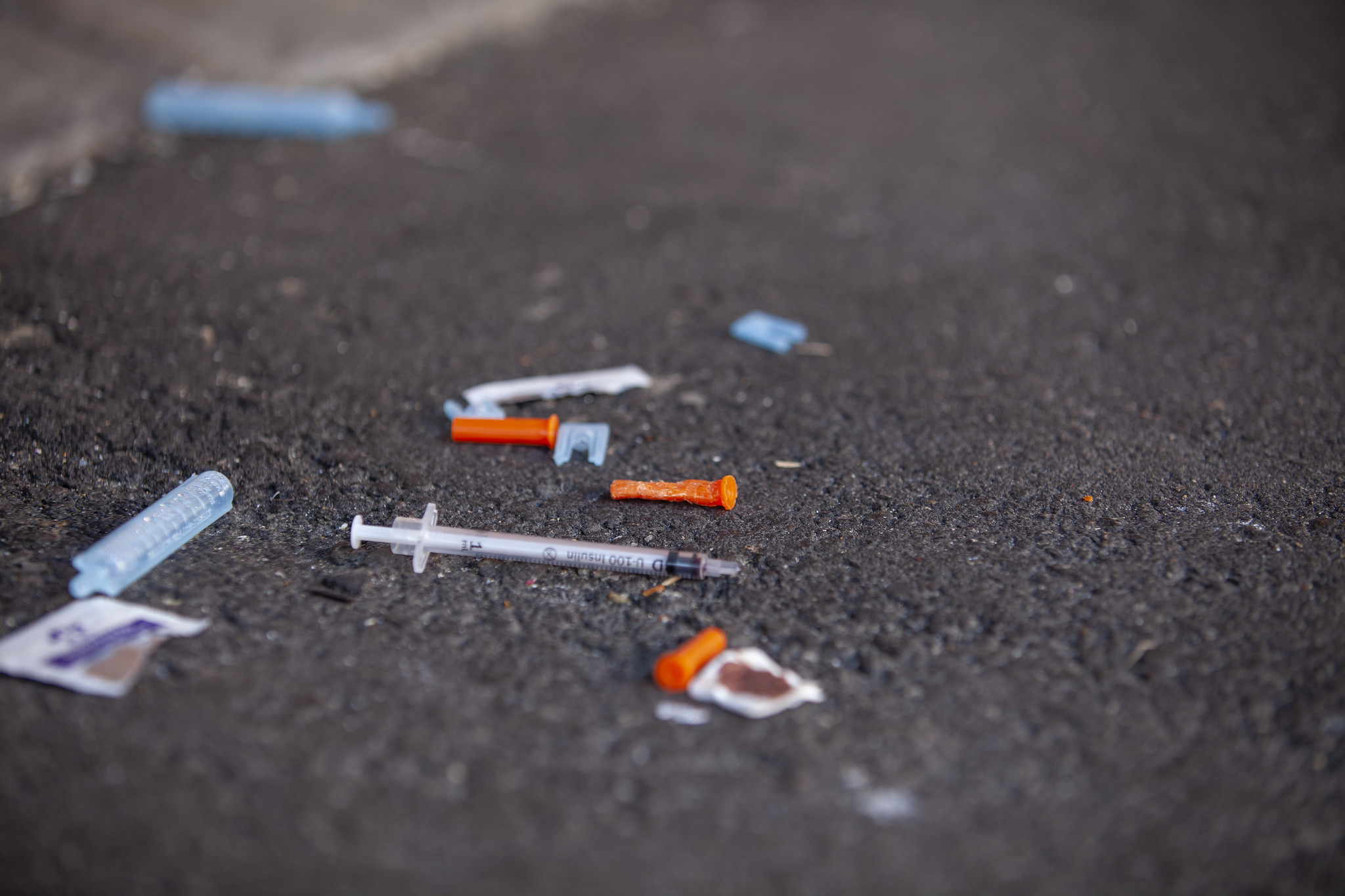 Scher examines both staff and clients' experiences of a supervised consumption site in Vancouver's Downtown Eastside (DTES). SCSs are facilities where individuals who use drugs are provided with access to a safe space and harm reduction resources, like clean needles and alcohol pads, to consume their drug of choice while being monitored by medical professionals in the event of an overdose.
Providing background on DTES, Scher highlights that it is the most ethnically diverse, socioeconomically disadvantaged, elderly, and male-dominated Vancouver area. He emphasizes how gentrification has contributed to a heavy police presence. In fact, the DTSE is the "most heavily patrolled neighborhood in the city." This intense surveillance also results in minor infractions, like jaywalking, being disproportionately enforced – Scher points out that 75% of tickets for minor infractions in Vancouver occur in the DTES.
While intense policing practices are promoted under the guise of public safety, research shows that heavy surveillance of citizens does not reduce drug consumption but rather is a barrier to individuals accessing harm reduction programs and resources, like SCSs and needle exchange programs.
Further, although harm reduction practices initially arose in response to increasing HIV and hepatitis C infection rates, contemporary approaches have been developed to provide humane care to individuals who use drugs. Like safe consumption sites, harm reduction approaches have been found to reduce overdose deaths and increase access to health, housing, and detoxification services.
Yet, harm reduction approaches are not without criticisms, with some critics pointing to its perpetuation of neoliberal ideals, such as citizens being morally obligated to value health over risk in the service of productivity, leading to self-surveillance monitoring. These critics highlight that applying this line of thought to homeless and marginalized populations confronted with social, physical, economic, and environmental inequities daily is not accurate. For some, especially people who have been using drugs long-term, using may serve as their only outlet, as an escape from their reality or provide a sense of social identity or belonging to an underground community. Neoliberal values like individualism have also been tied to poor mental health in young folks.
Other critics of harm reduction have emphasized that while SCSs may save lives, they can also perpetuate stigmatizing and scapegoating people who use drugs by removing them from the public eye by sequestering them into facilities than helping to create a more inclusive and supportive environment in the community-at-large. Additionally, harm reduction programs can take away government bodies' responsibility to provide financial support and develop public policies that support those who use drugs.
Despite its issues, harm reduction does have its benefits, and some have advocated for harm reduction approaches to policing drug scenes. The main aim of harm reduction policing would be to reduce harm rather than criminalize or punish people who use drugs. Scher highlights the example of Copenhagen, where harm reduction approaches to policing, like decriminalization of drugs and foot patrols to build positive community relationships and reduce drug-related harms, have been successfully implemented.
Others have suggested crisis intervention training to reduce police arrests of individuals experiencing a mental health crisis. In contrast, some have taken this a step further, calling for decreased police involvement in mental health issues entirely, highlighting discriminatory police responses and reactions to people of color in crisis.
Scher also pulls from French philosopher Michel Foucault's concepts of biopower, disciplinary power, and surveillance to understanding policing practices near harm reduction programs and understanding the practices of harm reduction programs themselves. Biopower refers to the idea that the government can maintain control of its citizens by promoting life – such as through actions like public safety measures (such as speed limits) – in the service of productivity.
Disciplinary power reflects the state's distribution of knowledge and information (via institutions like schools, prisons, and hospitals) regarding appropriate behavior and instilling fears of punishments that could occur if one does not behave appropriately. Surveillance, from Foucault's perspective, refers to citizens' self-regulating their behavior under the threat of potentially being observed and therefore being caught, with this theory being applied to speed cameras, employee drug testing, and other modes of enforcement.
In the current study, Scher used observation, focus group discussions with clients of the SCS, and interviews with the SCS staff as a way to better understand the lived experience of those attending harm reduction programs and the impact of policing practices on their experience.
Through his analysis, Scher identified a number of ways that biopower and disciplinary power are present in the DTES and influence the clients' lives at the SCS. The design of the SCS itself is an issue, as it is set up so that clients are under constant observation. This observation and restricted environment do not consider the environmental, physical, and spiritual aspects of drug use, particularly how drugs are used often for pleasure.  He highlights how clients are not allowed to bring certain items into consumption rooms, like pets or bikes, and that these rigid rules, coupled with the lack of attendance to environmental and other factors, resulted in a "significant number" of clients choosing to obtain harm reduction supplies (like clean needles and sterile water) and inject on the sidewalk outside of the SCS.
He also points to the constant concern of police potentially being called, as the site was willing to involve law enforcement in "extreme cases." However, Scher found no clear understanding of what constituted an "extreme case," resulting in a lack of clarity as to what exactly would require police presence. Although the police were contacted once every 2-3 days during Scher's 5-month observation, the clients at the facility perceived police presence as heavier – indicating the need for harm reduction programs to gain awareness of power dynamics present between themselves and the clients.
Fear of police involvement is captured through the sentiments of one client: "yeah, not constant, but they can watch through the cameras, and they are definitely on speed dial, so you can never actually tell when they are watching or gonna show up."
Moreover, Scher explores how the heavy police presence in the DTES affects clients at the supervised consumption site, with a number of clients identifying the seemingly constant surveillance as cultivating fears and distrust of the police. He also calls question to who is surveilled and monitored, identifying the "poor" and "powerless" as being watched – especially those who do not subscribe to neoliberal ideals of health and wellness.
Examining what this looks like at the level of human experience, we see an experience of dehumanization, as we hear from one of the clients of the SCS: "I don't do anything to get in[to] trouble, but they still want to follow me. You know, I just don't like it when they're sitting there in their car, and they just stare at me. If you have a problem with me, come up and talk to me. I'm human, don't just sit there and stare at me [rest of focus group: Exactly!]."
Scher's research also revealed inhumane practices and a lack of adequate support for homeless residents of the DTES, citing weekly "clear outs" of homeless individuals' tents and belongings in a local park, which are accompanied with threats of fines and arrest.
These "clear outs" are presented as a public safety measure to reduce fire hazards, and Vancouver has made efforts to place homeless persons into housing. However, many park dwellers are still waiting for housing, and some refuse to move to underfunded housing. Despite the threats from the city, some of the individuals residing in the park viewed their staying as an act of protest and seemed to feel empowered by this decision.
Scher writes:
"Despite the best efforts of municipal government to evict residents, the homeless occupation of Oppenheimer Park demonstrates how power is not inherently hierarchical but rather a productive force that can inspire resistance, even from society's most unsuspecting actors."
Exploring policy implications that arise from his findings, Scher highlights how a number of the clients he spoke with acknowledged the presence of a few police officers who showed concern and compassion, which he emphasizes as being essential to bringing about meaningful change in how police officers relate to people who use drugs.
Decriminalizing illegal drugs and adopting a harm reduction approach to policing that prioritizes support rather than surveillance is critical to policing practices that allow for dignity and respect. Scher also calls for improvements in housing policies and for policymakers to consider the real-life impacts of interventions, like the weekly "clear outs," on the persons they affect.
Scher concludes with a call for harm reduction policing and more humane, collaborative practices when working with marginalized persons, which would allow for better care and better relationships between the community and those entrusted to serve them.
****
Scher, B. (2020). Biopower, disciplinary power, and surveillance: An ethnographic analysis of the lived experience of people who use drugs in Vancouver's Downtown Eastside. Contemporary Drug Problems, 47(4), 286-301. https://doi.org/10.1177/0091450920955247 (Link)