One major risk factor for mental health disorders, loneliness, has massively increased during the COVID-19 pandemic. A new study, published in JAMA Psychiatry, reports on a randomized clinical trial of an empathy-oriented telephone program delivered by lay-callers (non-mental health professionals) to older adults receiving services through a Meals on Wheels organization. The study found a significant, rapid reduction in loneliness, depression, and anxiety.
The lead researcher, Maninder K. Kahlon from Dell Medical School at The University of Texas, writes:
"In this randomized clinical trial, a program of empathetic telephone calls tailored to participant preferences resulted in improvements in loneliness, depression, and anxiety over a 4-week period. The use of lay callers, deliberate but brief approach on training and the use of ubiquitous telephones made the approach easily deployable and scalable."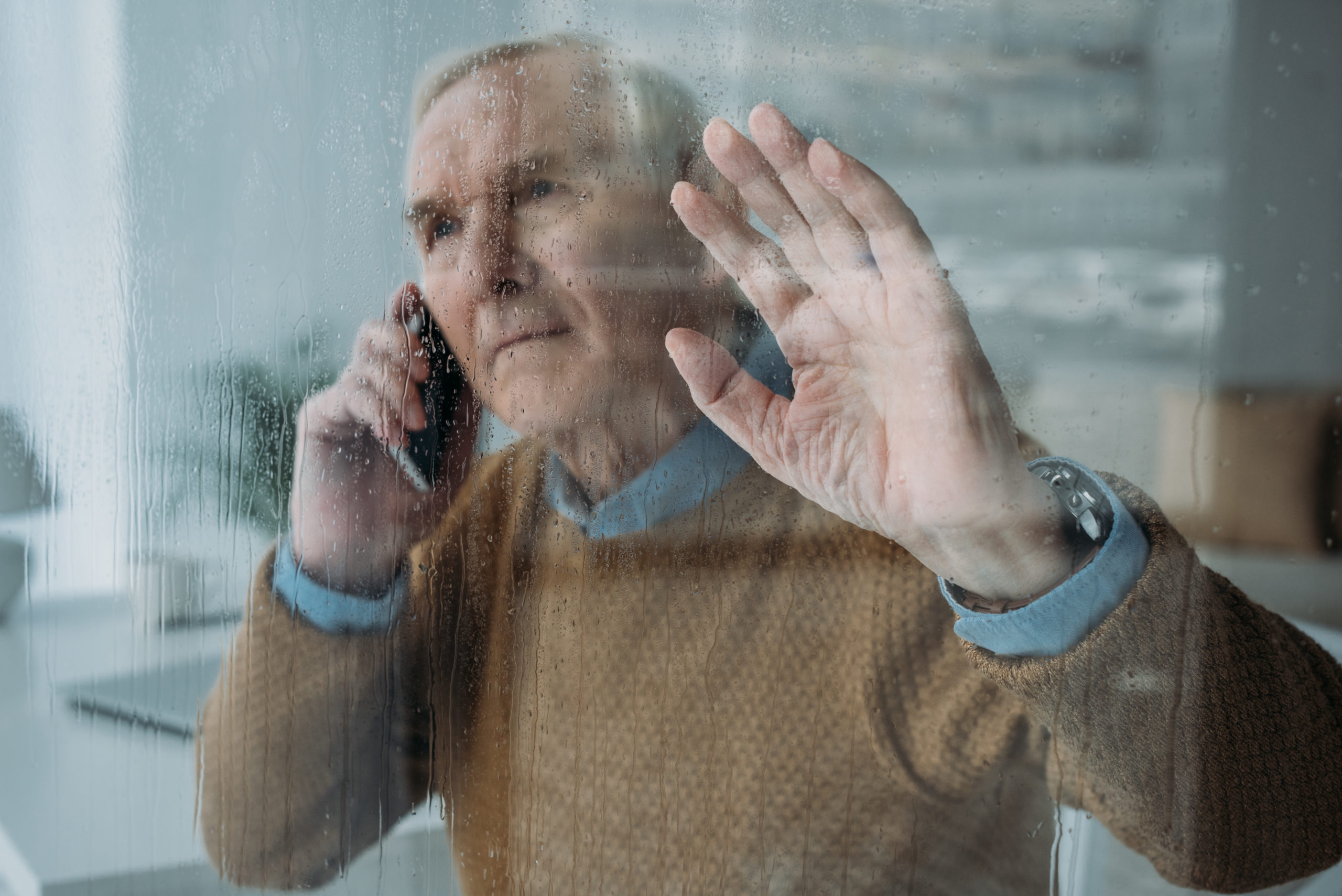 Since the COVID-19 pandemic began in 2020, numerous mental health professionals have warned of mental health issues occurring or bound to occur due to the ensuing grief, isolation, and disappointment. Much of this is bound up with loneliness, which has strong etiological links to mental health disorders of all stripes.
Accordingly, an uptick in teletherapy services and calls to mental health and suicide hotlines have been observed across the country. In addition, there has been a move in recent years toward training non-professionals (layperson or lay health workers) to implement psychosocial interventions in their communities.
A group of doctors and medical researchers at the University of Texas at Austin investigated the effects of a layperson-delivered, empathy-focused telephone call program on loneliness, anxiety, and depression in older adults in a randomized clinical trial.
In this study, loneliness, depression, and anxiety were rapidly reduced through layperson-delivered calls that focused on empathetic listening, suggesting a scalable approach to persistent mental health challenges of older adults.
In contrast to the few existing interventions shown to reduce loneliness, the program studied here did not use some form of cognitive-behavioral therapy and therefore involved only minimal training of callers. Recruited through mailing lists and personal networks, 16 people between 17 and 23 were trained in a 1-hour video conference session.
Callers supported 6 to 9 participants between 2 to 5 times a week, beginning with 5 times a week and then, with respect to participant preference, for around 10 minutes. 34 escalations around issues of safety, food, and financial concerns were made during the study.
The 240 participants were between 27 and 107 years old, with 63% aged at least 65. They were over one-third African American (39%), about one-fifth Latinx (22%), and most were women (79%). More than half were living alone (56%), many single, and all participants in each arm of the trial had at least one chronic disease diagnosis.
Additionally, most participants reported that COVID-19 lowered their degree of social contact. Of the enrolled participants, "13 were lost to follow-up in the intervention arm and 1 in the control arm."
The study's primary outcome measure was loneliness, rated using the 3-item UCLA Loneliness Scale and the 6-item De Jong Scale. The secondary outcomes were depression, anxiety, and self-rated health, measured by the Personal Health Questionnaire for Depression, the Generalized Anxiety Disorder Scale, and the Short Form Health Survey Questionnaire.
Significant improvements were achieved on all measures except for self-reported general physical health:
Post-assessment differences between intervention and control after 4 weeks showed an improvement of 1.1 on the UCLA Loneliness Scale… and improvement of 0.32 on De Jong…for loneliness; an improvement of 1.5 on the Personal Health Questionnaire for Depression…for depression; and an improvement of 1.8 on the Generalized Anxiety Disorder scale…for anxiety. General physical health on the Short Form Health Questionnaire Survey showed no change, but mental health improved by 2.6.
While the participants were not screened for anxiety or depression in advance, the program reduced the proportion of those who self-reported regular states of mild anxiety.
The authors note that the study is limited. It is unclear whether observed benefits sustain beyond four weeks, whether the effect was due to the empathetic nature of engagement or simply the call itself, and if reductions in loneliness mediated improvements in mental health scores.
This study suggests that an inexpensive, scalable, layperson-delivered telephone call program holds promise for improving general mental health in only a month. Future research should assess the extent to which the effects of this program on depression and anxiety last long enough to be clinically relevant.
****
Kahlon MK, Aksan N, Aubrey R, et al. Effect of Layperson-Delivered, Empathy-Focused Program of Telephone Calls on Loneliness, Depression, and Anxiety Among Adults During the COVID-19 Pandemic: A Randomized Clinical Trial. JAMA Psychiatry. 2021 Feb. DOI: 10.1001/jamapsychiatry.2021.0113 (Link)