From NBC News: "A federal appeals court in Washington, D.C., overturned the U.S. Food and Drug Administration's ban on the use of electric shock devices on people with mental disabilities by a Massachusetts residential school.
The judges' 2-1 decision this week will allow the Judge Rotenberg Educational Center in Canton, Mass., to continue using shock devices on its residents. The center, which serves a mix of children and adults with severe developmental and emotional disabilities, has been one of the most controversial institutions for people with disabilities in the country for half a century. NBC News covered the FDA's years-long effort to stop the school's use of the devices.
In early March last year, the FDA took the rare step of banning the device, finding that the significant risk of harm outweighed any medical benefit it could bring. It is only the third such ban in the agency's history.
. . . The center decried the ban and petitioned a federal court to review it. The judges' majority opinion in the case Tuesday overturned that ban, stating that the FDA cannot ban the use of electric shock on intellectually disabled people because federal law restricts the agency from interfering with the practice of medicine, which is regulated by states."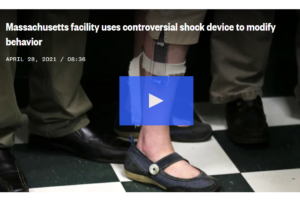 ***
Back to Around the Web