From Stuff: "A rise in the use of anti-depressants over the past decade is a 'positive' sign more people are getting support, Ministry of Health officials say.
Provisional data released by the ministry shows a year-on-year increase in the number of anti-depressants and anti-psychotic medication dispensed between 2010 and 2020.
The number of anti-psychotic units (measured in tablets, capsules or millilitres of oral liquid) dispensed jumped by 47 per cent, from 44.3 million to 65.3m. Taking New Zealand's population increase into account, that still represents a 26 per cent rise.
The number of anti-depressant units dispensed rose 40 per cent, from 139.5m to 195.7m, representing a 20 per cent rise when accounting for population growth.
Anxiolytics, used to treat and prevent anxiety, increased by 18 per cent, from 21.7m to 25.7m. This ended up as a 1 per cent increase when taking population growth into account.
. . . 'At the minute there isn't a lot of access to psychological therapies so perhaps, I suspect people are having to get medications because they are having to wait for a psychologist' [said New Zealand College of Clinical Psychologists spokesman Paul Skirrow].
. . . Psychiatrist Dr Richard Porter . . . said psychological therapy was not available as a publicly funded service in New Zealand.
'Appropriate psychotherapy…is simply not available, except in the private sector and obviously most people are going to struggle to pay.'
. . . University of Auckland academic psychiatrist Associate Professor David Menke said the increase in the use of anti-psychotic drugs was likely driven by the high use of one drug – quetiapine – to treat 'all sorts' of problems including anxiety and insomnia."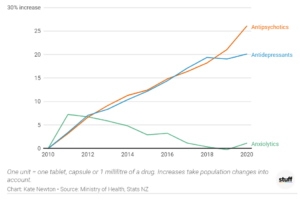 ***
Back to Around the Web