When Mad in America was launched nearly a decade ago, Scottish psychiatric survivor and activist Chrys Muirhead was one of the first bloggers on our site, and a regular commenter too. She passed on August 29, after having been diagnosed with terminal colon cancer in July. She was 68.
Born in Perth, Scotland, she first encountered the mental health system in the 1970s, when a family member was hospitalized. Over the course of five decades, she once wrote, "eight of my family through 3 generations have experienced psychosis and psychiatric treatment: My Mother and Father, two younger sisters, my three sons and I." She said that she personally survived psychoses and coercive drug treatment in 1978, 1984, and 2002, and through all of these personal and family experiences, she always believed in "mental health recovery."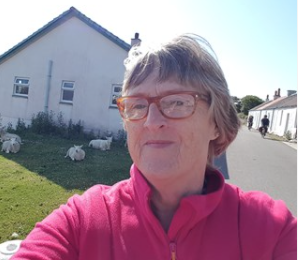 In 2008, she founded a voluntary organization, Peer Support Fife. More recently, she wrote, she had been a "mental health writer, activist and human rights campaigner, whistleblowing about locked seclusion room abuses in Stratheden Hospital, NHS Fife, winning an Ombudsman complaint in September 2014 and a written apology from Fife Health Board. I'm an unwaged carer and in 2018 plan to continue researching and evidencing Safe (haven crisis) Houses for Psychosis, alternatives to psychiatric inpatient treatment for people in mental distress."
She also published several letters in medical journals that detailed her experiences with the psychiatric system. In a 2017 article published in Psychosis, she wrote: "In my experience psychosis was a journey from one place to another, necessary and transitional, in response to life trauma."
In her blog, she also described herself as a "storyteller, cyclist, knitter, photographer, gardener, and singer," which told of her many interests and passions in life.
***
Mad in America hosts blogs by a diverse group of writers. These posts are designed to serve as a public forum for a discussion—broadly speaking—of psychiatry and its treatments. The opinions expressed are the writers' own.
***
Mad in America has made some changes to the commenting process. You no longer need to login or create an account on our site to comment. The only information needed is your name, email and comment text. Comments made with an account prior to this change will remain visible on the site.