A new study in JAMA Psychiatry found that lithium did not prevent suicide-related events. The study, which included veterans who had survived a previous suicide attempt, was terminated early for futility when the first comparison showed that the drug was no better than placebo.
The researchers write:
"In this randomized clinical trial, the addition of lithium to usual Veterans Affairs mental health care did not reduce the incidence of suicide-related events in veterans with major depression or bipolar disorders who experienced a recent suicide event."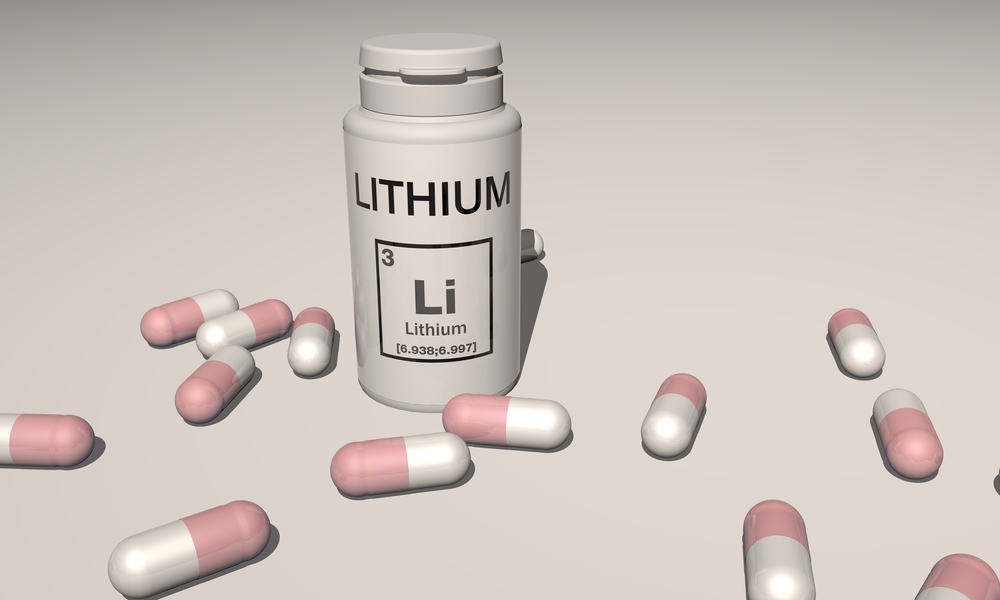 Lithium is commonly prescribed for people at risk of suicide, particularly those with a diagnosis of bipolar disorder or major depression. For instance, the 2019 US Department of Veterans Affairs (VA) guidelines suggest lithium for this purpose.
The researchers noted that it was difficult to recruit participants because clinicians were convinced that lithium would prevent suicide (and didn't want to risk their clients being in the placebo group).
Observational studies have supported this notion, but that type of study does not compare the drug group to a placebo group. And some clinical trials have found that lithium is not actually effective—but these trials have been underpowered and also often don't include people who are at the most risk for suicide—which means that they are not always providing good information about the specific group for whom the drug will be prescribed.
The Findings
The current study accounts for those issues. It was a large, randomized, placebo-controlled trial. The participants were from the specific population that is said to benefit the most from lithium—those who had already survived a suicide event.
The specific outcomes included by the researchers under the umbrella of "suicide event" were "suicide attempts, interrupted attempts, hospitalizations specifically to prevent suicide, and deaths from suicide."
In total, 24.5% of the participants experienced a suicide-related event within one year, and there was no difference between the groups. Suicide events occurred in 62 who took placebo, compared with 65 who took lithium.
There were three deaths by suicide in the placebo group and one in the lithium group (a statistically insignificant difference because with numbers this small, the probability of slight differences by chance is high).
Additionally, one person developed lithium toxicity, a dangerous side effect of the drug that can be fatal or lead to long-term organ damage.
More Details about the Study
The study was conducted by a large number of researchers throughout the VA system and included the Li+ plus Investigators, a team of researchers who focus on trials of lithium.
When the study was stopped, the researchers had enrolled 519 veterans (mostly White males) who had recently experienced a suicide-related event. All participants had a diagnosis of either major depression or bipolar disorder. They were randomly assigned to receive either lithium or placebo in addition to their usual care through the VA.
One interesting element of the study is that only 88 of the 519 participants (17%) were considered "adherent" to their medication regimen—meaning that most people did not take their medication as indicated. This was true in both the medication group (46 medication-adherent) and placebo (42 medication-adherent).
However, this did not change the outcome of the study—even when accounting for this, there was no statistically significant difference in suicide events between the two groups. Of those 88 who took their medication correctly, there were eight suicide events in the placebo group and 12 in the lithium group.
The greatest strength of this study is its generalizability, particularly in contrast to clinical trials, which often exclude the very patients who will be prescribed the drug. For instance, the participants were actually at risk for suicide—which is often an exclusion criterion for clinical trials but is the exact population we need the most information about. Additionally, the participants had a high rate of other mental health problems (like PTSD and substance use), making them much more similar to real-life patients.
"Our findings are particularly relevant to questions about outcomes for real-life patients," the researchers write, adding:
"Most important, our study suggests that in a population of patients with substantial comorbidities who are actively being treated for mood disorders and coexisting mental health or substance use disorders, simply adding lithium to existing medication regimens is unlikely to be effective for preventing an outcome that draws from a broad range of suicide-related events."
However, although the current study doesn't support the statement, they suggest that lithium "still has a role in the management of mood disorders."
****
Katz, I. R., Rogers, M. P., Lew, R., Thwin, S. S., Doros, G., Ahearn, E., . . . & Liang, M. H., for the Li+ plus Investigators. (2021). Lithium treatment in the prevention of repeat suicide-related outcomes in veterans with major depression or bipolar disorder: A randomized clinical trial. JAMA Psychiatry. Published online November 17, 2021. (Link)