The involuntary commitment of persons with psychosocial issues links our healthcare and public health systems to the prison industrial complex. Disability justice advocates have critiqued the coercive practices endemic to civil commitment and forced hospitalization that remain legal in the United States, arguing that abolition must include psychiatry.
New work published in the Journal of Law, Medicine, and Ethics by Rafik Wabli and Leo Beletsky argues that the legal framework that sustains involuntary treatment and civil commitment cannot and must not be held out as a viable alternative to the criminal legal responses to behavioral and mental health chal­lenges.
Instead, the authors advocate for "true alter­natives to incarceration that are centered on lib­eration that seeks to shrink the carceral system's grasp on individuals' and communities' lives."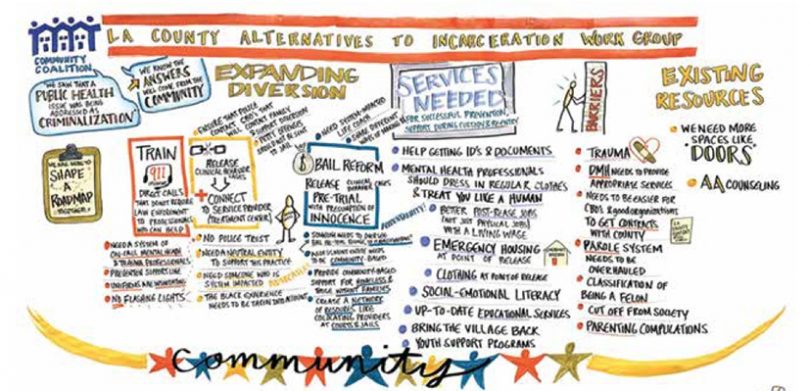 Police are often the first and only agency to respond to a mental health crisis, which can lead to crisis escalation, hospitalization, incarceration, or the use of lethal force. Police involvement in involuntary psychiatric commitments has been steadily increasing, and Black people are more likely to become involved with mental health services through law enforcement and involuntary commitment.
Disability justice activists have also made the case that abolitionists must work to dismantle "alternatives to incarceration" such as community-assisted 'treatment' programs.
Drawing inspiration from street-level praxis and action, including grassroots organizations and community organizers across the country, the authors advocate for a Public Health Abolition framework that understands the relationship between public health and abolition as both longstanding and strategic. Quoting scholar/activist Mariame Kaba, the authors note:
"[Abolition is] much more than just eliminating laws such as involuntary commitment, or getting rid of armed officers that respond to mental health crises. It is about preventing further harm and violence from happening, and when it does occur, to not respond with more violence."
A public health abolition praxis must thus follow the "positive project" of abolition: not merely eliminating harmful systems but creating new systems of care for those who use drugs or experience mental health crises.
One example of such a positive project is JusticeLA, a community-based organization founded in 2017 to shift the city's dollars and investment away from police and prisons and into community-based systems of care. Since then, JusticeLA has led Los Angeles in transforming the city's system of organized care. In November of 2020, for example, Los Angeles County voters approved the his­toric Measure J, which dedicated 10% of the County's budget to fund alternatives to incarceration.
Another organization, the LA County Alternatives to Incarceration (ATI) Workgroup, helped create a roadmap for the county to transition to funding services and programs that better respond to substance use or mental health-related cri­ses. The authors write:
"The recommendations in the ATI report include increasing non-carceral crisis mobile response teams, creating an alternate crisis response system (988 number), funding harm reduction services, supervised consumption sites, expanding access to medication for addiction treatment, and much more."
The transformations underway in Los Angeles thanks to the work of organizations like JusticeLA give us hopeful examples of what the positive project of abolition looks like.
These efforts show "that an abolition­ist public health framework works to dismantle sys­tems and sites of oppression, and instead builds and reinforces systems and sites of care that address the root causes of violence and harm."
****
Wahbi, R., and Beletsky, L. (2022). Involuntary Commitment as "Carceral-Health Service": From Healthcare-to-prison pipeline to a public health abolition praxis. Journal of Law, Medicine & Ethics, 50(2022): 23-30. (Link)