We launched Mad in America Continuing Education (MIACE) in 2014 with a specific goal: providing an alternative to CEU and CME presentations, many funded by pharmaceutical companies, that promoted the merits of psychiatric drugs and the disease model that psychiatry had adopted when it published DSM-III. Bob Nikkel, who had been Oregon's commissioner for both mental health and addictions from 2003-2008, launched this effort for us and served as MIACE's executive director until his retirement last summer.
You can see that under his leadership, MIACE presented courses by psychiatrists, psychologists, and leaders in the peer community that told of a need to rethink the disease model and embrace alternative models of care.
In the last two years, we also hosted a series of "town halls" on dialogical therapies, which were co-sponsored by several other organizations. Kermit Cole and Louisa Putnam, who are founding MIA board members and trained in Open Dialogue therapy, took a lead role in developing these town halls. We also developed a town hall related to withdrawal from psychiatric drugs in concert with the International Institute for Psychiatric Drug Withdrawal.
These two efforts—webinars and town halls—have a different focus. The continuing education courses were designed as "educational" presentations, with CEU credits offered. The dialogical town halls were designed to stir a discussion about the subject. With this experience as a guide, we are now moving forward with webinars that combine both elements: educational aims combined with a discussion that emerges from a panel presentation. On Wednesday, we will host a zoom webinar with that dual purpose titled: What is "Peer-supported Open Dialogue"?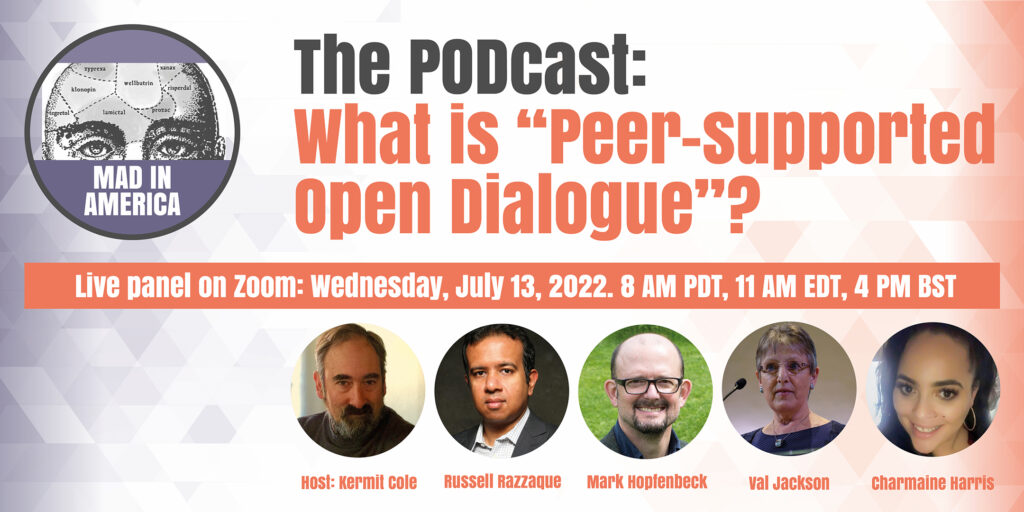 However, as we have "marketed" this first program, we failed in one notable way. We failed to emphasize that this webinar was designed to be the first in a series on this topic. As a result, we have been criticized for the fact that the first panel is comprised of the developers of a "peer-supported Open Dialogue" effort in the UK, without a peer on the panel. This is an understandable criticism, and thus I thought it was important to present our larger aims with this series. Hence, this blog.
First, a bit of personal background.
In my book Anatomy of an Epidemic, I wrote of how there was a long line of evidence showing that over the long-term, the regular use of antipsychotics increased the chronicity of psychotic disorders (and led to other harms), and that a best-use model would involve selective use of the drugs, with two principles guiding that selective use: no immediate use with first-episode patients in order to see who could recover without exposure to the drugs, and for those who were exposed to the drugs, an effort to minimize their long-term use.
As part of my research for the "solutions" chapter, I came upon research published by Jaakko Seikkula regarding outcomes in northern Finland for patients treated with Open Dialogue therapy, which involved a selective-use model of antipsychotics. Their results stood as a "proof of principle" that could be gleaned from 50-plus years of scientific studies: This was a use of antipsychotics that produced markedly better outcomes.
Since then, Open Dialogue approaches have been developed and adapted to local environments in the United States, the United Kingdom, and numerous other countries. I confess a personal disappointment with one element of this adaptation, as the focus often has been on "dialogical" practices, with much less emphasis given to selective use of antipsychotics. In fact, in many adaptive practices, the selective use of antipsychotics has been ignored and left out of the equation.
Another adaptive element—but this one is happily so—has been "peer-supported Open Dialogue," with peers an integral part of the dialogical team. There was no active peer movement in northern Finland when the Open Dialogue practice was developed. Incorporating the expertise of peers into the dialogical mix was new to the practice and, one could argue, essential to its effective adaptation into current systems of care in the United States, the UK, and elsewhere.
The Parachute Project in New York, which was launched in 2012, created mobile response teams who were trained in both Open Dialogue and Intentional Peer Support, with the teams composed of both mental health professionals and those with lived experience. That program, unfortunately, has ceased to operate.
However, in the UK, the development of peer-supported Open Dialogue has continued, and there is ongoing research, known as the ODESSI trial, of the effectiveness of these services within several of the UK's National Health Service Trusts.
Kermit Cole, who was the founding editor of Mad in America, is now taking over as director of our MIA webinars, and he envisioned our presenting a series of presentations that would "explore how POD (peer-supported Open Dialogue) principles and practices are essential to implementing Open Dialogue's inspiration to an intrigued but skeptical—and increasingly desperate—world." Kermit feels that POD may even inspire and enable social networks to meet crises dialogically without needing to access the psychiatric system.
The first panel—this is the Wednesday presentation—was initially composed of three people who have been leaders in creating this UK effort: obtaining funding, developing training protocols, and assessing its effectiveness. We believed that having these three—psychiatrist Russell Razzaque of NELFT, family therapist Val Jackson, and Professor Mark Hopfenbeck—to discuss POD's origin in the UK, development, and future would be a good way to kick off the series.
The subsequent panels in this series will present teams—largely peers—from the UK and the Parachute Project that will talk about their experiences, and their perspective on POD's future.
With this plan for a series in mind, we did not think to include a peer on this first panel, but rather decided to present the institutional origins of the UK effort. We have since heard from a number of people who signed up for the webinar, and others, that this was a glaring mistake on our part.
Personally, I think the mistake we made was not making it clear that this was a first in a series, and that the series would follow a chronological path, one that told of how the UK effort took root and grew, and that subsequent panels would feature the perspectives and expertise of peers.
Perhaps even that plan was flawed. However I hope that this blog will make our intentions clear, and MIA readers will now see the larger plan and join us in this exploration of peer-supported open dialogue. We are pleased to announce that Charmaine Harris, who is a part of the POD team, will join the panel on Wednesday as a co-host.
After the webinar, the zoom meeting will remain open for anyone who wants to come onscreen and chat. Several members of the panel will stay on during this time as well.
***
Mad in America hosts blogs by a diverse group of writers. These posts are designed to serve as a public forum for a discussion—broadly speaking—of psychiatry and its treatments. The opinions expressed are the writers' own.
***
Mad in America has made some changes to the commenting process. You no longer need to login or create an account on our site to comment. The only information needed is your name, email and comment text. Comments made with an account prior to this change will remain visible on the site.