From Reuters: "On at least four occasions since 2019, Elon Musk has predicted that his medical device company, Neuralink, would soon start human trials of a revolutionary brain implant to treat intractable conditions such as paralysis and blindness.
Yet the company, founded in 2016, didn't seek permission from the U.S. Food and Drug Administration (FDA) until early 2022 – and the agency rejected the application, seven current and former employees told Reuters.
The rejection has not been previously reported. In explaining the decision to Neuralink, the agency outlined dozens of issues the company must address before human testing, a critical milestone on the path to final product approval, the staffers said. The agency's major safety concerns involved the device's lithium battery; the potential for the implant's tiny wires to migrate to other areas of the brain; and questions over whether and how the device can be removed without damaging brain tissue, the employees said.
A year after the rejection, Neuralink is still working through the agency's concerns. Three staffers said they were skeptical the company could quickly resolve the issues – despite Musk's latest prediction at a Nov. 30 presentation that the company would secure FDA human-trial approval this spring.
. . . In public comments over the years, Musk has detailed a bold vision for Neuralink: Both disabled and healthy people will pop into neighborhood facilities for speedy surgical insertions of devices with functions ranging from curing obesity, autism, depression or schizophrenia to web-surfing and telepathy. Eventually, Musk has said, such chips will turn humans into cyborgs who can fend off the threat from sentient machines powered by artificial intelligence.
'I could have a Neuralink device implanted right now, and you wouldn't even know,' Musk said at the Nov. 30 presentation, a livestreamed 'show and tell' event, drawing laughs from the crowd. At another public company event in 2020, he said: 'You'll be able to save and replay memories…. The future is going to be weird.'
. . . Neuralink's focus on speed has contributed to other problems. Reuters exclusively reported late last year that the federal government was investigating the company's treatment of its research animals. The probe was launched amid growing employee concern that the company is rushing experiments, causing additional suffering and deaths of pigs, sheep and monkeys. Three Neuralink staffers now tell Reuters that company leaders wanted animal experiments accelerated to gather data to address FDA concerns over the human-trial application.
Reuters also broke the news that the Department of Transportation is separately investigating whether Neuralink illegally transported dangerous pathogens, on chips removed from monkey brains, without proper containment measures.
. . . While Neuralink garners outsized attention because of its famous founder, more than a dozen companies are developing or manufacturing devices in the wider $6 billion field of so-called neuromodulation devices, which record or stimulate neural activity.
. . . The NIH, which supports and finances medical innovation, seeks to help brain-implant companies with public-private partnerships as part of its BRAIN initiative (Brain Research through Advancing Innovative Neurotechnologies). The agency finances half a dozen firms including Blackrock Neurotech, a start-up, and medical device giant Medtronic. Launched in 2014, the effort will receive about $680 million this year. Beyond grants, it provides access to government experts who advise on how to gain FDA approval and commercialize a device."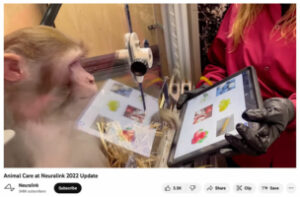 ***
Back to Around the Web