Racism and social stressors, such as discrimination, food insecurity, and police violence, significantly increase the risk of early psychosis among people of color in the United States. This is the central finding of a comprehensive review by Deidre M. Anglin, Associate Professor of Clinical Psychology at The City College of New York (CCNY).
The review, titled "Racism and Social Determinants of Psychosis," and published in the Annual Review of Clinical Psychology, explores the complex and insidious ways that structural, cultural, behavioral, and interpersonal racism contributes to stress and violence. These factors significantly elevate the risk of psychosis among Black and Latinx communities.
Anglin's work draws attention to the stark reality that Black and Latinx individuals in the U.S. are more prone to report experiences of psychosis compared to their White counterparts. This disparity can largely be attributed to the profound impact of societal factors, such as racial discrimination, food insecurity, and encounters with police violence.
"Unless we dismantle these discriminatory structures, the chronic stress and biological consequences of this race-based stress and trauma will impact the next generation's risk for psychosis directly and indirectly through Black and Latina pregnant mothers," Anglin cautions.
She further notes the promising role of multidisciplinary early psychosis interventions in improving prognosis. However, coordinated care and other treatments must be made more accessible, targeting the racism-specific adversities many Black and Latinx people confront in their neighborhoods and social environments.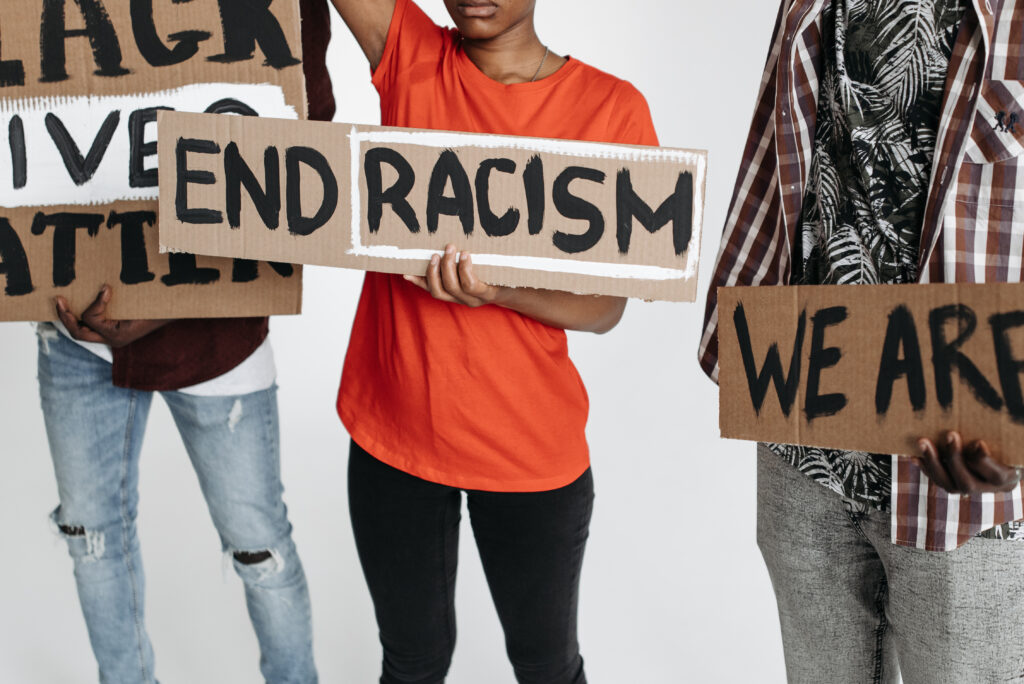 This new review builds upon Anglin's previous analysis, "From Womb to Neighborhood: A Racial Analysis of Social Determinants of Psychosis in the United States," published in the American Journal of Psychiatry. In her prior work, Anglin posits that there has been an inadequate examination of the links between racial disparities, psychosis, and schizophrenia in the US. The evidence suggests that Black and Latino people in the United States disproportionately suffer from risk factors for psychosis, mainly due to racial discrimination and social disadvantage.
Published in May 2023, Anglin's review expands on her previous arguments, providing an updated understanding of ethnic and racial (ethnoracial) and social determinants of psychosis in the US.
The review initiates a dialogue on racism, white supremacy culture, and the social construction of race in the United States.
Anglin asserts, "Racism is a purposeful system of oppression, as the main goal has historically been to preserve White supremacy—implicit and explicit ideas about the superiority and justified dominance of White people across multiple sectors of society."
Anglin gives particular attention to social determinants of health, not just because they disproportionately affect people of color, but also due to the United States government's emphasis on "social determinants of health" as a priority for its "Healthy People 2030" campaign, which aims to eliminate health disparities and boost health literacy by 2030.
The review covers a broad spectrum of these determinants, starting with disparities in mental health treatment, where Anglin notes significant underutilization of voluntary mental health treatment among Black and Latinx people, despite a perceived need.
Anglin notes:
"Black and Latinx people have consistently been less likely (approximately half as likely) to seek voluntary mental health treatment than non-Hispanic White people despite perceived need…in contrast, for inpatient treatment specifically, Black people are more likely than non-Hispanic White people to receive this treatment—a type of treatment that is more likely to be involuntary or coercive. Furthermore, once in mental health treatment, Black and Latinx groups are more likely than non-Hispanic White people to drop out of treatment and to generally receive lower quality of care if they continue in treatment."
It is widely accepted that disparities exist in access to mental healthcare between people of color and white individuals. However, the conversation about differences in experiences, risks, and outcomes in mental health between these two groups is a more contentious issue, particularly in the U.S.
The persistent stress and trauma stemming from systemic racism and white supremacy in the U.S. have been linked to an elevated risk of psychosis. This risk is amplified due to the inescapability of such conditions, whether in redlined neighborhoods with high police violence or areas with little cultural resemblance and rampant bullying and microaggressions. Consequently, racism continues to inflict significant trauma and stress on people of color, fostering heightened paranoia and fear.
Following her examination of the social determinants of mental health, Anglin explores the biological connections between the social environment, discrimination, and psychosis. Racism not only elevates stress responses within the body but also impacts the neural pathways involved in social cognition and autoimmune responses, thereby increasing the likelihood of psychosis. Moreover, evidence suggests that racism can modify brain structure, and function, and even influence cellular biology through epigenetic mechanisms.
Recognizing that much of this research is still in its early stages, Anglin advocates for policy changes, more comprehensive research methodologies, a greater focus on intersectionality, and the development of therapies like Cognitive Behavioral Therapy (CBT) specifically tailored to address racism.
In conclusion, Anglin asserts:
"Dismantling the racism in our interconnected institutions will improve the stressful social environments that increase psychosis risk for Black and Latinx folks and improve public health in the population more generally."
****
Anglin, D. M. (2023). Racism and social determinants of psychosis. Annual review of clinical psychology, 19. (Link)