Borderline Personality Disorder (BPD) is a diagnostic category in the DSM-V and ICD-10/11 that has faced constant criticism from various sectors. Critics argue that the term does more harm than good due to the stigma associated with the label and the way it pathologizes responses to trauma.
Researchers have also questioned the scientific validity of BPD since it shares significant overlap with other diagnostic categories. Many suggest that it is time to retire this label.
In a new article, psychiatrists Roger Mulder and Peter Tyrer present a well-informed case against the scientific validity of BPD and highlight the confusion it causes researchers and the clinical harm it causes service users.
"Twenty years ago, George Vaillant, in a paper titled 'The Beginning of Wisdom is Never Calling a Patient a Borderline,' noted that the diagnosis of borderline often reflects the clinician's emotional state rather than careful assessment," the authors write. "This was not an isolated opinion, but we argue that little has changed, and borderline, in the context of personality, has now become a detrimental term hindering progress in research and treatment."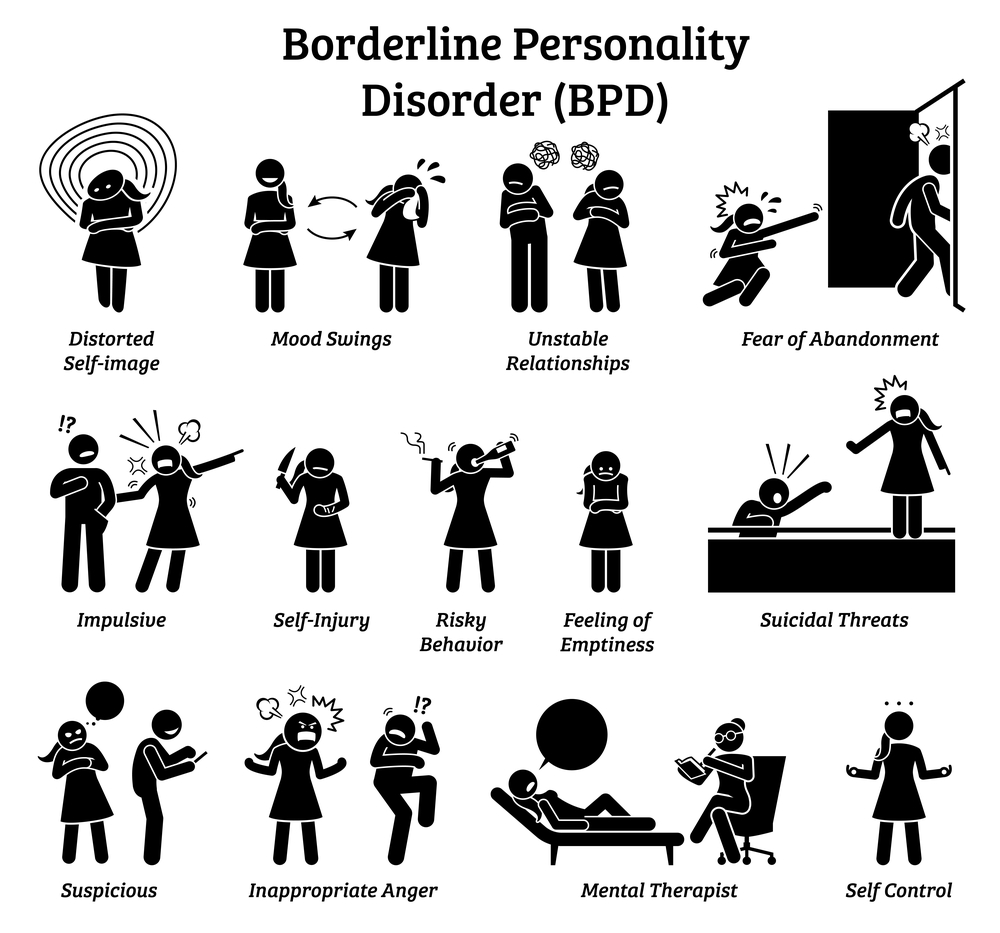 According to the authors, Borderline Personality Disorder emerged as a category during the heyday of psychoanalysis, where it was used to designate cases that fell "on the border" between neurosis and psychosis.
Despite being classified as a personality disorder (PD), the authors argue that the features of BPD do not align with the consensus understanding of other PDs. For instance, "its diagnostic criteria are not enduring personality traits but rather fluctuating symptoms and behaviors."
They elaborate:
"The triad of unstable mood, erratic relationships, and disturbed behaviour may be readily identifiable but that does not make it a personality disorder; chronic sleep disturbance creates the same symptoms.
A constant and undisputed diagnostic aspect of true personality disturbance is the presence of traits, characteristics reflecting individual function, which are generally stable over time and, when disturbance becomes disorder, are maladaptive. The widely gyrating features of emotional instability do not belong in this paradigm."
The authors do acknowledge that BPD holds some clinical utility. Its symptoms are easily recognizable in many individuals seeking treatment, common (especially from adolescence onward), and in some cases, it can be reassuring to assign a name to such a complex phenomenon as BPD. However, whether this reassurance benefits the clinician or the individual seeking treatment is a matter of debate.
Interestingly, the authors state that both the DSM and the ICD research committees initially rejected the inclusion of BPD, but the category was ultimately included due to pressure from powerful interest groups. They note, "It is not only Big Pharma that can influence diagnostic practices."
While BPD may seem sensible when viewed in isolation, problems arise when compared to other disorders. ADHD, bipolar disorder, and other mood disorders share similar symptom profiles, which ultimately confound the diagnostic landscape.
The authors assert that one of the most commonly used justifications for BPD is that it can guide clinicians and individuals seeking treatment toward effective treatment approaches. However, this claim is misleading. Regarding these specific treatments, they state:
"The evidence of their efficacy has been overstated. When the patina of language such as dialectic, mentalization, schema formation, and transference is stripped away, the treatments offered are exactly the same as those offered for general psychological distress and dysfunction, now given an unnecessarily new title, structured clinical management. The methods used to reduce distress are transdiagnostic and apply to all patients."
They further note that no medications have consistently proven helpful in treating BPD.
The "two largest and best-designed" studies on pharmacological treatment for BPD, involving olanzapine (commonly known as Zyprexa), an antipsychotic, and lamotrigine (commonly known as Lamictal), a mood stabilizer, yielded decisively negative results.
Despite the lack of scientific evidence, "almost all patients with the disorder appear to receive not just one, but many psychotropic drugs for this condition, and several US guidelines continue to recommend drug combinations for the condition."
Addressing stigma, the authors point out that clinicians are among the "worst offenders" in perpetuating negative stereotypes. They frequently pathologize individuals with this diagnosis, treating them as just "another borderline." This can lead to inappropriate or even inadequate care, as "emotional instability" is sometimes used as grounds for excluding individuals from treatment.
Such practices can also exacerbate alienation among individuals seeking treatment and contribute to a culture of exclusion for those experiencing symptoms associated with BPD.
Additionally, the authors emphasize that there are numerous reasons why individuals may resist treatment or "distract and annoy the clinician." Not all of these reasons can, or should, be reduced to pathology.
As alternatives, the authors propose that less severe BPD-like symptoms may benefit from treatments such as less structured group therapy. For individuals with disinhibition and difficulties in social relationships, they recommend highly structured and transparent individual treatment with clear boundaries.
Regarding individuals experiencing identity disturbance and dissociation, they suggest personalized, trauma-focused therapeutic approaches.
Offering distinct treatment options would enable tailoring clinical assistance to each individual rather than continuing to categorize all individuals diagnosed with BPD under one label.
In conclusion, the authors state:
"The diagnosis of borderline, of emotionally unstable, personality disorder is widely and inappropriately used, informs little, creates confusion and uncertainty, and generates tremendous stigma. It has no basis in the scientific study of personality and is used indiscriminately to describe myriad negative interactions in human relationships that have cause far beyond personality function, extending from simple disagreement to total functional breakdown.
Because of its profligate usage and scientific inaccuracy, the management and specific treatment of this group of conditions is severely compromised and has become a major bar to understanding.
Borderline no longer has a place in clinical practice."
Social researchers often discuss the contextual factors associated with the rise and use of BPD. Psychologist Bethany Morris, previously interviewed for Mad in America, points to the historically misogynistic nature of the disorder, which is overwhelmingly ascribed to women over men—a 75% or 3:1 difference according to one source.
Other research supports the current article, such as the argument that BPD is "really a response to trauma," that drug treatment is not effective for BPD, and that other forms of treatment, such as psychodynamic therapy, may actually be more effective than what is sometimes considered BPD's "golden treatment": Dialectical Behavior Therapy (DBT).
Furthermore, researchers have pointed out that cross-culturally, BPD and other PDs are often inappropriately diagnosed, given cultural differences and a general lack of contextual consideration for issues like the effects of colonization and genocide.
Finally, addressing clinical abuse and misdiagnosis, psychiatric survivors have often spoken at length about the harmful effects of being diagnosed with BPD.
****
Mulder, R., & Tyrer, P. (2023). Borderline personality disorder: A spurious condition unsupported by science that should be abandoned. Journal of the Royal Society of Medicine, 116(4), 148-150. (Link)