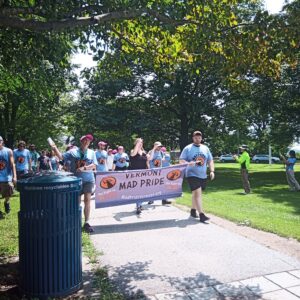 On July 15, I spoke (about Involuntary Outpatient Commitment, 988, and more!) at a wonderful "Mad Pride" event in Burlington, Vermont. This annual gathering was organized under the umbrella of MadFreedom, founded by Wilda White. It began with a march replete with calls for justice, followed by an afternoon in the park with a variety of tables from local organizations and artists, opportunities to meet new people and reconnect with old friends, and a speaker line-up that—in addition to myself—included Robert Whitaker, Rajnii Eddins, and Wilda herself.
I especially appreciated Wilda's closing statement in response to folks who question the language of "Mad." In brief, she explained that it was a word that helped hold the importance of leaving no one behind; that this couldn't just be a movement of people who once struggled, and now can so eloquently explain the darkness from which they emerged. Space must also be held for so many others, no matter how much they're still struggling, or how much they may forever buck societal norms. Their value is in being, not how well they can fit in a box or play a role.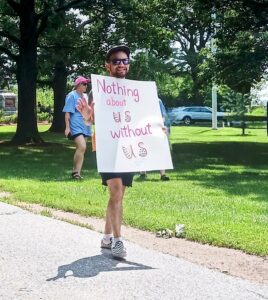 Toward the end of the day, I spoke to someone I'd just met about how frenetic and relentless the world feels right now. I wondered aloud how much distance we might need to achieve from the pandemic's epicenter and all the other chaos and awful of the last few years in order to catch a bit of a breather; a peaceful moment or two.
Their response has stuck with me, probably because I fear it to be true: "I think that time might be permanently gone for our species at this point."
But, what does that mean for some of the signature fights of psychiatric survivors over the decades? Particularly pressing right now, what does that mean for Involuntary Outpatient Commitment (IOC)?
Involuntary Outpatient Commitment, That Old Chestnut
Involuntary Outpatient Commitment is better known as "Assisted Outpatient Treatment," (AOT) or "Community Treatment Orders" (CTO). However—other than to explain the connection—I generally refuse to participate in language that essentially attempts to trick people who are against IOC into speaking in terms that make it sound benign and helpful. (Okay, occasionally I'll cave and slip into "AOT" language if it means being able to challenge its existence in mainstream media, but that's the only exception!)
IOC has been around in one form or another since the 1980s. Some of the earliest adopters were California (Laura's Law), and New York (Kendra's Law). Note that it is no accident that each law is named after someone who died tragically, as the opportunistic use of horrifying events has always been a common and effective strategy to silence resistance. At present, some form of IOC exists in 47 of 50 states, the exceptions being Maryland, Connecticut, and Massachusetts.
As one of the three holdouts, Massachusetts has gone around in this circle many times before. Legislation is proposed. A public hearing is set. The Treatment Advocacy Center and their allies gear up, often shipping in families from other states to share tragic stories of people who might have been saved were such laws already on the books at the time. (Or… who engaged in tragedy-inducing actions even though those laws were on the books, yet are still somehow being held up as proof as to why the laws are needed, but never mind that "man" behind the curtain.)
It Only Takes One Yes, No Matter How Many Nos Came Before
This spin around the repetitious wheel does feel a bit different.
We've lost real ground in the fight against force already, perhaps most notably when New York Mayor Eric Adams announced plans to substantially expand the power to involuntarily commit unhoused and other vulnerable citizens. Meanwhile, mass shootings in the United States have surpassed 400 in 2023 alone, and any sign of a psychiatric history in a perpetrator remains the most popular explanation. But in spite of all that fuel to the fire, so many people's chaos-sapped energy to fight much of anything is flagging in ways I haven't seen before. Do we have enough collective strength to keep holding back the waves?
Perhaps we've met the formula to end the fight once and for all:
[Employ in peer roles some of the only people who know how to recognize psychiatric oppression, thus silencing many of them for fear of losing their financial stability]  +  [Exhaust pretty much everybody through relentless national and international crises, one piled on top of another, until they can barely think straight]  +  [Strike with new legislation before anyone has a chance to bounce back]  =  [End of pushback on IOC?]
The humane thing almost always requires more energy—both emotional and intellectual—than the measures that employ force and coercion. It doesn't matter that they rely so heavily on illusion, because by the time anyone really figures out their promises of health, wealth, and/or happiness don't hold up, most people have stopped paying attention. Plus, most media outlets are typically at the ready to help maintain the impression that things are going just well enough that no further eyes are needed on board.
Enter H.1694/S.980
New bills were filed in Massachusetts in January of 2023. That included the latest attempt to get IOC on the books: H.1694/S.980, An Act to Provide Critical Community Health Services. The bill is sponsored by Representative Matthew Muratore in the House and Senator Cindy Friedman in the Senate. Neither is a stranger to advocating on this issue.
The Massachusetts Association for Mental Health (MAMH) offers the following brief summary of the bill and some of its implications:
This bill allows a judge to order a person to participate in involuntary medical treatment while living in the community. Individuals could be ordered to accept "critical community health services," an undefined term which most often would mean antipsychotic medication. Judges could impose a mandatory service plan on anyone whom they determine is "gravely disabled" – another vague term that could apply to anyone a mental health provider believes is not taking adequate care of themselves, including people who are unhoused. Non-compliance with the plan triggers a hearing. If the court finds the person non-compliant, it could require an evaluation of whether failure to hospitalize would create a likelihood of serious harm and potentially order hospitalization. In this way, the bill expands the existing bases for involuntary commitment to a psychiatric facility. The bill does not require that services be made available or indicate who will provide or pay for them. The burdens appear to fall on the individual as opposed to the care system.
We're all braced for an uphill battle.
If the Story Doesn't Fit, Just "What If" It Into Place
The legislature is required to offer a public hearing for each bill. Of course, that hearing usually comes with no more than a week's notice and is lumped together with a dozen other bills to be heard on the same day. Each speaker (who manages to sign up before the short-notice deadline) is allotted only three minutes to make their points. Woe is the plight of the being who wishes to speak on more than one bill slated that day! They still only get three minutes. No exceptions. (Well… No exceptions for us.)
The hearing for H.1694/S.980 was slated for Tuesday, July 18 before the Joint Judiciary Committee. True to form, we were notified exactly one week before. A group of advocates and disability rights attorneys had already been readying themselves and tapping others to join. We were mostly prepared.
On the day of the hearing, committees make no promise about who or what topic will be heard when, though they do allow their legislative colleagues to "skip the line" regardless of the overall plan. In this case, on July 18, that meant that we heard first from Sponsors Representative Matthew Muratore and Senator Cindy Friedman, as well as Muratore's special guest, psychiatrist Jhilam Biswas.
They knew what they were doing. Muratore brought the "lived experience" vibe, as the father of a woman who—as a teenager—was in a car accident resulting in a head injury and subsequent bouts of emotional distress. He played to the sympathies of his legislative colleagues, largely leaving the intellectual elements to Friedman and Biswas who recited the facts… as they see them.
The scene was a bit bizarre, albeit also apparently effective as they seemed to win favor with other legislators in those first moments of the day. Everyone glossed over the fact that we were talking about the impact of a head injury, and not the far more mysterious "severe mental illness" that is typically at the center of this debate. More importantly, Muratore seemed to be testifying mostly in "what ifs" rather than "what is." He openly acknowledged his daughter—now employed successfully as a nurse—was well equipped to notify her family when she was struggling, and to identify when she needed to reach out for more support. But what if she stopped being able to do that, he wondered. The implication was that there might come a time when his family needed something like IOC to keep his daughter safe.
What if, indeed. One of the main ways proponents of this bill attempt to overcome objections is to claim it would only be applied to a very narrow group of people who are "gravely disabled." Would a young woman like Muratore's daughter suddenly meet those qualifications if she stopped wanting help? It seems doubtful, and as such, I'm not sure these claims—that she would qualify and that IOC will be applied only in a very limited fashion—can both be true.
It's Not Punishment If We Just Call It Something Else… Right?
Enter Senator Cindy Friedman who openly admitted that she has been a part of finagling bills like this for years, massaging their content a bit differently each time in hopes to slide successfully by the human rights watchdogs. This time, Friedman leaned heavily on the idea that this bill isn't anything new. She claimed it's basically just like the Boston Outpatient Assisted Treatment (BOAT) program, now reporting positive outcomes. Except… BOAT is strictly for individuals subject to criminal charges who voluntarily choose to participate. That's a pretty glaring difference to fail to mention. Granted, the pressures of criminal prosecution make anything "voluntary" seem a little less than, but it's still not quite comparable to when there's no choice at all.
Friedman then followed that assertion up with something even more bizarre: This bill, she pleadingly stated—as if to beg "just please let it through this time!"—has no punitive element at all…. What? Let's unpack.
First of all, it is highly likely that a significant number of people who would be subjected to IOC under this bill would also be criminally involved. There is just this side of no chance at all—if someone is put on an IOC order while, say, on probation—that failure to follow the order wouldn't be seen as a violation with clear consequences lined up. Sure sounds like punishment to me.
And what of folks who have no criminal involvement? Unlike some IOC bills, this one doesn't automatically jump to an involuntary hold if someone is found to be out of alignment with their court order (see the film Crazy by Lise Zumwalt for an example of how that can play out). Rather, it says that they may be required to go through a process of evaluation for "danger to self or others" under existing Section 12 laws. Okay. (Deep breath.) Back to the unpacking:
In reality, even that Section 12 statute allows for forcible transport to an emergency room for said evaluation, so there's that. (And I promise you, many people will experience forcible transport as fairly traumatic "punishment" all on its own.) Then, once there, a clinician is assigned to assess their risk, and the advisability to further detain them for review for up to 72 hours (not including weekends or holidays, and still possibly subject to a longer commitment after that).
Perhaps most importantly, are we really to believe that a clinician responsible for evaluating someone's "risk to self or others" is going to be able to do so fairly when a court has literally already declared that that person is exactly that type of risk under precisely those conditions? Seems like a punishing set-up to me, with just enough vaguery peppered in to allow legislators to continue to make the dubious claim that this isn't about force at all.
Giggle It Just a Little Bit
Perhaps one of the most perplexing parts of the hearing was all the nervous laughter about the pronunciation of "anosognosia," particularly from Friedman. What sense does it make that a Senator who's been pushing IOC for years can't accurately pronounce the diagnosis associated with every IOC proponent's favorite pro-IOC argument? Fumbling pronunciation honestly seemed like a ploy designed to further elevate the only supposed expert in the room: Psychiatrist (and pronunciation pro) Jhilam Biswas.
And ready she was to take the reigns. Biswas—known best for her former post at the highly questionable, human-rights-violating institution, Bridgewater State Hospital, as well as for her tendency to promote misleading information to further her own agenda—went so far as to make the absurd claim that many of her patients "thank her" for subjecting them to force.
Biswas also referenced notoriously questionable brain scan research to substantiate the term within the field of psychiatry. What is the average legislator to do but accept that at face value? We've all been trained that we are supposed to bow to the word of doctors.
Ann-oh-sog-nose-ee-uh.
Ann-oh-sog-nose-ee-uh.
It's long, but not really that hard to say. Psychologist Xavier Amador once got thousands of people chanting the word all at the same time at a National Council conference. If they can do it, so can we.
I'm told anosognosia was coined by a French neurologist (Joseph Babinski) in 1914. He reportedly created the term to describe someone who'd lost the ability to use or feel the left side of their body. In other words, it refers to a neurological condition common in people who've had strokes and similar. It did not come to be used in psychiatry until the late 20th century and has never achieved scientific validity (unless we're accepting relentless repetition of a theory as meeting the threshold these days).
Although brief, one of the most compelling retorts I've seen to the use of the term on folks with psychiatric diagnoses comes from a "letter to the editor" courtesy Larry Davidson as published in the Hartford Courant:
I can reassure Drs. E. Fuller Torrey and Xavier Amador that I know of their theory linking anosognosia to schizophrenia [May 1, letter, "Neurological Basis For Denying Illness"; and May 3, letter, "Condition Obscures Mental Illness"]. Anosognosia is a neurological condition in patients with nondominant parietal lobe lesions, who deny their partial paralysis.
I can understand wanting to apply this notion to mentally ill persons who refuse treatment, but there are at least five reasons not to:
1) No such lesions have been found in schizophrenia, despite over 200 years of research looking for them. What Drs. Amador and Torrey have is a theory, not a fact. Other than justifying outpatient commitment, this theory has led to no breakthroughs in treatment.
Not only are such theories dangerous, but they 2) do not explain how so many people with schizophrenia gain insight and recover over time; 3) do not take into account the power of stigma, which persons with mental illnesses identify as the major barrier to accessing care; 4) do not take into account the limited effectiveness and responsiveness of much mental health care; and 5) do not support outpatient commitment because schizophrenia is the least likely condition among the mental illnesses to be implicated in the extremely rare acts of violence that occur.
One Time at a Legislative Hearing, There Was an Electrical Fire and…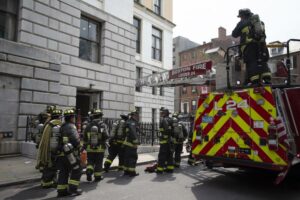 Unfortunately, before anyone other than Muratore, Freidman, and Biswas were able to testify, an alarm went off in the State House and everyone was evacuated. We waited around—in person or on-line—each trying to decide if we were hoping for things to continue or be postponed.
Turns out there was an actual fire at the State House, an electrical one in the basement. The hearing would not resume. So, we're back to the waiting game, hoping the same folks will be available to testify the next time they sound their seven-day call.
In the meantime, let's all please be reminded:
There are lots of reasons why people deny they're struggling that are separate from "lack of insight," including (but not limited to):

Risk of loss of liberty is too great.
Risk of experiencing discrimination (in housing, employment, child rearing, and more) is too great.
Treatments most readily available are often ineffective, and sometimes harmful (and clear harm is often not reason enough for providers to concede that they should be stopped).
Cultural beliefs and practices related to emotional distress may be incompatible with mainstream perspectives.
Even if someone wants help, they may not want it from you.
There have been no substantive improvements in outcomes in the mental health realm based on the treatments that IOC would seek to force for several decades. Instead, we're continuing to see the mortality gap (between people deemed "mentally ill" and the general population) grow, right alongside rising suicide rates that are increasingly associated with loss of power. Like the loss of power that comes when someone is subjected to force. For example.
An intervention that helps a minority and hurts the majority is harmful, particularly when you can't tell who will be who and proceed accordingly. These systems would have us believe that the "helps" are great successes, while the instances where it doesn't work are just harmless misses—often the result of someone's "treatment resistance"—and signal the need to simply try harder or more. Imagine if a particular medical procedure—open heart surgery, for example—had the same reputation. No one would tolerate it, let alone force it on each other just to see if it might work out.
The bottom line is this law will be far harder to get rid of once it's on the books than it's been to keep it from getting there. However low our energy might be right now, we better make sure the emperor is recognized for his utter lack of clothes, or else know he will be haunting us with his buck nakedness for many years to come.
***
Mad in America hosts blogs by a diverse group of writers. These posts are designed to serve as a public forum for a discussion—broadly speaking—of psychiatry and its treatments. The opinions expressed are the writers' own.
***
Mad in America has made some changes to the commenting process. You no longer need to login or create an account on our site to comment. The only information needed is your name, email and comment text. Comments made with an account prior to this change will remain visible on the site.