In the current debates about antidepressant withdrawal, it seems there are two sides—and no middle. On one side there's psychiatry, particularly academic psychiatry, minimizing the problem. And on the other, psychologists and Mad in America authors and readers, declaring a near emergency. Every new essay prompts yet more objections from the other camp. Examples: from psychiatry, articles led by Juahar, Jha, Nutt; and many psychiatrists' responses to Moncrieff et al's review on serotonin (sample). On the other side of the gulf we hear Davies, Read, Hengartner, and many authors on Mad in America (sample).
Reading these presentations, one can hear anger at the others' ideas, and anger at not being heard. One can hear pain, for suffering not recognized, and some personal affront as well. And one can hear fear, particularly fear that the other side is doing harm. Thence comes blame, which leads to more of all these feelings and interpretations.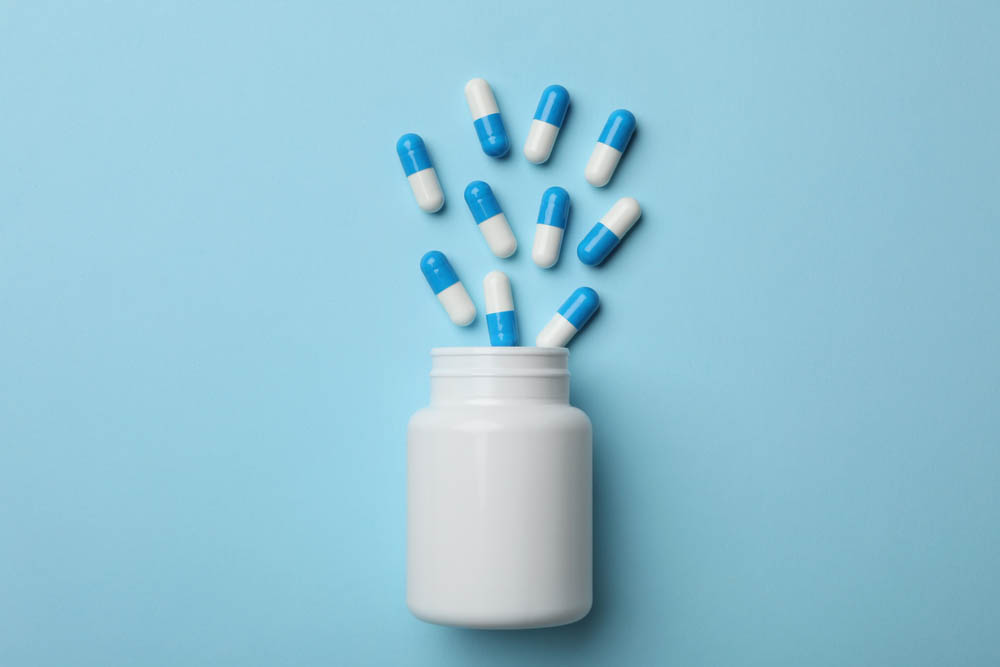 I'd like to present a sort of middle ground, where the views of both sides are respected, and understood to have origins in wanting to help people and reduce suffering. If I'm criticized roughly equally by both sides—which I expect—at least I'll have succeeded in presenting a not-so-visible part of the geography. However, I recognize that for some, any speech about this issue may simply arouse more harsh feelings, which I regret. Overall, I hope to contribute something useful.
This first essay in this three-part series looks at the question "How common is antidepressant withdrawal?" The second presents some of the challenges a prescriber faces when an antidepressant is being considered, and some partial solutions. The third asks "Why do some people, on the same dose of the same medication for the same duration, have severe withdrawal symptoms, while others have little or none?" and offers a hypothesis.
First, then…
How Common Is Antidepressant Withdrawal?
One well-known academic psychiatrist estimated that severe withdrawal symptoms happen to about "1 to 2 percent" of people stopping their antidepressants. By contrast, an oft-cited survey by Davies and Read suggested that the rate is about 50%. Who is closer to the truth?
This important question is finally being examined more closely. Unfortunately, and ironically, given that antidepressants have been in widespread use for over 20 years, psychiatry has not done the studies needed to answer this key question. This notable gap has raised some suspicion that the necessary research has not merely been overlooked but deliberately avoided. Pharmaceutical companies, exerting their influence on academic psychiatry through lucrative honoraria and advisory board payments, have clearly played a role in how antidepressant risks have been presented.
Also unfortunate: in the absence of data to help estimate the frequency of severe withdrawal symptoms, the divide in opinion about this frequency has been increasing. At minimum, and very understandably, patients feel they've been ignored, misunderstood, and too easily dismissed. They've not been listened to. Their more complex and debilitating withdrawal symptoms have been regarded as a return of their own symptoms. Their protests to the contrary have even been seen as indications of a personality disorder. Really? Yes, sadly, I recently heard a third-year resident in psychiatry dismiss concerns about antidepressant withdrawal in just this way. So no wonder patients and their sympathetic professionals, when they get a chance to speak out, feel a need to speak loudly.
The response from psychiatry ought to be to listen, to acknowledge, and to make it clear: "you are heard." Indeed, psychiatry should go on: "These are understandable concerns about antidepressants. Your frustration is also completely understandable. We regret having seemed to be deaf to your experience. We hear you now and we are trying to figure out how to change our practices accordingly. At minimum, we will place more emphasis on the risk of antidepressant withdrawal symptoms when discussing treatment options for depression with patients."
Only after patients and their representatives feel fully heard and understood should psychiatry offer anything that might be construed as rebuttal, e.g. "withdrawal is not as common as some have claimed." That response is insensitive if someone is trying to explain their beliefs that severe withdrawal is a major, poorly recognized problem.
As you can gather, I'm trying to avoid making that same mistake right now. Because I can hear the frustration. I can understand the anger at being ignored and misunderstood—and even silenced, because psychiatry has access to multiple forums to present its views where patients do not. Thus, I am not surprised to see the people of SurvivingAntidepressants.org rise up and help create and sponsor a professionally produced movie that protests patients' treatment by psychiatrists (Medicating Normal). This movie is yet another indication of needed changes in psychiatry. One of those changes is to more fully acknowledge the risks of antidepressant withdrawal.
Estimating the Incidence of Withdrawal
Which brings us back to the question "How many people have severe withdrawal symptoms when their antidepressant is stopped?" Don't forget: I agree with the view that the answer is "many more than psychiatry thought."
Of course, the answer is "it depends," including: which antidepressant, as they differ in their rates of causing withdrawal on discontinuation; duration of antidepressant treatment, with shorter exposure less likely but still capable of causing withdrawal; which people, because some seem more vulnerable than others, as I emphasize in the third of this three-part set of essays; and, most of all, which definition of "withdrawal" is being used.
No single number accurately presents the whole picture of withdrawal. Better would be a graph, such as this one using data from a 2005 study, showing the percentage of participants experiencing various degrees of withdrawal: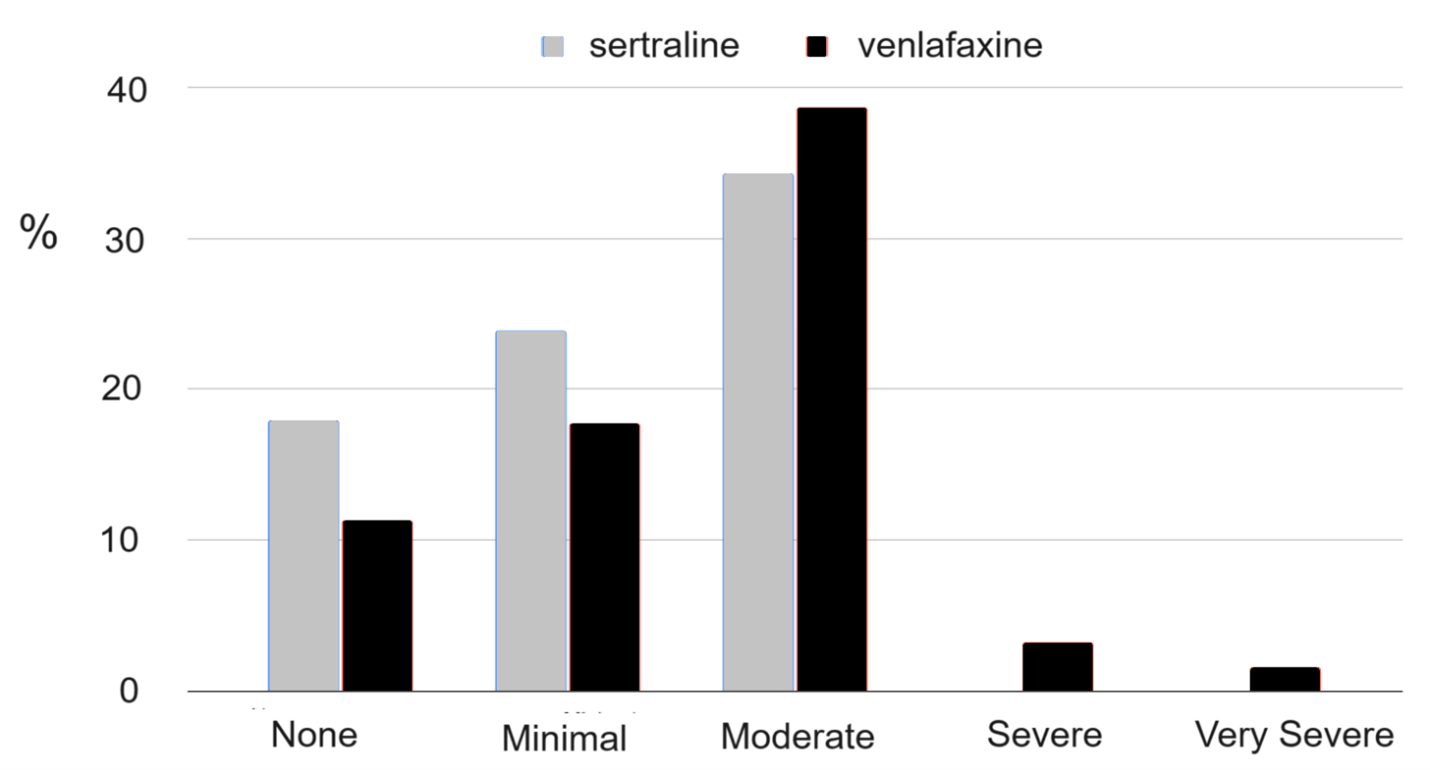 Or this one, from an international patient survey: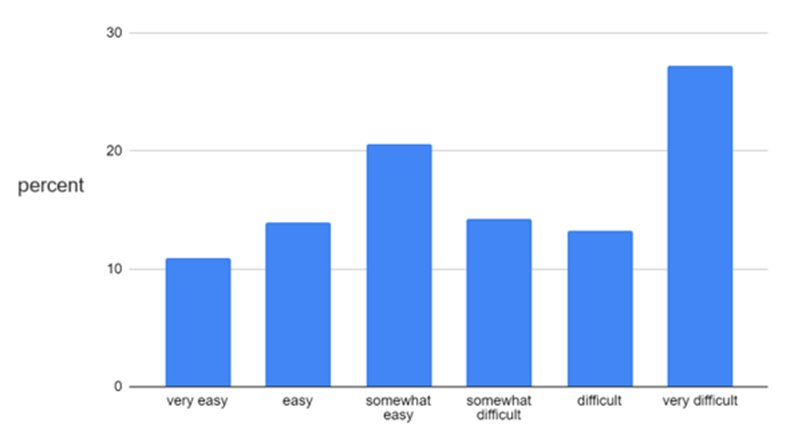 In another study, on a 0-10 scale where 10 scale represents life-threatening withdrawal symptoms, British General Practitioners (GPs) estimated that the percentage of their patients who experienced any withdrawal was between 20 to 40%. Their psychiatrist colleagues' estimates were higher, around 50%. But both groups offered a wide range of estimates: the GPs, from 1% to 100%! These providers were also asked to indicate the average severity of withdrawal they observed. The average was around 4 but varied from 2 to 6; and the psychiatrists estimated an average of 5, ranging from 3 to 7.
For another perspective, our research team looked in our health system's medical records for patients who had been on an antidepressant for at least six months and then stopped. We found that 90% did not receive the lowest available dose of their medication before it was discontinued (other records indicated that these patients were still in care in our system). If they had been carefully tapered, they would have received a new prescription for the lowest available dose, because we selected only those who had all been on a higher dose before stopping. Some of these patients likely had withdrawal symptoms that they somehow managed on their own. All we know is that they did not come back to their prescriber and receive a lower dose to facilitate tapering. These results are thus consistent with the first of the two graphs above: severe or very severe withdrawal symptoms—enough to prompt a return to the patient's prescriber for help—were not common.
Yet people who have experienced severe antidepressant withdrawal will rightly object that studies like these fail to capture what it's like to have awful, life-limiting symptoms. In addition, these studies also miss the many patients who resumed their antidepressant because of severe withdrawal symptoms, or because they thought, or were told, that they were relapsing into their previous illness.
What to Tell Patients, and What They Will Hear
What then should a prescriber say to their patient about the risk of withdrawal, when an antidepressant is being considered? One percent, or 50 percent? How about "when this medication is stopped, withdrawal symptoms occur about half the time. Those symptoms can be reduced or avoided entirely by slowly tapering off, but even with that, at least 1 or 2%—1 or 2 people in 100—will have severe withdrawal symptoms that require careful tapering over a year or more."
Will people really choose to take an antidepressant, hearing that? In my experience, these kinds of warnings have widely differing effects. For example, if John's friend just had a great response to fluoxetine, John may come in hoping to leave with a prescription for it and are not seem very concerned with the risk side. Conversely, if Sara's relative had a very bad experience stopping an antidepressant, Sara is likely to be hesitant to start one. In that context, even a number smaller than 1% might be still arouse enough concern to steer her away from choosing an antidepressant. I've had patients decline lamotrigine after hearing of its 1-in-2000 risk of severe rash, saying "ah, but I'd be that one, doc.'"
My point: while we don't have a precise figure for the number of people experiencing antidepressant withdrawal, prescribers can still offer a clear warning; and for many people, a more precise figure would not change their decision-making much.
The Context: Alternative Treatments
Even if the problem of withdrawal is presented very clearly, patients will hear that risk in the context of the availability of alternatives. For example, suppose psychotherapy is not a realistic option: e.g. when insurance coverage is limited; or few therapists are taking new clients; or serial co-pays pose a financial burden. Suppose exercise is constrained by co-morbidities; and behavioral activation is unrealistic due to life circumstances; and peer and community support is limited; and fish oil is not regarded as a sufficiently robust intervention. Under these circumstances, a patient might hear the antidepressant risk message but not strongly incorporate it into their decision-making: the cognitive dissonance between "antidepressants are your most accessible option" and "antidepressants can cause severe withdrawal" could force the latter idea to be downplayed or dismissed.
Thus, antidepressants' benefit/risk ratio might look quite different if alternative treatments were more accessible and affordable. And for psychotherapy, that advance has occurred. Remote therapy via the internet became routine during the COVID-19 epidemic. But it may still be too expensive for many people.
Fortunately, randomized trials suggest that an online version of cognitive behavioral therapy developed by Australia's National Health Service (MoodGym) is nearly as effective as a live therapist, if the program is offered with weekly text messaging support. (Without that support, completion rates are low, but the program is still helpful.) In addition, an online version of behavioral activation therapy (Moodivate) now has a randomized trial showing efficacy equal to an online CBT program.
Conclusion
What percentage of patients experience antidepressant withdrawal? "It depends," especially on the definitions used. In the next essay, I'll examine the so-called "Procedures, Alternatives, and Risks" (PAR) discussion prescribers are supposed to offer patients. You'll see that a truly balanced presentation is close to impossible—but there are some potential solutions. Thanks for reading this far. I hope you'll return for the next go-around.
***
Mad in America hosts blogs by a diverse group of writers. These posts are designed to serve as a public forum for a discussion—broadly speaking—of psychiatry and its treatments. The opinions expressed are the writers' own.
***
Mad in America has made some changes to the commenting process. You no longer need to login or create an account on our site to comment. The only information needed is your name, email and comment text. Comments made with an account prior to this change will remain visible on the site.