New research finds that patients in public healthcare settings find relationally oriented treatments, such as psychodynamic psychotherapy, helpful to them in a variety of ways. Clinician-researchers led by Dr. Hannah Richardson from the Cambridge Health Alliance, a public medical system associated with Harvard Medical School, recently published results from their study in The Journal of Mental Health Training, Education, and Practice to understand what patients receiving psychodynamic psychotherapy found helpful in their treatment.
While they found that most patients thought their treatment was helpful, they often mentioned their therapist as an essential element of helpful treatment. Such findings highlight the value of interpersonal connections as a part of treatment and that patients outside the traditional psychotherapy practice setting value treatments that focus on this connection (i.e., psychodynamic therapy). The authors reviewed some of the current research on patients' perspectives of good therapy, noting that they are not very common and that:
"Although interventions such as single-session therapy may rely less on the therapeutic relationship, it is unclear whether they can be helpful to patients with complex problems… The therapeutic relationship emerges repeatedly in the literature as helpful regardless of the study design or population. Other factors perceived as helpful by patients across modalities include personal contact, awareness/ insight/understanding, behavioral change/problem solution, empowerment, exploring feelings/emotional experiencing, relief, feeling understood, patient involvement, reassurance/support/safety, and 'voicing.'"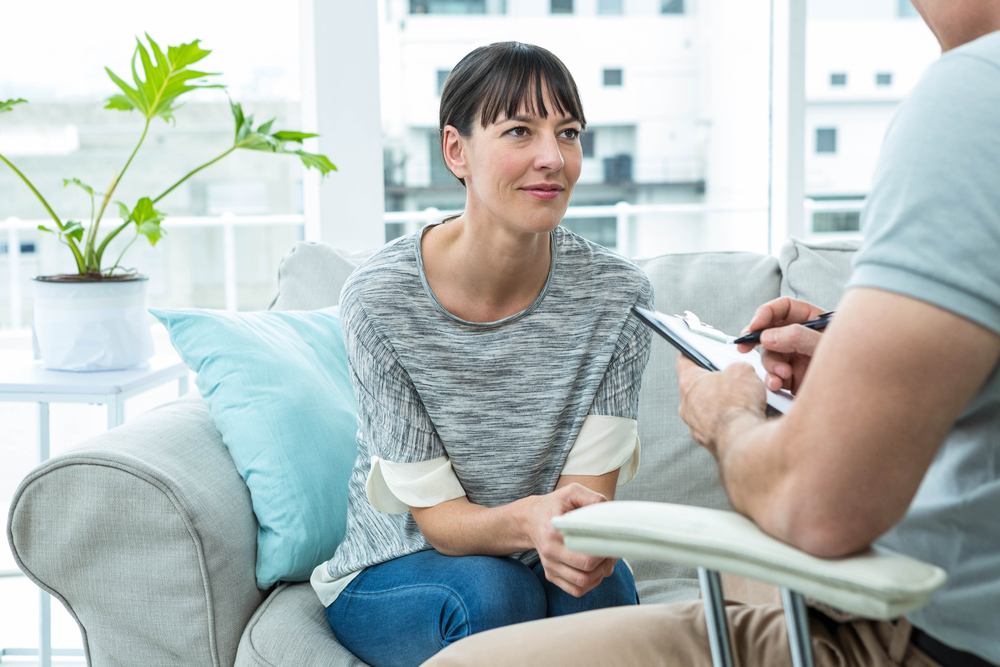 The authors wanted to understand what patients found helpful in psychodynamic psychotherapy, which hasn't received much attention in patient-centered research. They also wanted to understand whether patients' reporting of what they found helpful in psychodynamic psychotherapy changed with 100 patients three months into treatment and 88 patients after ending therapy.
Patients who agreed to receive follow-up questionnaires from the researchers were asked one open-ended question about what they found most helpful about the treatment they received at the clinic, along with the patients' numerical rating of how beneficial the therapy had been. Patients in the study had an average length of therapy of 10.5 months or approximately 44 mostly weekly sessions. In addition to receiving psychodynamic psychotherapy, about half of the patients also reported receiving psychiatric medication as part of their treatment.
The authors analyzed patients' feedback on their treatment experiences by categorizing and organizing their responses into themes based on perceived patterns while prioritizing code development that emphasized inter-rater agreement and consistency among researchers. From these initial analyses of responses from patients three months into treatment, the authors created a codebook of 16 categories to deductively code patients' responses after completing treatment. This led to the analysis of the themes that connected the codes.
From this analysis, the authors found that the most common codes found in patients' responses of what they found therapeutic in treatment were having someone to talk to, having structure in treatment (a consistent and frequent therapeutic 'frame'), and symptom relief/improved functioning.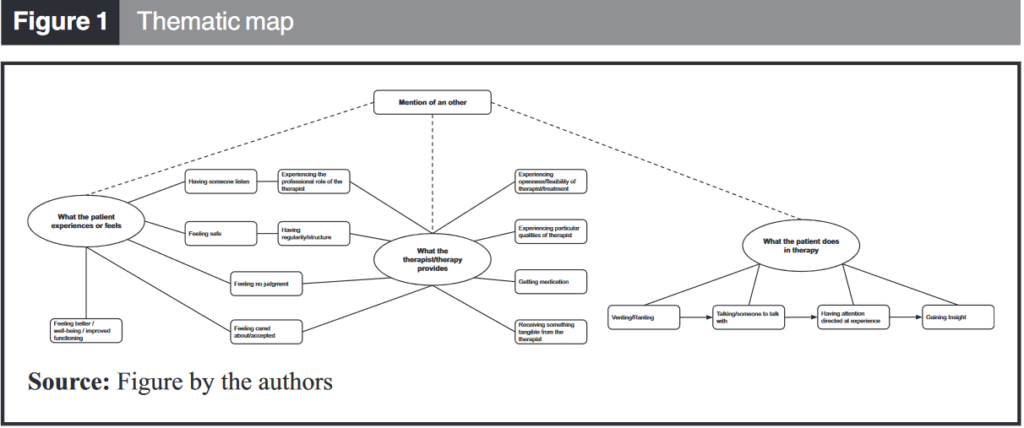 Patients, whether they had explicitly mentioned it or not, had identified the therapist's presence as important to what they found helpful about treatment, indicating that what is considered therapeutic by patients happens in the context of a relationship with the therapist. It was even observed that categories related to the therapy relationship increased at the end of therapy, indicating that therapists become more critical to patients' views of what is therapeutic as treatment progresses.
The authors also identified four categories representing different levels of insight expressed by patients. From the first level, describing "venting/ranting" as therapeutic, then "talking/someone to talk with," followed by therapy "directing attention at experience," culminating with "insight" as being identified as therapeutic. The authors note the following results:
"We identified three themes that emerged from our coded data: The first theme, what the patient experiences or feels, incorporates categories such as improved functioning, feeling safe, and feeling cared about. Many of the categories within this theme connect with the different perspectives captured by the second theme, what the therapist/therapy provides. The third theme, what the patient does in therapy, incorporates the four levels of insight described above. All three themes have "mention of an other" embedded within them. The three themes can be thought of as giving different views or perspectives on the therapy process."
Focusing on inter-rater reliability between researchers and quantifying patient responses, a positivist perspective in qualitative research may be perpetuated, which prioritizes statistical power in the results to make inferences about population variations from sample observations. This approach may lead to the assumption that the most common responses represent validity without fully embracing the researchers' interpretations.
By implementing such reductions, the methodological integrity of the findings could potentially be compromised, overlooking the invaluable perspective provided by qualitative research, which can lead to a comprehensive and contextually grounded understanding of patients' experiences in psychodynamic therapy.
Psychodynamic psychotherapy is a depth-oriented, emotion-focused, and relational approach to mental health treatment that goes beyond symptom reduction, prioritizing building self-understanding and fulfilling interpersonal relationships. It has often been marginalized in favor of approaches such as cognitive behavioral therapies (CBT), despite continued research in that psychodynamic therapies show strong evidence for their efficacy in treating common mental disorders, such as depression, anxiety, personality, and somatic disorders, as well as bipolar and trauma disorders in LGBTQ patients.
This research shows that psychodynamic therapies are often equivalent to CBT, challenging the notion that CBT is the gold standard treatment approach to be used across the board. Some research suggests that psychodynamic therapy is more effective at improving reflective functioning in some patients with borderline personality disorder than CBTs, and when integrated with CBT, it can improve therapy outcomes.
As psychodynamic therapy continues to gain attention in the mental health field, the research of Richardson and colleagues is innovative in focusing on patients' perspectives on the elements of treatment that are therapeutic. Combined with the naturalistic setting of a public mental health clinic, this research also emphasizes the applicability of such therapeutic approaches to often-underserved populations.
While it is helpful to know more about what patients find helpful in therapy, future research directions include understanding more about what patients say is unhelpful in their treatment. Nonetheless, these study findings demonstrate the need for healthcare organizations to value the therapeutic relationship as a central component of treatment, as well as focus on outcomes beyond symptom reduction.
****
Richardson, H., Ernst, J., Drill, R., Gill, A., Hunnicutt, P., Silver, Z., Coger, M., & Beinashowitz, J. (2023). In the patient's own words: A qualitative study of what patients find helpful in psychodynamic psychotherapy. The Journal of Mental Health Training, Education and Practice. https://doi.org/10.1108/JMHTEP-06-2022-0041