On September 9, Mad in America set up a petition on change.org urging the American Journal of Psychiatry to retract its 2006 article that told of a 67% remission rate in the STAR*D trial. The case for doing so was straightforward: In August, Ed Pigott and colleagues, having obtained patient-level data through the "Restoring Invisible and Abandoned Trials" initiative, published a paper in BMJ Open that told of how the remission rate in that trial was actually 35%. In their paper, they detailed the various protocol violations that the STAR*D authors had employed to inflate the remission rate to nearly double that number.
In our MIA Report on the STAR*D scandal, we told of how the call to retract the 2006 paper presented American psychiatry with a defining moment:
The American Psychiatric Association, and the international community of psychiatrists, could take a great step forward in regaining public trust if they spoke out about the STAR*D fraud and requested a retraction of the published articles. Doing so would be an action that told of a profession's commitment, as it moves forward, to uphold research standards, and to provide the public with an honest accounting of the "evidence base" for psychiatric drugs.
However, failing to do so will only deepen justified criticism of the field. It will be a continuance of the past 15 years, when psychiatry has shown, through its inaction, that research misconduct in this domain of medicine—misconduct that rises to the level of scientific fraud—is acceptable practice, even though it may do great harm.
More than 1,600 people signed our petition in the first 30 days. On October 10, I sent this email to Ned Kalin, M.D., editor-in-chief of the American Journal of Psychiatry:
Dear Ned Kalin, M.D.
As you know, a RIAT patient-level analysis of the STAR*D summary findings, which were published in the American Journal of Psychiatry in November 2006, found that the cumulative remission rate was 35%, rather than the 67% reported in the Am J of Psychiatry article. The reanalysis was published in BMJ Open in August.
The authors of the RIAT analysis, led by Ed Pigott, detailed how the STAR*D authors inflated the reported remission rate. The most egregious involved including outcomes from 931 patients who weren't depressed enough at baseline to meet eligibility criteria for the trial; this protocol violation alone added 570 to the number said to have remitted in the 2006 summary article.
Mad in America, a U.S. based webzine, published an article detailing the findings in the RIAT reanalysis and the protocol violations laid out by Pigott and colleagues in their article. At that time, we put up a petition on change.org urging that the Am J of Psychiatry retract the 2006 article.
The case for retraction is clear. Medical editors are duty-bound to retract articles when their "findings are no longer considered trustworthy due to scientific misconduct or error." The media has long cited the STAR*D study, with its announced remission rate of 67%, as evidence of the effectiveness of antidepressants in real-world patients. The American Journal of Psychiatry needs to retract that summary article and properly inform the public that the cumulative remission rate in that study was, in fact, 35%.
Our petition has been signed by more than 1,600 people from 44 countries, including a number of psychiatrists.
I, along with the signers of the petition, look forward to receiving your response.
Sincerely,
Robert Whitaker
Mad in America Foundation President
More than two weeks have now passed since I sent that email (and a copy to the American Journal of Psychiatry: [email protected]). We did not receive any response. The AJP—and by extension American psychiatry—was confronted with a defining moment, and now the AJP has provided its answer. There will be no correction of the scientific record.
The Complicity of the AJP
The call for an article to be retracted usually involves a disclosure of misconduct by the authors of the study following publication of the article. Journal editors, newly aware of such research misconduct, are expected to investigate. If they are able to verify the research misconduct, then they are expected to make that misconduct known to the public. Retracting an article is a necessary step toward cleansing the research record of a fraudulent result.
However, this call for retraction was different. The STAR*D investigators, in their AJP articles detailing the results from the four "treatment steps" in the STAR*D trial, had left a trail that told of their intent to deceive. By publishing the summary result, the AJP editors had, in essence, assented to the research misconduct at that time.
In their January 2006 article (Trivedi, et al.), the STAR*D authors reported that of the 4,041 who entered the study,  there were only 2,876 "evaluable" patients. The non-evaluable group included 324 patients who lacked a baseline HAM-D score, and 607 who had a baseline HAM-D score of less than 14 and thus weren't depressed enough to be eligible for the study. Excluding the 931 patients was the proper thing to do: you couldn't report results that included patients who hadn't met inclusion criteria.
However, when the STAR*D authors reported the step 2 results, they included this group of 931 patients in their "evaluable" group, although they did so without acknowledging that they were doing so. This could be seen only by a careful deconstruction of the numbers that were presented; the sleight of hand was now on.
In their November 2006 paper, the STAR*D authors stated there were now 3,671 "evaluable" patients. As they explained how they arrived at this number, they in essence confessed to their research misconduct. They wrote:
Overall, 4,041 participants were enrolled in the STAR*D study. All participants had to have scores ≥14 on the HRSD-17 as obtained by the clinical research coordinator at study entry. We excluded 370 of these participants because they did not return for a postbaseline assessment in Level 1, leaving 3,671 participants. (Note: this sample includes the 2,876 reported in Trivedi et al. plus those patients whose HRSD-17 score per research outcome assessor was <14 at entry and who had at least one post-baseline visit. These latter participants were excluded from Trivedi et al.)
There, in that parenthetical aside, is their confession. They were reporting remission rates for those who didn't meet inclusion criteria. And the AJP editors, by publishing this paper, which told of a 67% remission rate, were giving their assent to this research misconduct.
A Profession Remains Silent
This misconduct would have gone unnoticed if it weren't for Ed Pigott and his colleagues. While that paragraph was a source of confusion—why did the count of evaluable patients keep changing?—it wasn't readily seen as a confession of research misconduct. I remember reading this paper when I was researching Anatomy of an Epidemic, and while I could see something wasn't right, I missed the admission that they were now including patients who hadn't been depressed enough to be eligible for the study in the first place.
Pigott and colleagues published their first deconstruction of the trial in 2010, and in that publication and several others, they laid out the protocol violations that had been used to inflate the remission rate. Thus, this scandal is old news. At that earlier date, the American Journal of Psychiatry, the American Psychiatric Association, and the National Institute of Mental Health all responded in the same way: a code of silence.
The media continued to quote the 67% remission rate, and none of these three groups uttered a peep. The AJP said nothing. The American Psychiatric Association said nothing. The National Institute of Mental Health said nothing.
Their silence, however, spoke volumes. If you are a researcher that has been accused of research misconduct and you think the accusation is false or wrong, you vigorously and loudly defend yourself. If you are the editor of a journal that published the article, and you think the accusation is false or wrong, you vigorously defend the merits of what you published.
By remaining silent, none of these groups were challenging Pigott's work. They weren't asserting that Pigott had it wrong.
Instead, their silence told of their counting on the scandal to disappear, and that approach worked. As Pigott published his findings, there was no mention of them in the mainstream press. The American Journal of Psychiatry ignored them as well, and that has remained true following the publication of Pigott's re-analysis of the patient-level data. I haven't seen any coverage of the STAR*D scandal in the mainstream press, and as for the AJP, I searched through its online archive to see if I could find any mention of his recent paper, or any mention of his previous papers, and I couldn't find any. For readers of the AJP, it is as though this scandal never happened.
The non-response by Ned Kalin, the current editor-in-chief of the AJP, follows in that mode. A response of any type—that the matter would be investigated, or that the journal stood by the publication of the November 2006 article—would simply bring attention to the matter, and that eventually could blow up into a story of how psychiatry had misled the public about the results from the "largest and longest" antidepressant trial ever conducted. Silence is a strategic response to the scandal, as opposed to an ethical one.
Moreover, psychiatry has reason to think that silence will keep this story out of the mainstream media. Thirty years ago, it adopted a strategy that has—and there is no other way to put this—cowed the media for decades.
The Media Remains Silent
When the American Psychiatric Association published the third edition of its Diagnostic and Statistical Manual in 1980, it immediately set out to sell its new disease model to the public. DSM III was designed to rebrand psychiatry. The image of the shrink talking to a patient on the couch was to be replaced by the image of a doctor in a white coat prescribing pills for a disease, and the American Psychiatric Association immediately developed a multi-faceted campaign for marketing this new image to the public.
I wrote about this in detail in Anatomy of an Epidemic. It created a division of publications and marketing to "deepen the medical identification of psychiatrists." It established its own press to publish books that would "provide much public education about the profession." It founded a "public affairs institute" that trained its members in "techniques for dealing with radio and television." Finally, it began holding daylong media conferences that told of "new advances in psychiatry," and it handed out awards to journalists that told of such advances.
All of this paid off. Newspapers and magazine headlines during the 1980s told of a "revolution" under way in psychiatry. Researchers were now discovering the biological causes of major psychiatric diseases. It appeared they were due to chemical imbalances in the brain, and new drugs were coming to market that fixed those chemical imbalances. In 1985, the Baltimore Evening Sun was awarded a Pulitzer Prize for a seven-part series on the astonishing advances in psychiatry, which was titled "The Mind Fixers."
Prozac came to market in 1988, heralded as a breakthrough medication for depression that could make patients feel better than well, and the SSRI revolution was on. Magazines put the pill on its cover, and media told of patients who had suffered from depression for years suddenly coming alive. However, in the summer of 1990, the Prozac story started to come undone, and it was then that the pharmaceutical industry, in concert with its thought leaders from academic psychiatry, plotted the strategy that has successfully cowed the mainstream media ever since.
In the clinical trials of fluoxetine, there was clear evidence that it could stir suicidal and violent thoughts in some people, so much so that Germany's licensing authority, in its initial review of the trial data, concluded that fluoxetine was "totally unsuitable" as a treatment for depression. And by 1990, so many people in the United States had suffered bad reactions to fluoxetine that a National Prozac Survivors Support Group had formed. Many harmed by the drug had taken their complaints to lawyers, and two lawsuits in particular grabbed the public's attention.
First, on July 18, newspapers reported that a Long Island woman, Rhoda Hala, was suing Eli Lilly telling of how after she went on Prozac she had slashed her wrist and "other parts of her body hundreds of times." Two weeks later, newspapers reported on a lawsuit related to a mass murder by a crazed Kentucky man, Joseph Wesbecker, who, five weeks after starting Prozac, walked into a Louisville printing plant where he had worked and opened fire with an AK-47 assault rifle, killing eight and wounding twelve. The Citizens Commission on Human Rights, a group associated with Scientology, then issued a press release urging Congress to ban this "killer drug," and that's when Eli Lilly, manufacturer of Prozac, conjured up a media strategy to save its drug that has proven effective ever since.
The company developed a four-point message that needed to be told to the public.
This was an issue being raised by Scientologists.
Extensive clinical trials had shown that Prozac was a safe drug.
The suicidal and homicidal events were due to "the disease, not the drug."
People who could be helped are being scared away from treatment by the airing of these complaints, and that's the real public menace.
Eli Lily ran media-training sessions for the academic psychiatrists it hired as consultants so they could hone their delivery of this message. And soon, this was the story that was being told to the public. The Wall Street Journal, in its coverage of the Prozac lawsuits, told of how the criticism was coming from Scientologists, a cult that was "waging war on psychiatry." Scientologists had called Prozac a killer drug even though clinical trials had shown that Prozac lowered suicidal thinking compared to the placebo group. The acts of violence were due to the disease, not the drug, and that was the tragedy, explained Jerrold Rosenbaum, a Harvard psychiatrist at Massachusetts General Hospital. "The public's fear of Prozac as a result of this campaign has itself become a potentially serious public-health problem as people stay away from treatment."
Rosenbaum, at that time, was being paid by Eli Lilly for his "thought leader" services. But he spoke to the public from the pulpit of Harvard Medical School.
That strategy has dominated media coverage ever since. It is a simple recipe for "controlling the narrative":
There is a medical establishment that knows the science and serves as a trusted source of information.
There is an "evidence base" that guides psychiatric practice.
The critics are not to be trusted . . . there is in fact something disreputable about the critics. They are not people of science.
Poor outcomes are due to the disease not the drug.
Publishing information that hasn't been "approved" by the experts can do harm.
Journalists who cover medicine are expected to speak to the experts in the field, and, if truth be told, serve as a conduit for turning their scientific pronouncements into prose that can be understood by a lay public. Moreover, the Scientology allegation told of how their reputation could be tarnished if they varied from that practice. And with that simple strategy in place, the mainstream media has served as a protector of psychiatry's narrative, as opposed to an investigator of that narrative.
There are dozens of examples that illustrate this fact. One particularly compelling example is the media's failure to report on Martin Harrow and Thomas Jobe's study of the long-term outcomes of schizophrenia patients. Their study was funded by the NIMH, and if their results had told of superior results for those who stayed on their medication, then the American Psychiatric Association would have trumpeted those findings to the public. However, when Harrow and Jobe reported in 2007 that the recovery rate was eight times higher for those off medication, there was no promotion of that result to the media, and as far as I can tell, that finding—an eight-fold higher recovery rate for the unmedicated patients—has never been published in a mainstream newspaper.
There is an obvious reason that the Harrow study needed to be kept from the public, or if word of the study did leak out, that the finding would need to be dismissed as meaningless. The narrative that psychiatry has told to the public is that people diagnosed with schizophrenia need to stay on antipsychotic medication, and that if they come off, not only will they relapse, they may also become violent. A NIMH-funded study that told of an eight-fold higher recovery rate for schizophrenia patients off their medication would cause the public to doubt that conventional narrative.
The STAR*D study produced results of a similar kind. Only a third of "real-world" patients (35%) remitted after four possible trials of antidepressants, and at the end of one year, only 108 of the 4,041 patients who entered the trial had remitted and stayed well and in treatment for that period of time. All of the rest either never remitted, remitted and then relapsed, or dropped out.
In this instance, however, the STAR*D investigators cooked the results from the acute phase of the study and hid the poor one-year outcomes in their published report. Inclusion of ineligible patients was one of multiple ways they inflated the remission rate during the acute phase of the study, and it is this act that tells most clearly of an intent to deceive. By doing so, they were able to plant the 67% remission rate in the public mind, with media regularly referring to it when the efficacy of antidepressants was questioned. This figure became a prominent "soundbite" in the public discourse.
Pigott has tried to get major newspapers interested in his published articles, and, in particular, to get newspapers to report on his re-analysis. One would think that the publication of that paper in the BMJ Open would have stirred media into action. In this instance, the potential story is huge: It's not about the efficacy of antidepressants, but rather about psychiatry deliberately misleading the public about the results from the STAR*D study. Yet, at least so far, that appears to be a leap too great for a mainstream publication to take.
This brings us back to our petition to Ned Kalin, the editor-in-chief of the American Journal of Psychiatry. If he had responded to our petition, that response—since it came from within the halls of psychiatry—might have provided reason for the media to report on this "controversy." I had expected that silence would be the response to our petition, and in that sense, Kalin's response did not disappoint.
Next Steps
Pigott and colleagues are continuing to pore through the STAR*D data set. More details of research conduct may emerge from their ongoing effort. MIA will continue to report on their findings, and perhaps eventually this scandal will indeed make it into the general media.
In that vein, it is noteworthy that the AJP is listed by the International Committee on Medical Journal Ethics (ICMJE) as one that will follow its recommendations for investigating allegations of research misconduct, which are as follows:
When scientific misconduct is alleged, or concerns are otherwise raised about the conduct or integrity of work described in submitted or published papers, the editor should initiate appropriate procedures detailed by such committees as the Committee on Publication Ethics (COPE), consider informing the institutions and funders, and may choose to publish an expression of concern pending the outcomes of those procedures. If the procedures involve an investigation at the authors' institution, the editor should seek to discover the outcome of that investigation, notify readers of the outcome if appropriate, and if the investigation proves scientific misconduct, publish a retraction of the article. There may be circumstances in which no misconduct is proven, but an exchange of letters to the editor could be published to highlight matters of debate to readers. 
The Committee on Publication Ethics has prepared a flow chart to guide editors in this process: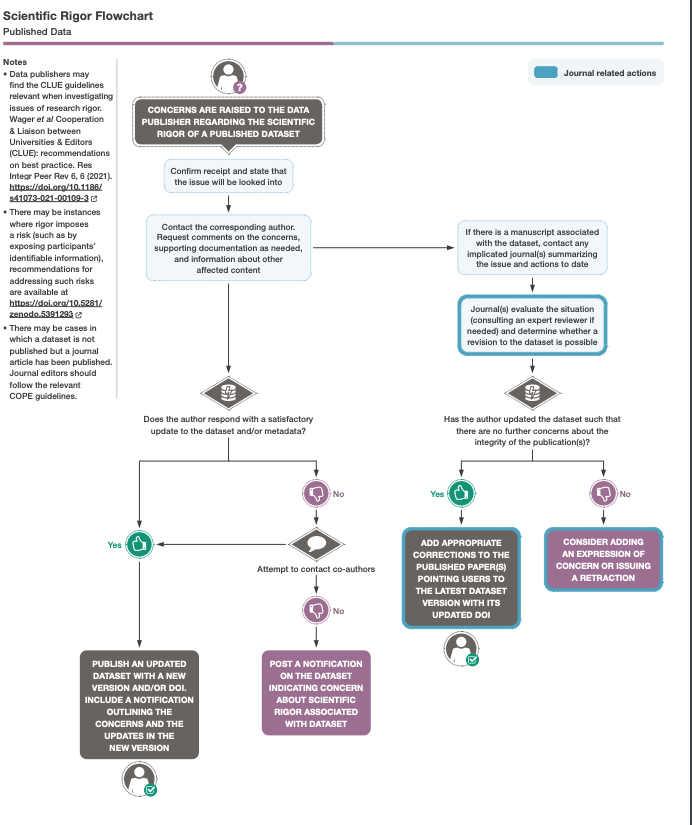 As can be seen in this flow chart, the first obligation of the journal editor is to "confirm receipt and state that the issue will be looked into." The American Journal of Psychiatry, with its answer of silence, did not even make it past this initial step.
***
Mad in America hosts blogs by a diverse group of writers. These posts are designed to serve as a public forum for a discussion—broadly speaking—of psychiatry and its treatments. The opinions expressed are the writers' own.
***
Mad in America has made some changes to the commenting process. You no longer need to login or create an account on our site to comment. The only information needed is your name, email and comment text. Comments made with an account prior to this change will remain visible on the site.