On Wednesday, July 18, the Heritage Foundation sponsored a forum entitled "How to Bring Sanity to our Mental Health System." It featured Dr. E. Fuller Torrey, who was promoting his new book The Insanity Offense: How America's Failure to Treat the Seriously Mentally Ill Endangers Its Citizens. Drs. Sally Satel and Steven Scharfstein were brought in as discussants.
E. Fuller Torrey and Sally Satel symbolize the formidable opposition that advocates and activists for human rights face in trying to dismantle the paternalistic, bio-medical model of mental health "treatment" that dominates the current system. These powerful, well-connected psychiatrists evoke images of the "violent mentally ill" (although Dr. Torrey himself asserts that people with diagnosed mental health issues represent only 10% of all perpetrators of violence) to manipulate the public and to perpetuate stigma and discrimination against people with psychiatric histories.
With very little notice, we activists for human rights in mental health mobilized to respond to this very one-sided "discussion" that, unsurprisingly, did not include a single perspective from a person with lived experience.
In fact, Dr. Satel in particular has been an outspoken opponent of the consumer/survivor movement for years, even dedicating an entire chapter of her book PC, M.D.: How Political Correctness Is Corrupting Medicine to mocking the efforts of consumer/survivors to effect change in the system and create peer-run alternatives.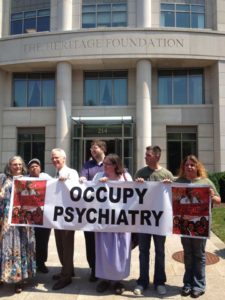 Dr. Torrey opened his presentation by noting that the nation's mental health system is broken. He then began to elaborate on a policy plan that would shift around responsibility for the mental health system, taking away control from the federal government, shutting down the Substance Abuse and Mental Health Services Administration (SAMHSA), and shifting into a combination of increased power to states as well as privatization. I won't recap his ideas in detail, and you can view his as well as the other presentations (and activist rebuttals) here.
Satel's distaste for the "inmates taking over the asylum" was apparent (although I believe she and the others speakers tempered their remarks, as it was apparent that many of the audience members were those very "inmates"). Amusingly, she took great care during her presentation to slam the National Consensus Statement on Mental Health Recovery. This statement was developed under the leadership of SAMHSA, that federal agency so despised by she and Torrey for its inclusion of consumer/survivor perspectives and values. Beware: this statement contains such dangerous and radical ideas as "hope," "self-determination," "holistic health," and "empowerment." Satel's objections, largely, it seemed to me, stemmed from the fact that she wasn't consulted in the process, and because the document did not use biomedical psychiatric terms.
What was most disturbing to me was Satel's continued reference to "benign paternalism;" i.e. coercion of that "sickest of the sick," "floridly psychotic minority," either through forced treatment, or through directly tying access to entitlements with treatment compliance. This, of course, is not a new idea; it is how the system already operates, to a large extent. And it is frightening that the word "benign" would be attached to a system of health care that routinely humiliates, takes away choice, denies informed consent, and violates the basic human rights of vulnerable, suffering, individuals.
As the panelists spoke, it was apparent to me that they were simply seeking to rearrange the deck chairs on the Titanic. Shifting responsibility from the Feds to the states, or privatizing the system further, simply ignores the gigantic elephant in the room: forced treatment with harmful, often deadly, psychiatric drugs.
Jim Gottstein of the Law Project for Psychiatric Rights, summed this point up eloquently: "The biggest problem has been the ubiquitous use of psychiatric drugs…to force people on these drugs and to say that it's 'benign paternalism' is really outrageous. The use of these drugs has been the paradigm for this system that has become broken. And to say that the problem isn't forcing people to take these drugs is outrageous…"
Gottstein reminded the speakers of the early mortality associated with the use of these drugs. People diagnosed with "severe mental illness" are dying twenty-five years earlier than the general population. This includes my own mother and father, diagnosed with schizophrenia and bipolar disorder, who died at ages 46 and 63 respectively, directly due to complications and health issues connected with long-term use of neuroleptic drugs.
When challenged by Gottstein and other advocates and activists present, Scharfstein admitted that there were "very problematic outcomes" for many of these drugs. He noted, "they are halfway technologies… they make some people better, but not well…and they don't cure anybody," adding that "the atypical antipsychotics were oversold by Pharma." Satel stated that the profession should have a "high threshold" for starting people on meds, to try to use the lowest dose possible, and even to keep people off meds whenever possible. However, we know that in practice, this is not how the psychiatric profession operates. Psychiatric drugs are routinely the first line of defense for everything from shyness to backaches; and even more so for those who have a diagnosis of "serious mental illness."
What Satel conveniently leaves out is that these "sickest of the sick" — the silent minority that the consumer/survivor movement supposedly "ignores" — were not born that way. It is very likely that they were made that way – through a combination of trauma, further compounded by traumatic experiences of psychiatric treatment, irresponsible overmedication, perhaps followed by failed efforts to throw off the chemical straitjacket. The "sickest of the sick" were created by a sick system that harms the very people it purports to help. It is ironic that perhaps the only people who could possibly reach them — other people with lived experience of psychosis or voice-hearing — are the very "advocates" dismissed by Satel, et al.
Several of the speakers referred to "outcomes;" these were never specifically defined, but reading between the lines, it was relatively clear that these outcomes included increased compliance with mental health treatment, so as to ensure that "violent psychiatric patients" don't continue to terrorize America.
It is of utmost irony that these individuals who are on a crusade to reduce violence suggest doing it through violent means. I don't care how "benign" your paternalism is; if it's forced, it's not help. It's violence. As Occupy Psychiatry activist Daniel Hazen said, "we are people who experienced torture. I don't believe in recovery. I'll never recover from the injections that were put into me, and felt that liquid poison my body. I won't."
The discussion of outcomes got me to thinking about how this is a battle of values, a clash of civilizations. The psycho-pharmaceutical complex, as represented by its henchmen, the biopsychiatrists, is invested in maintaining and expanding the status quo under the guise of "benign paternalism." The movement for social justice in mental health has an entirely different set of outcomes in mind. We value freedom, rights, self-determination, and choice. We want to see people exit the system as soon as possible; or better yet, or not enter it at all — not to be dependent on it their entire lives. We point our finger at the larger issues of oppression in our society; we do not blame the brains of the individuals who collapse under the weight of that oppression.
Torrey opened his presentation by saying that no one has "divine wisdom" on how to fix the mental health system. That may be true. But we know from our own experience what helps, and what hurts. We know from our own lived experience that healing comes through relationships, through meaningful work, through community, through creativity, by taking care of one other — as equals, not in a paternalistic sense. Daniel B. Fisher, executive director of the National Empowerment Center, challenged Torrey to a debate on these issues, and brought up Open Dialogue as a promising approach to building community and achieving truly positive outcomes for people experiencing emotional distress.
I left the meeting remembering that Gandhi quote: First they ignore you, then they laugh at you, then they fight you, then you win. We are in stage three of four. They are fighting us, but we will win. We are winning. We have logic and heart and time on our side.
***
Mad in America hosts blogs by a diverse group of writers. These posts are designed to serve as a public forum for a discussion—broadly speaking—of psychiatry and its treatments. The opinions expressed are the writers' own.
***
Mad in America has made some changes to the commenting process. You no longer need to login or create an account on our site to comment. The only information needed is your name, email and comment text. Comments made with an account prior to this change will remain visible on the site.