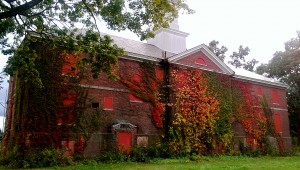 About two weeks ago, I stood in silence to watch nature's fiery colors make a beautiful and desperate attempt to engulf the history of human destruction emanating from this brick prison, the last remaining physical evidence of Metropolitan State Hospital in Waltham, Massachusetts.  Knowing this to be the Administration Building, I imagined the offices that once felt sunlight through the now-boarded up windows, countless metal cabinets containing decades of human life reduced to charts, lists, files, and records, an institutional machine well-lubricated by the myth of necessary "long-term treatment" for the "chronically mentally ill".  I imagined the building closing down at the end of the day, its staff locking up the doors and heading home for warm cooked meals and time with family.  But more than this, I imagined the inmates locked up a few hundred feet away, watching the cars pull out to freedom, the thought of sitting at a dinner table a distant memory from a lost time.  And although I admired the fall leaves for their efforts, I wasn't for a moment tricked into thinking that the evil of Met State Hospital is a thing of the past, that all I imagined isn't still happening right in this very moment, around me on a grander scale than ever before.
A designated group of people was systematically isolated, marginalized, and dehumanized by psychiatry for nearly seventy years on these grounds, under the Hippocratic Oath, 'First, do no harm'.  Many of its inmates were decimated— turned into walking zombies by electroshock, lobotomies, and heavy psychiatric drugs, or even killed.  Met State prepared for this aftermath by building a morgue and a cemetery, which today lies hidden in the adjacent woods, relegated to a nearly forgotten status.  When I learned of this last spring, I joined a group of people, some of whom had survived Met State themselves, to visit the graves, tend to them, and pay our respects.  I walked the woods path slowly that afternoon, deliberately mindful of each step and exactly where it was bringing me.  Side by side with survivors of this institution, I was awed by their human resiliency.  Determined life, in the face of so much death.
After walking about a mile through the woods, we came upon an opening in the trees.  They were old trees.  Wise trees.  Trees that had seen things.  I wondered about their memories, likely now nightmares of all they'd been forced to witness.  Enclosed by an old wall of loose stones, the cemetery was made up of back-to-back graves covered in sticks, weeds, and tall grass.  There were hundreds of flat stones— hundreds of human beings that once lived and breathed and walked the earth as free men and women before being sentenced to Met State and discarded by society— each marked with either a 'C' or a 'P' and a number.  'C' for 'Catholic', 'P' for 'Protestant', I soon learned.  Human beings, with unique human histories, reduced to a religious classification and a number, hidden beneath segregated soil for eternity.  I couldn't help but be reminded of the darkest of mankind's modern history, which I'd only ever learned about in classrooms.  I felt a chill to my bones.  These are my brothers and sisters, I thought.  How is it that I'm here, walking free, while they were robbed of their life and their liberty.  What is this society we live in, that speaks of liberty and justice for all?
After laying roses on a few of the graves, I found myself crying in the arms of a man I'd met that afternoon— an older man, one of the survivors who'd seen, among all the countless horrors at Met State, people die while he was locked up there as a young man.  We stood there, holding each other, holding the weight of everything this place represented.  As I looked into his penetrating blue eyes, fiery spirit beneath a wrinkled face and missing teeth, I had no words.
Although Met State's doors may have closed in 1992, the institutional oppression that fueled it for all those years is with us today, and not just in the well over two hundred state psychiatric institutions that still stand in operation across the country after the proclaimed era of "deinstitutionalization".  It thrives as well in the hundreds of millions of pill bottles that scatter the bedside tables and bathroom sinks of America— in 2011, 264 million prescriptions were written for antidepressants alone.  It thrives in the more than one million Diagnostic and Statistical Manuals (DSM-IV) that sit propped up on desks in hospitals, clinics, offices, prisons, and schools across the country— pseudoscience disguised as medicine, a black and white belief system of emotions, thoughts, and behaviors deemed "normal" or "abnormal" now firmly ingrained in our societal fabric as though it were a capital 'T' Truth.
Psychiatry's desperate drive to legitimize itself as a profitable medical authority has resulted in a mass delusion so pervasive and destructive that it's put us on a path towards societal collapse.  This is not an overstatement, in my opinion, as the statistics are mind-boggling— one in five Americans are on psychiatric drugs.  One in five.  By my calculations, this means that 62,913,200 people ingest mind-altering, body-altering, spirit-altering pills they believe to be "medications" on a daily basis.  Not only are "medications" aimed at treating physical disease and dysfunction, which all that is labeled "mental illness" most surely is not; "medications" are also by definition substances that restore or preserve health— not psychoactive chemicals that disable the vital neural pathways determining one's ability to feel, to think, to connect, to speak, to love, to hate, to fight.  To feel alive.  To be alive.  At the mass level, psychiatry is committing genocide of the human spirit.  It is a loaded statement, and I own it with conviction.
Far from disappearing into the rubble of its demolition in 2009, Met State's sinister legacy is spreading outwards, past its existing fellow state hospitals as an existential plague that festers in our nation's emergency rooms, locked psych wards, group homes, 'day treatment programs', 'partial hospital programs' and 'intensive outpatient programs'.  In our prison system, our juvenile justice system, our education system, our foster care system, our local communities, and behind our own closed doors.  While American society voraciously consumes sixty percent of the world's psychiatric drugs, it is slowly self-destructing, day after day, as the "meds" continue to physically, cognitively, intellectually, spiritually, and socially disable us.  Again, strong words, and again, I own them with fierce determination.
The United States is Met State, in a most insidious and omnipotent form.  Its prison walls may no longer exist as brick and mortar, but they've now become the drugged minds and bodies of both those forced into psychiatry against their will and those spellbound by it.  As a once-spellbound ex-inmate, I know what it's like to be locked away from one's Self in an existential prison of psychiatric drugs and psychiatric labels, and I am grateful to have awakened to my oppression and found my freedom.  I now spend my days pondering what I see as one of the most important questions in this human rights movement— how do we help people awaken to their own oppression, which isn't always visible and overt like the old walls of Met State, without perpetuating the force of "doing knowledge to" them?  How do we help our society understand that Met State is all around us?
References
Angell, Marcia. "The Illusions of Psychiatry." The New York Review of Books 14 July 2011. http://www.nybooks.com/articles/archives/2011/jul/14/illusions-of-psychiatry/?pagination=false
Centers for Disease Control and Preention, http://www.cdc.gov/nchs/data/hus/2011/117.pdf
Lindsay, C. W. (2012) The Top Prescription Drugs of 2011 in the United States: Antipsychotics and Antidepressants Once Again Lead CNS Therapeutics.  ACS Chem. Neurosci. 3 (8), pp 630–631.
Wang, Shirley S. "Psychiatric Drug Use Spreads." Wall Street Journal 16 Nov. 2011. http://online.wsj.com/article/SB10001424052970203503204577040431792673066.html?mod=WSJ_WSJ_US_News_5
***
Mad in America hosts blogs by a diverse group of writers. These posts are designed to serve as a public forum for a discussion—broadly speaking—of psychiatry and its treatments. The opinions expressed are the writers' own.
***
Mad in America has made some changes to the commenting process. You no longer need to login or create an account on our site to comment. The only information needed is your name, email and comment text. Comments made with an account prior to this change will remain visible on the site.