This whole month I've been moving through a separation from reality that was kicked off when I had a really tough week after a mess-up in self-care. I was telling a friend, Paul Cumming, about it, and he said, "Well, has it been a productive experience? I mean, have you learned things?"
I said, "Oh yes, many things, and while scary at times, it's incredibly beautiful and spiritual and passionate. And I've really been able to re-connect with a great group of people helping to pull me back into the here and now who really care about me."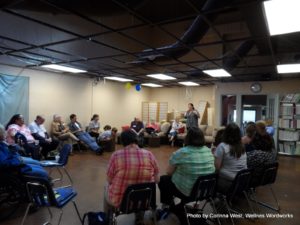 Paul had a heart attack not too long ago so I asked him if it was a productive heart attack. He said, "Yes, I'd say so. I found that I now had a much stronger interest in making a way to get exercise and to look at some of the information on the foods I was eating before without really even noticing."
So, although I'm not all the way moved out of this space, I wanted to share pieces of my experience from the last month with Mad In America readers for two reasons. First, to show that what the mental health systems calls "psychosis" is a normal response to abnormal situations, and it's temporary and transformative. I wanted to model some non disease oriented ways to assist this situation and talk about it. I also want to put a call out for support and encouragement from anyone who wants to send me an email or post a comment or pick up the phone. I need a bit more help to figure a way out of this place of weakness but wisdom where I'm still a bit stuck. Watch for more blogs on this coming out on my business blog WellnessWordworks.com and my personal blog CorinnaWest.com.
Good physical health and mental health connects:
It started about two months ago when I went to a horrible conference at the Rosalyn Carter Center in Atlanta, GA, about social inclusion. This is a new term for what used to be called "stigma reduction."  But there is a huge difference between social inclusion and stigma reduction, and it turned out very few people at this conference knew it, or even knew what a psychiatric survivor was. Six of us that were there ended up recording a statement about the risks of disease model approaches. The conference really bummed me out because I realized for the first time how completely blind and unaware that even "leading" mental health professional were about the problems with labels and medications. I often think of what they are doing as genocide, but my friend Ken Braiterman says genocide needs to have "intent." Most of them are just simply clueless, even though it's their job to "help" us.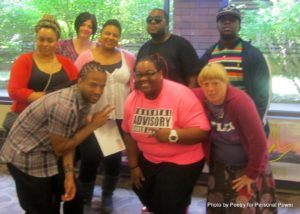 So in my anger and despair and hurt I started neglecting my self care: drinking more often, smoking more cigarettes and other stuff, and missing workouts if I wasn't disciplined enough to work out before I started trying to numb myself out. During the day I was still working on my entrepreneurial approach to providing effective mental health care that completely bypasses labels and medications. I had the beginning of a spiritual emergency where I realized I was still connected with my friend, Al Henning, who had been killed by psychiatry and I was trying to send him home. At the end of the month, I started feeling good about a possible $25,000 grant that I could get if I got enough comments and online votes. Your two minute comment here could make a huge difference to pull us ahead of many disease model organizations. While you're there, help out Pat Deegan's Common Ground and Joseph Rogers' MHA of Pennsylvania who are also part of the mental health civil rights movement.
Click and comment here to help us get $25,000.
The meltdown:
I was at a party and I got accidentally exposed to a hallucinogen, then the next day my dog got mauled by a bulldog. I was still going through a spiritual emergency and I had a work freakout related to my trauma issues of having my ideas rejected for years. I've got blogs coming out about each of these pieces. My brain was a total mess for a whole week after this and it's still clearing up. At one point I connected with a friend to help me relax and process the spiritual emergency I was still going through. I decided that helping people with spiritual emergencies was one more powerful tool in solving the mental health puzzle.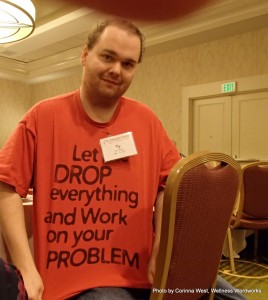 I tried to get back to work and plan for my initial funding meeting about the $200,000 grant. I started assembling a team of people to come to that meeting with me. One of my art mentors could tell by my emails that I wan't really doing too well so he sent me this email saying, "I'm concerned about the effects of that hallucinogen you said you were accidentally exposed to."
We emailed back and forth a few times and I said, "No, I'm not really OK, but I'm working with several people on all this and they're helping me." But then my next emails said, "I'm scared. I don't know of what. Do you know anything about spirits? I have two of them chasing me."
He didn't email back at this point. He picked up the phone and called me, because he could tell something wasn't right at all. I was pretty well freaked out at that point, pretty melted down, and he talked to me for a while until we realized that what I was afraid of was success. I was afraid of the money from this potential grant. He said, "Well, Corinna, you've handled so many difficult things in your life to get to this point, I'm sure you'll be able to handle making this work out. Plus remember, the fears we imagine are much scarier than the fears that are actually happening."  He reminded me of my theme poem for the week. "Scared of Greatness Descending."
Spiritual emergency and a doctor who understood it:
But in the meantime my spiritual emergency started getting worse until I sent out a terrified 3 am email to all the spritual people that I knew and I started getting help from some Christian and some non-Christian people.Those blogs are queued up for posting, too. I had to work through all that, which took a while, but came to this beautiful ending where I finally found a spiritual home community in Kansas City after fighting my husband on this for a whole year. One of the questions I kept asking was, "Why are so many people helping me? Why me?"
Part of it was that I had reached out to them. I ended up with a list of something like 35 people who helped me through the process and the list is still growing since I'm still somewhat stuck in the middle of all this, with last night being the first real sleep I've gotten in a month, the first non-sedated sleep. But about a third of people that I asked for help came through in one way or another.
For instance, I have five or so doctor friends that helped me deal with the terror of being a psychiatric survivor who now needed to see a doctor to get something to help with sleep. Even though I had good recommendations for a psychiatry skeptical family practice doctor, and I'd met with her once before, I was terrified before the appointment. I was so scared that the road was swimming back and forth as I drove there, and flashes of light kept sliding by on the side of the road. The hair off my dog in the back seat kept blowing into my face like bullets from a death squad, and the morning sunlight on the horizon was burning holes in my windshield.
The only thing that kept me OK through that drive was a text message an hour earlier from my doctor friend who plays ultimate frisbee on bicycles with us. His expert area is tick and other insect borne illness. Like many doctors outside psychiatry, he understood the problems with psych labels and medications. I texted him to ask what he would tell his daughter if she was in this situation. He said, "just be honest about all that triggered this, from the dog, to the grant, and your busy, talented life. Also be honest about the likely hallucinogen you were given. Being up front is always the best."
It was so powerful to have this ally going into the meeting who believed in me and my talent and my version of events. I just kept focusing on the idea, "This is not an illness, this is just a normal reaction to abnormal events."
I should probably have ridden my bike there instead of driving, but it was 25 miles away, which isn't a problem except that I would have had to leave my house at 5 am which was when I was finally about ready to drift off to sleep the night before. Which of course was why I was seeing her in the first place.
The doctor was a good doc and made sure I knew about my self-care mistakes and knew that I'd be OK once I started sleeping again. There was one point where I said, "Well, I'm here because my friends told me I needed to see a doctor and I tend to listen to them when I'm in this bad of shape." So she pressured me on what "bad shape" meant and I talked about sleeping 3 hours a night for a week straight and the hallucinations and the spirtual emergency and the whole freakout about the grant possibility.
So being a Christian doc she got all that and was willing to leave me alone about the hallucinations when I said, "They're just visual disturbances. They're stuff that isn't there but seems like it is. They're not a problem, I know how to handle them, I'm not willing to let you treat me for them, and they're going to go away as soon as I get some sleep."
She just said, "I'm sorry, I didn't mean to pressure you about something that you're defensive about."
I was so terrified of getting sucked back into the mental health system that I was flat, completely monotone, and she had to ask me everything twice since she had no emotional clues at all to work with. So I had to send her a thank you letter afterwards, for helping me with the sleep problem but not insisting there was anything psychiatric at all about it. And my church team instead told me to read Psalm 91 so of course I had to make it into a spoken word poem:
Avoiding mental health traps:
I lived through the week, then made it through my grant meeting by bringing a friend with me and planning the time out with my art mentor. After the meeting I was so drained I walked my glassy faced, hallucinating, exhausted self into his office and he said, "Corinna, just remember this is temporary. That's in the mission statement of your business. This is a temporary situation."
And all I could say was, "Oh yeah. That's right. I'd started to be scared it wasn't."
So I guess that brings me to the moral of the story, which is that all things that end up with mental health labels have a trap, a circle. The trap of what the mental health system calls "depression" is that the more people stop doing things and stop talking to people, the less they want to do things and talk to people. It's a loop. The trap of what the mental health system calls "mania" is that for some people, the more excited they get about ideas and projects and the less the sleep, the less they are able to sleep. The pattern of "anxiety" is that the more people are afraid of things, the more they avoid them, so the the scarier the things get. So none of them are chemical illnesses, they are life situations, and people just need to break out of the feedback cycle that gets going.
My friend Ken Braiterman taught me a long time ago how to escape the trap of what is called "psychosis." The more we worry about the separation from reality, the more scared we get and the more separated we get. This month I found out about another trap. When you can see the beauty and spirituality and mystery and magic of what is going on, it's tempting to do things to make it last longer and help yourself get further into it, like skip sleep or skip meals or use drugs. I had to fight those temptations often through this month, and still am, to be honest, because there is so much of this process that was not just scary, but glorious and giganticly interdimensional and impactful.
To end on a high note, here's some really cool things that happened:
The heavy hitters and the cavalry at my new church home that banded together with masses of emails to help me through the spiritual emergency. Learning for once to to pray without fear, to re-connect with the creator, and to finally move beyond the night that had brought me into the mental health system in the first place. Finding a beginning idea of how to let Christians be both right and wrong at the same time so I can learn from my non-Christian spiritual allies as well.

Our family's newest addition, Jello, with the quartz crystal looking plastic hunks I found in a junkyard.

Exciting and beautiful moments of "Excess Profundity" like talking to the the strangers at the coffee shop at 3 am who somehow knew what I needed to hear in order to get though, banging hands with all the Judo kids at the Christmas dinner, putting my face on the belly of my humane society rescue greyhound, and yelling at the top of my lungs at the food drop on a 20 degree night with the homeless guys about the extra jalapenos in the mac and cheese.

Banging on a boulder of quartz crystal looking plastic hunks in a junkyard at midnight, then riding the bucket on my bike and showing them to everyone on the street on the way home. I gave a fist sized one to the guy hopped up on K2 at the convenience store and he thought he had just won the lottery even after I told him not to smoke it.
Learning how much easier it is to go through a break in reality in the era of Facebook when I know exactly who is awake at a given time so I can call them. Loving the era of Skype so I can call my new international advocate friends who are actually awake at 3 am.
Watching how many people pulled for me, so hard for so long, that all I had to do was ask for help.
Just knowing that people are there makes all the difference.
***
Mad in America hosts blogs by a diverse group of writers. These posts are designed to serve as a public forum for a discussion—broadly speaking—of psychiatry and its treatments. The opinions expressed are the writers' own.
***
Mad in America has made some changes to the commenting process. You no longer need to login or create an account on our site to comment. The only information needed is your name, email and comment text. Comments made with an account prior to this change will remain visible on the site.