The last four years I've been running Poetry for Personal Power, a stigma reduction campaign funded by SAMHSA.  Poetry for Personal Power has been going to Missouri Universities and asking students what they do to get through hard times and we now have about 400 incredible videos on You-Tube, with youth wellness tools. This is in partnership with Heartland Consumer Network, Missouri's statewide peer run advocacy organization.  There is a list here of  statewide advocacy organizations of people in recovery at the National Empowerment Center's site to see if your state has one.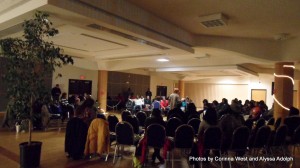 This is actually a social inclusion campaign, which is different than a stigma reduction campaign for many reasons.  Some of these reasons are that labels are not used, disease model language is not used, we promote the equality of all participants, and we share how adversity is a universal, human experience, with universal, human tools to handle it.
Right now we have a crowdfunding appeal  to help build a real social inclusion project.  Our program is more powerful than most stigma reduction campaigns, which are avoided and shunned by cool kids. Our theme of overcoming adversity breaks through this fear since everyone has struggled, but now we can use it as material for our art. We are also exploring health care prevention messaging opportunities for health care exchanges, HIV prevention, or other areas as well as mental health.
We offer instead of a stigma reduction campaign a map through emotional distress that is universal and human:
everyone goes through adversity
the best way through is to talk to someone who's been there before
and find what gives you personal power
Our map is so simple that people with no mental health training can pick up and share this map in two minutes or less. We can create powerful ripples throughout communities that need it. Our replication program helps boost organizations' abilities to spread this map we've created. It's the map out of emotional distress. We can reach the whole community this way. This is my beginnings on creating a solution. But we need your funding help.   Also we need you to start working on replicating and spreading our three ideas, and this campaign creates a funding mechanism to spread these messages.
Here is a poem about what all of us psych survivors worry about, "If I Never Made an Impact:"
Why a fundraiser for a stigma reduction campaign?
It is about YOU! Currently we only fund in Missouri but we want to start spreading nationwide. Our current campaign is a capacity building project to fund our 501c3 application fee. We also want to find new agencies and replicators to spread our stigma reduction campaign. If you don't have money, but want to support, you can do this by:
Filling out our replication or sponsorship application. We'll pay you to bring our program into your state. Plus this application is a first draft at exploring a "mental health fair trade" certification, so you should check it out.
Putting a comment on this the fundraising appeal. 
Share the link to this fundraiser via your blog, Facebook, or Twitter: http://igg.me/at/PoetryPersonalPower/x/3155858
Email ten friends about our fundraiser.
***
Mad in America hosts blogs by a diverse group of writers. These posts are designed to serve as a public forum for a discussion—broadly speaking—of psychiatry and its treatments. The opinions expressed are the writers' own.
***
Mad in America has made some changes to the commenting process. You no longer need to login or create an account on our site to comment. The only information needed is your name, email and comment text. Comments made with an account prior to this change will remain visible on the site.