In a new article published in BJPsych Open, Cassie M. Hazell and colleagues explore how levels of mental health stigma differ depending on the psychiatric diagnosis a person receives. The authors used an online survey given to 665 participants to assess their levels of stigma for nine different vignettes representing varying psychiatric diagnoses.
The researchers found that schizophrenia and antisocial personality disorder were the most stigmatized diagnoses. Depression, generalized anxiety disorder, and obsessive-compulsive disorder were associated with the lowest levels of stigma.
The authors note that fear was the most consistent predictor of stigma and conclude that anti-stigma campaigns should target fearful attributions. They write:
"No single attribution predicted stigma across diagnoses, but fear was the most consistent predictor. Assessing mental health stigma as a single concept masks significant between-diagnosis variability. Anti-stigma campaigns are likely to be most successful if they target fearful attributions."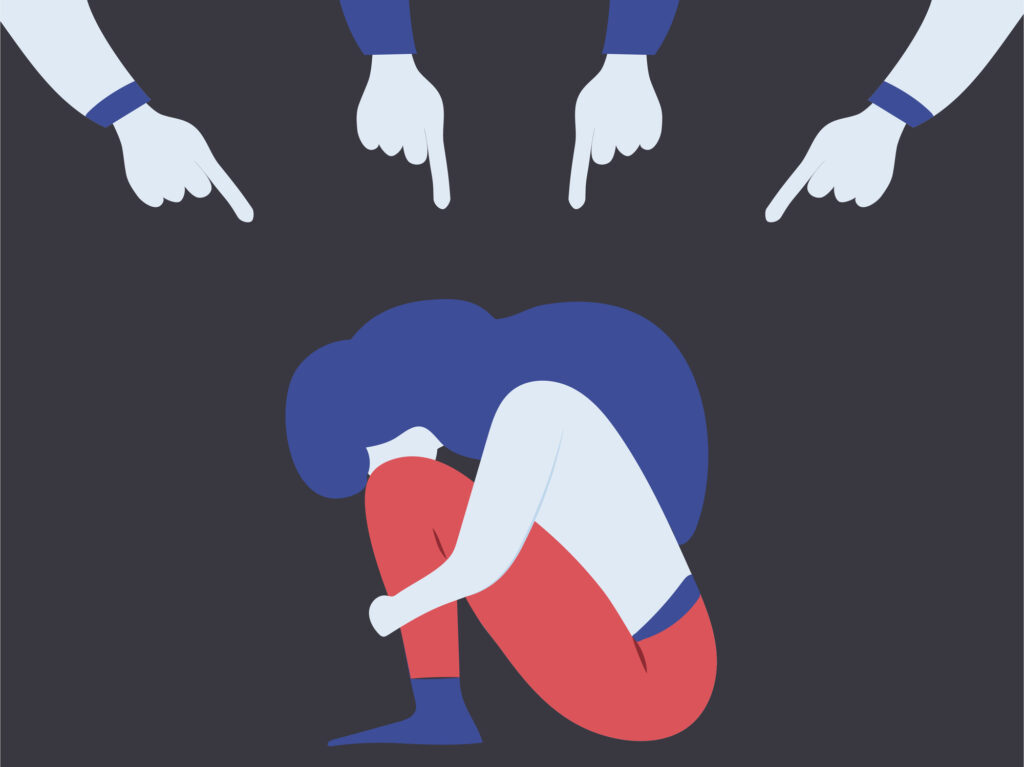 Mental health stigma can lead to discrimination, worsening symptoms, and generally less desirable outcomes. Research has shown that social stigma can negatively affect and increase the distress associated with the experience of hearing voices. People with mental health diagnoses that are able to resist the stigma associated with their diagnosis enjoy better outcomes than their less fortunate counterparts.
Essentialist thinking – the assumption of an underlying essence that defines a thing – likely drives stigmatizing attitudes towards schizophrenia. The biomedical model of mental illness increases the stigma around mental health diagnoses by defining psychological suffering as essentially a problem of broken brains. The biomedical model is similarly linked to discrimination based on psychiatric diagnosis.
Where mental health literacy fails to reduce stigma, psychosocial explanations (those framing "mental illness" as a social problem rather than a medical one) may be more effective. For example, one study found that psychosocial explanations of psychosis reduced stigma compared to biomedical explanations. Another piece of research found that viewing mental illness on a continuum rather than as discrete categories of "mentally ill" and "mentally healthy" helped to reduce stigma.
While psy-professionals have recognized the damaging effects stigmatizing attitudes can have, those attitudes have remained relatively stable over the last few decades, with many anti-stigma campaigns failing to make a measurable impact. Some sociologists have argued that anti-stigma campaigns enable inequality by ignoring the social causes of mental illness. In addition, authors have noted that some advocacy groups claiming to combat stigma around mental illness are, in fact, disguised pharmaceutical companies pushing drugs under the banner of patient welfare.
The current work begins by defining mental health stigma as ignorance, prejudice, and discrimination towards those with a mental health diagnosis. Stigma negatively impacts numerous areas of the sufferers' life by reducing help-seeking, increasing unemployment and healthcare costs, and worsening mental and physical health. The authors sought to understand better how levels of stigma differ with varying psychiatric diagnoses and what attitudes inform and could possibly predict stigma.
The authors recruited 665 participants to take a survey designed to assess how much they sought distance from those with varying mental health diagnoses, how much personal responsibility they attributed to such individuals, and the levels of fear, anger, and pity they associated with each diagnosis. All participants were 18 years old or older and lived in the United Kingdom. The participants were recruited using social media and survey-sharing sites. In terms of demographics, the participants were overwhelmingly white, British, employed, and single females.
The current study found that schizophrenia and antisocial personality disorder were the most stigmatized mental health diagnoses, with depression, generalized anxiety, and obsessive-compulsive disorder showing the lowest levels of stigma. In line with previous research, stigma was generally more robust in cases of "serious mental illness" (i.e., psychosis) and weaker in cases of "common mental health problems" (i.e., depression).
Where previous research has framed stigma as a result of decreased pity, increased fear and anger, and a belief that people with a mental health diagnosis are personally responsible for their symptoms, the current research finds that fear is the single strongest predictor of stigma. While believing the person with a diagnosis to be personally responsible for their symptoms predicted stigma in some cases, fear predicted stigma in nearly all cases.
The authors note several limitations with the current research. The participants were predominantly white, female, educated, and employed. This demographic tends to associate less stigma with mental health diagnoses than the population generally. One-quarter of the participants had one of the diagnoses discussed in the survey, possibly activating a confounding self-stigma variable. The vignettes described a prototypical textbook example of a mental health diagnosis which is likely to be very different from how these diagnoses present in real life.
The authors conclude that anti-stigma campaigns would likely be more effective if they treat each diagnosis individually rather than treating "mental health stigma" as one entity. They also note that the hierarchy of stigma they created here could benefit from the knowledge of someone with first-hand experience of mental health stigma. They write:
"These anti-stigma campaigns are likely to be most effective if they take a diagnosis-specific approach, based on our regression models and the attributions found here to significantly predict stigma. The application of this hierarchy in the real world would benefit from input from those with lived experience to avoid its misuse in terms of prioritizing the impact of stigma on someone with a particular diagnosis over another." 
****
Hazell, C., Berry, C., Bogen-Johnston, L., Banerjee, M. (2022). Creating a hierarchy of mental health stigma: testing the effect of psychiatric diagnosis on stigma. BJPsych Open, 8(174). DOI: 10.1192/bjo.2022.578 (Link)