Imagine attending two dinners over two days.  On the first night, you see one man sitting by himself, 19 at a second table, and 80 at a third.  You start to feel sympathetic for the man by himself; then waiters rush over and bring him carts loaded with 30 dinner plates of turkey. At the table of 19, each person gets three and a half dinner plates.  At the large table the people at the far end, who get the least, get one half of a dinner plate of food.  The mood is edgy.
The next night you are surprised to see something different. The man by himself gets 20 dinners.  The 19 at the second table get two. At the big table, even at the far end, where the poorest people sit, each person gets one plate.  People seem less anxious and less angry.
The first dinner echoes the distribution of income in the United States (with one plate of food equal to 1 % of income) among three classes. As Perrucci and Wysong suggest, there is a corporate class, which owns a large portion of the economy (1%), a credentialed class (19%), and a working class (80%). The second dinner echoes the distribution of income in Japan: there are still three classes; but the gap between the richest and the poorest is much less.
Now- your imagining is not yet done- consider what would happen if people in the United States were able to bring about greater income equality, akin to Japan's.  The rate of mental disorders would drop by half.  Life expectancy, even of the upper middle class, would increase.  There would be more trust, fewer homicides and fewer prisoners.  These are some of the well documented effects of increasing income equality, as the social scientists Roger Wilkinson and Kate Pickett explain in their book The Spirit Level, and on their website, equalitytrust.org.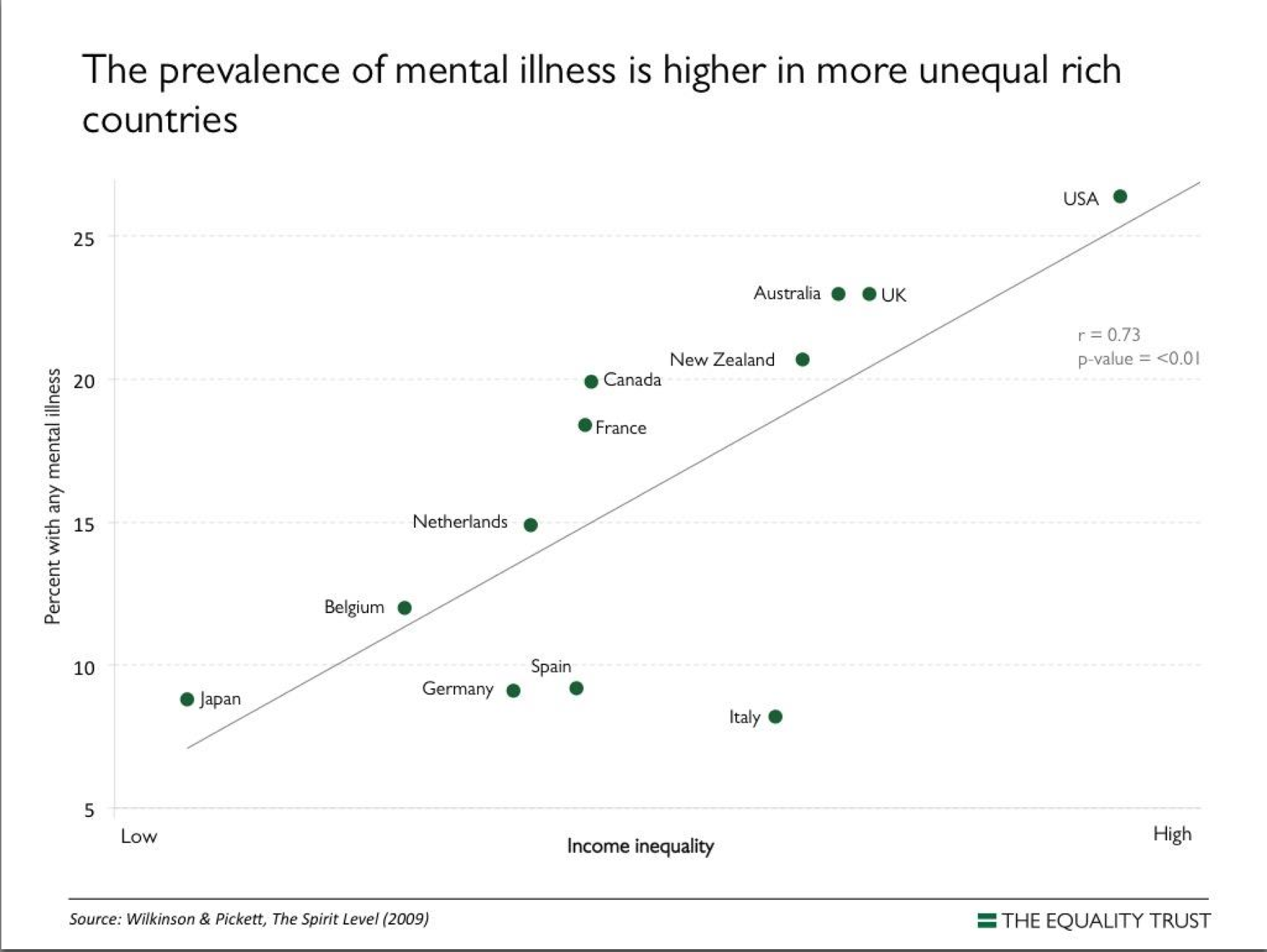 We would want, as therapists or clients, I believe, to contribute to lessening income inequality. We can support a system of care based in mutual aid among people facing common problems. This system allows people to get help and also to undertake collective action to lessen the inequality at the root of so much distress.
In a mutual aid health care system people assess themselves with the help of friends and family.  People in distress would consider whether they were feeling desperate, that is, suicidal or violent or medically ill.  If so, going to a professional would make sense. If not, using an idea of the Italian democratic psychiatrist Franco Basaglia, they would put in parentheses- brackets- the question of diagnosis (maybe later they would take off the brackets to consider diagnosis again). This allows them to consider other ways of thinking about their trouble or crisis.
Many crises stem from workplace difficulties. For example, lets say you have worked in a factory, had an injury and are now trying to get disability payments. You and your family are under great stress. You might then go to an injured worker's program of the sort run in Maine in the 1990's. The meetings had three parts. First, you would meet with others in similar situations with a moderator to talk about the experience of being injured. Second, you would meet with someone who could help you pursue getting disability payments. Third, you would be invited to a meeting to discuss ways to change laws so that workplace injuries were less likely.  The program, in a simple brilliant way, kept the solution to human problems close to the causes.
As useful as this program was for you, it might not be enough. You might think the crisis is also about the direction of your life, and speak to your wisest friends.  Perhaps later you might think that diagnosis, say, of obsessive-compulsive disorder, could help. At that point you have removed the brackets from the question of diagnosis and consulted a professional.  But along the way the system of care has supported greater income equality.
If we decide that we want to support a mutual aid health care system in order to bring about greater income equality, we need first to understand the obstacles to achieving this goal and how to overcome them. The corporate class – like dominant classes before them, use two types of power to oppose greater income equality.  Following Machiavelli, Antonio Gramsci suggests that power is like a centaur, half beast, with a human face, a combination of force and consent.  To win consent, the corporate class- a tiny ultimately weak minority- needs to persuade the majority that extreme inequality is good or natural. To do so, this class argues for a set of ideas about human nature and society that takes extreme inequality for granted.
The corporate class employs professionals such as teachers, scientists, and doctors, as well as therapists, to help persuade the working class that extreme inequality is the norm and discourage opposition to it.  Imagine you are the worker I mentioned earlier. Instead of going to an injured worker's program you go to a mental health clinic. Instead of talking about common problems, people in the waiting room do not look at each other.   Then the kindly counselor ushers you into a room where you, alone, get a diagnosis of a problem that is inside you.  Counselors working in this way head off two challenges to inequality, Vicente Navarro would say.  They separate people who might unite in collective action. And by defining distress as individual disorders, they make social analyses of distress less legitimate.
Keeping in mind these obstacles, therapists and others could organize to foster mutual aid health care systems and greater income equality.  One useful way to plan change is to think of mental health care system as a pentagon, to borrow an idea from Robert Castel.  The five points represent theory, united groups of practitioners and service users, laws, institutional structure and practice (a mnemonic is TULIP). Castel says that the lines between these points count the most.  You can pass a law protecting the rights of service users, but you also have to see to it that the law is enforced and changes practice.  You can develop a theory that places problems in a social context; you'll also have to change institutions so that the theory can be practiced. I say "you" but I don't mean you by yourself.  As one leader of a new political party told me, "Don't act alone."
Some therapists in various disciplines, including psychiatry, will say that they have nothing to do with the maintenance of extreme inequality.  In fact most professionals- teachers, ministers, doctors, journalists, scientists and others -will say the same thing.  To accept all these claims one would need to say that millions of people in hundreds of influential occupations have little to do with maintaining severe inequality. That cannot be true.  After all, the 1% is just 1%; they need a lot of help to appear strong and legitimate.
You may also say that I have focused on the effects of increasing equality of income within rich countries while increasing equality in the world seen as a whole is a much more urgent goal. You would be correct. Imagine attending a dinner of 100 where the food was distributed in proportion to income in the world.  One person would receive 56 dinner plates, 19 one plate and a side dish, and the other 80% two soup spoon-fulls of rice.  How to foster greater global equality is a question for us as citizens.  As therapists, during our work week, we might consider developing  mutual aid health care systems similar to those in countries where people earn the median global yearly income of $2,000 per year.  By creating effective inexpensive systems of care for everyone, we'd be a small step closer to a world where all can live modestly and well.
In summary, in many countries citizens believing in greater income equality have followed the labor union maxim "Educate, organize, act." As a result they are living longer healthier happier lives.  There are promising movements of service users and therapists that are continuing in that tradition.  You can join, or decide not to; in either case you'd do well to recall that more is at stake than your own future.
* * * * *
References:
Alvaredo, F. et al. (2013). The top 1 percent in historical and international perspective. Journal of Economic Perspectives, 27 (3) 3-20
Congressional Budget Office (2013) The distribution of household income and federal taxes. 2010. Washington D.C.: Congressional Budget Office.
Ballas, D.. et al ( 2013). Social cohesion in Britain and Japan. Social Policy and Society, 13, 103-117.
Basaglia, F., Scheper-Hughes, N. and Lovell, A. (Eds.) (1987). Psychiatry inside out: selected writings of Franco Basaglia. New York: Columbia University Press.
Castel, R. (1988). The regulation of madness: the origins of incarceration in France. Berkley: University of California Press.
Kellman, P. Maine Labor Group on Health  (2006). Personal communication, on injured workers groups in Maine
Navarro, V. (1976). Medicine under capitalism. New York: Prodist.
Ortiz, I & Cummins, M. (2011). Global inequality: beyond the bottom billion- a rapid review of income distribution in 141 countries. New York: UNICEF.
Perucci,R. & Wysong, E.(2003). The new class society. Lanham, MD: Rowman & Littlefield.
Robinson, W. (2004). A theory of global capitalism. Baltimore: Johns Hopkins University Press.
Wilkinson, R. & Pickett, K. (2009). The spirit level: Why greater equality makes societies stronger. New York: Bloomsbury Press. See also the website of the Equality Trust, and a TED talk by Roger Wilkinson.
Wright, D. (2013). More equal societies have less mental illness: what should therapists do on Monday morning? International Journal of Social Psychiatry, published online first, 22 July 2013
***
Mad in America hosts blogs by a diverse group of writers. These posts are designed to serve as a public forum for a discussion—broadly speaking—of psychiatry and its treatments. The opinions expressed are the writers' own.
***
Mad in America has made some changes to the commenting process. You no longer need to login or create an account on our site to comment. The only information needed is your name, email and comment text. Comments made with an account prior to this change will remain visible on the site.