I am 19 years old and live in Mexico City. A friend, a teacher, and me created our association; Teenagers Against Psychiatric Drugs.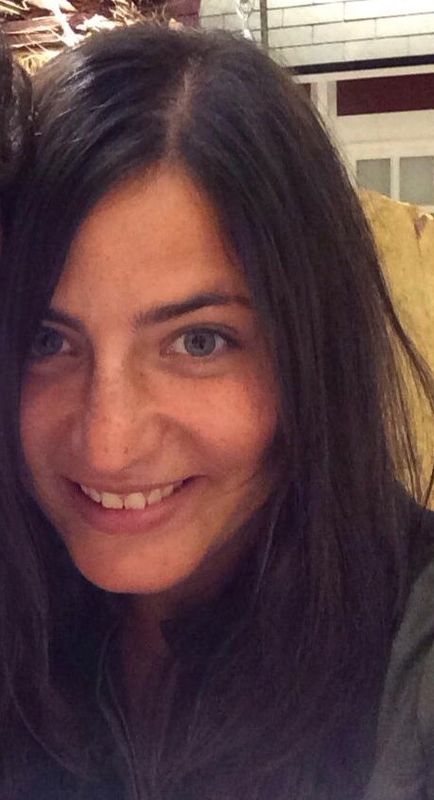 My partner's name is Raquel Achar, she is 19 as well. We went to middle school together, and that is where we started our project.
This project has been a complete adventure and a tough experience. It all started four years ago, when two friends of mine and I were barely 15 years old. We had to do a chemistry science fair project for school and we got to choose our own topic. We were bored by the same old science fair forced projects, so we decided to something significant.
When we were searching among different topics, suddenly I remembered a documentary about psychiatric drugs I once saw, and remember thinking I could not believe these torturing practices still happen today! In this century! So I shared what I saw with my friends and we decided to do something about it.
We created an amazing handmade comic book representing an episode of the life of a teenage boy who was diagnosed with ADHD and forced to take medication. Of course, the mother wanted what was best for her child. But she just didn't know; she trusted her doctor.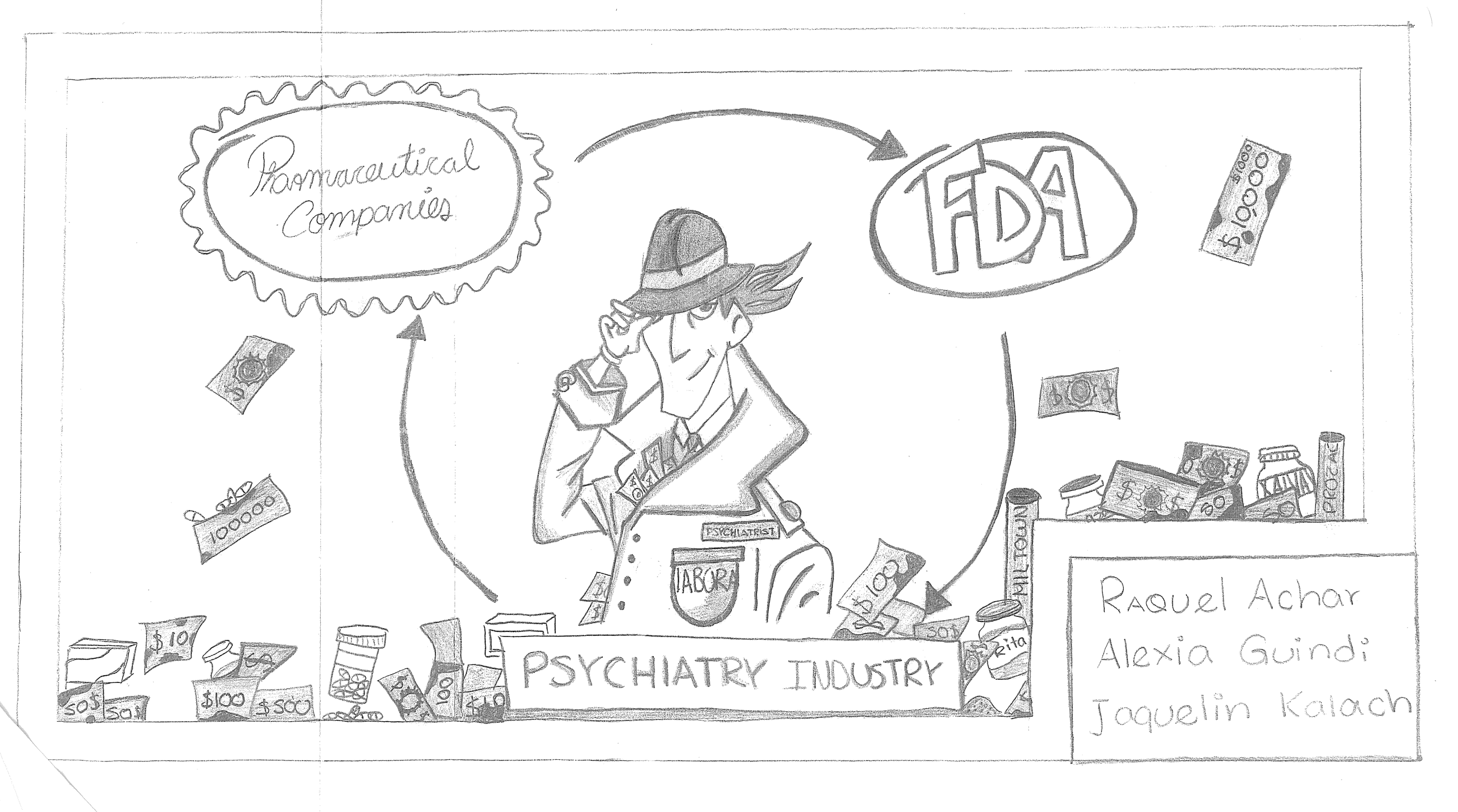 Basically the story depicts the story of this boy before, during and after taking medication, with facts about the psychiatric industry, the pharmaceutical companies, and the FDA.
Our comic was simple to understand, informative, and entertaining. The day we had to expose it on school, we were very proud of ourselves and excited. All this energy, satisfaction, and pride were gone the minute the psychologist of the school called us to her office immediately. When we got there, practically the whole council was there waiting for us.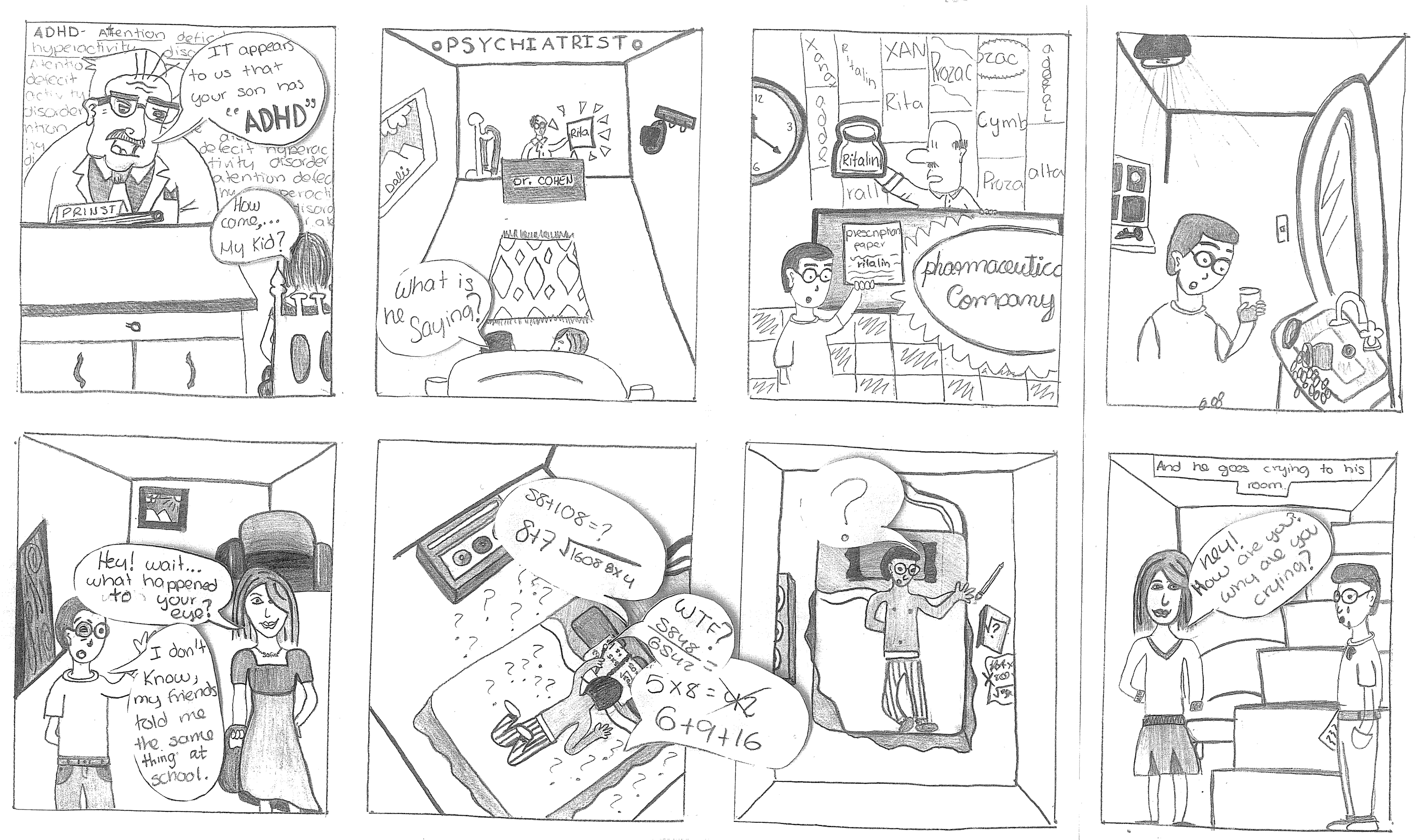 They claimed our project was completely biased and with no fundamentals. They completely destroyed our project, and made us feel as if we were monsters poisoning the kids (which is actually the other way around).
Of course they alleged that our project was biased because we were exposing the conflicts of interest and the hazardous side effects of the drugs, while there were many kids in that school taking medication. It was not in their best interest to let us inform people about stimulants. They preferred to have their kids controlled and silent. It is easier that way, but does it actually help the students?
This question kept ringing in our heads. Are they actually benefiting the patient, or do they just want to control them?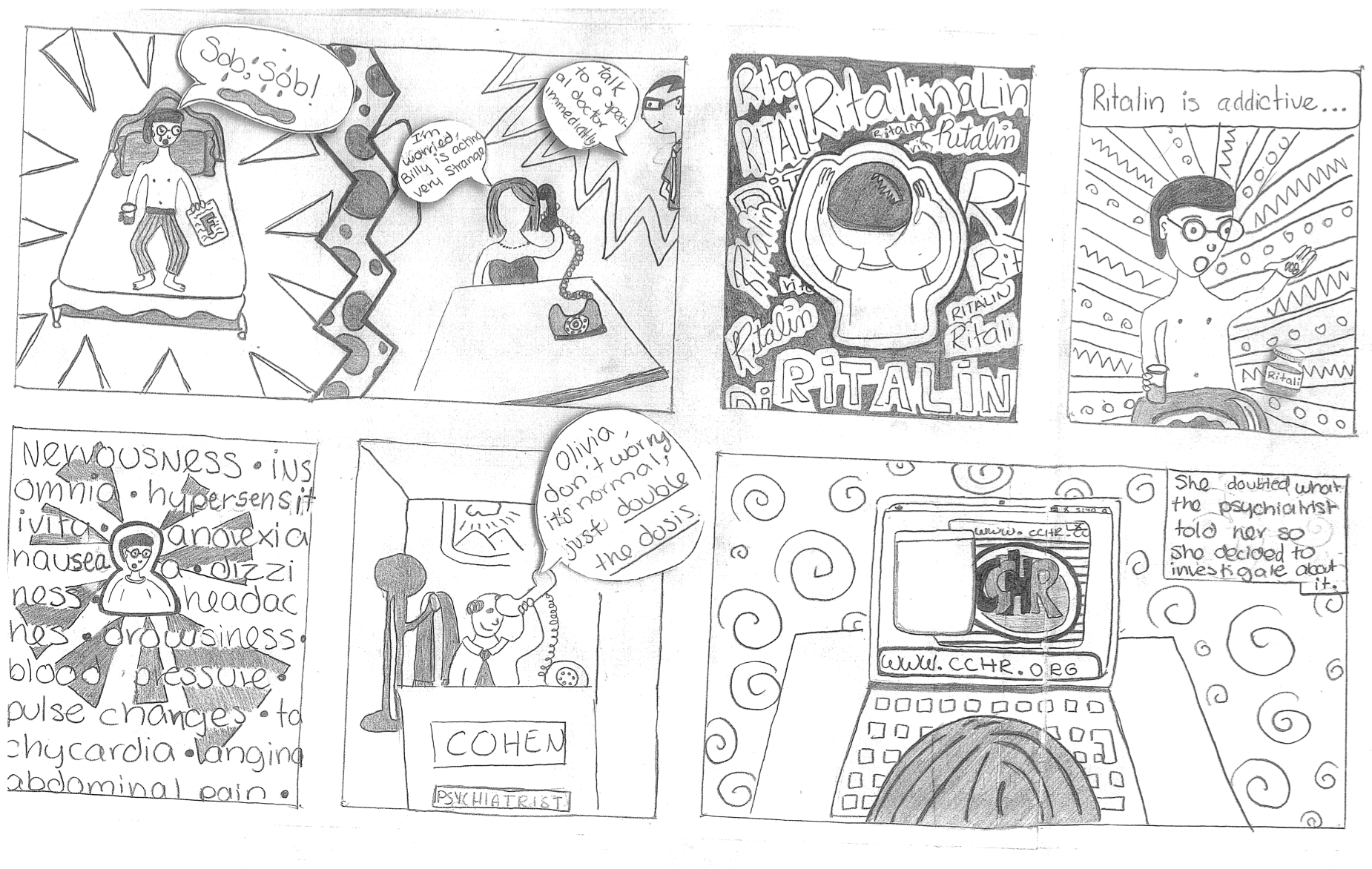 Anyways, we went crying out of the office. We felt completely invalidated. There was only one thing that brought us back to light again and onto the right path.  Our former English teacher, Camilo Montenegro, saw our project and immediately recognized the potential and significance of such project, even before we knew it.
He supported us since that moment, and has never stopped since. He has always directed us into the right path  and always gives his recommendations and suggestions to improve the project. We truly appreciate his support, without his help this would not have been possible.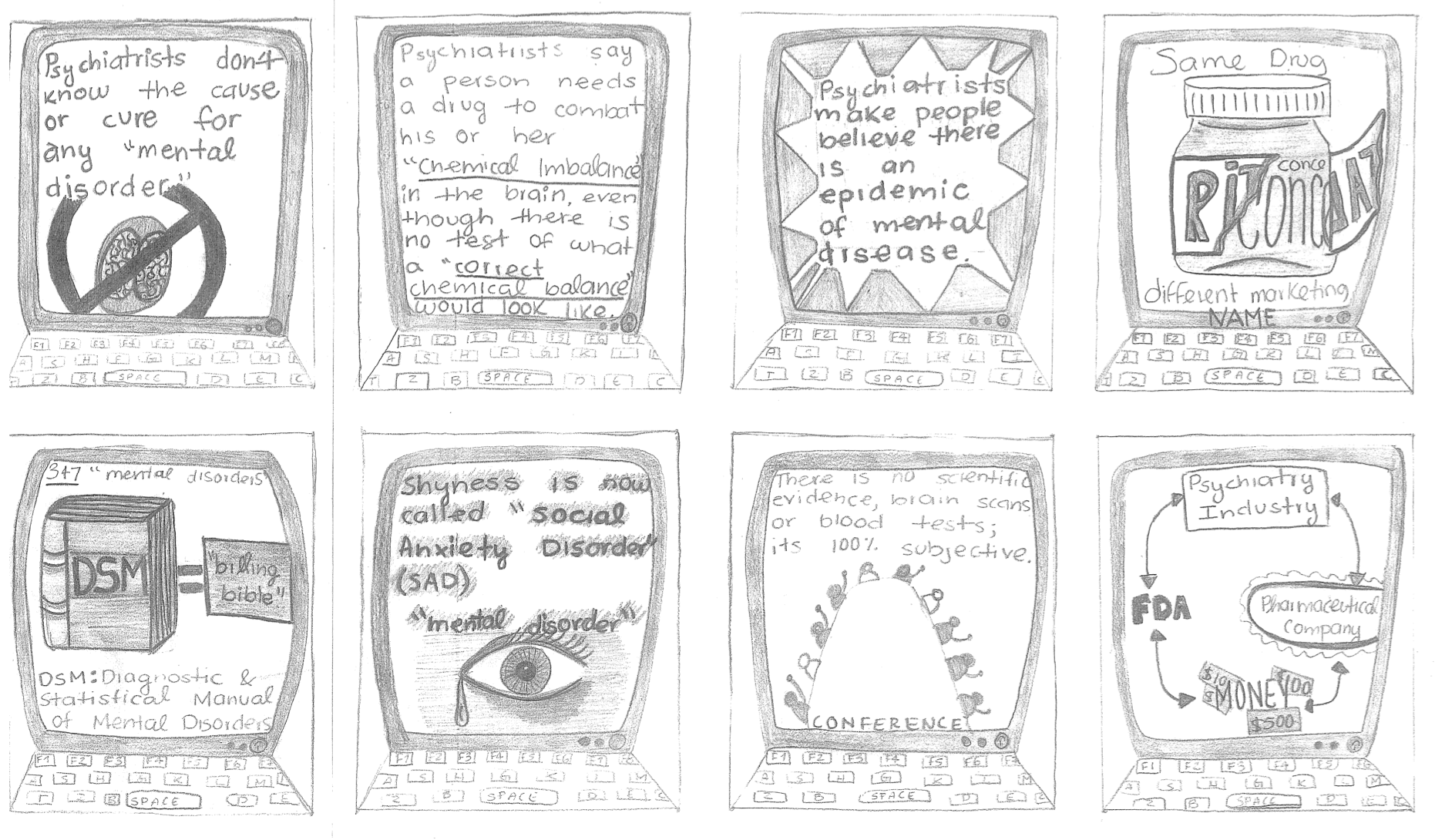 The number of people who believe the opposite about psychiatric drugs and mental illnesses is so vast, that it was overwhelming. We did not believe we could confront them on our own, but suddenly we realized we were not alone. There are people and organizations all over the world fighting to spread awareness and tell this story. This was when we decided to start contacting them in order to work together and be stronger.
As the years passed, we continued our investigation and research. We read several books and watched documentaries to be more informed. Our readings included Mad in America and Anatomy of an Epidemic.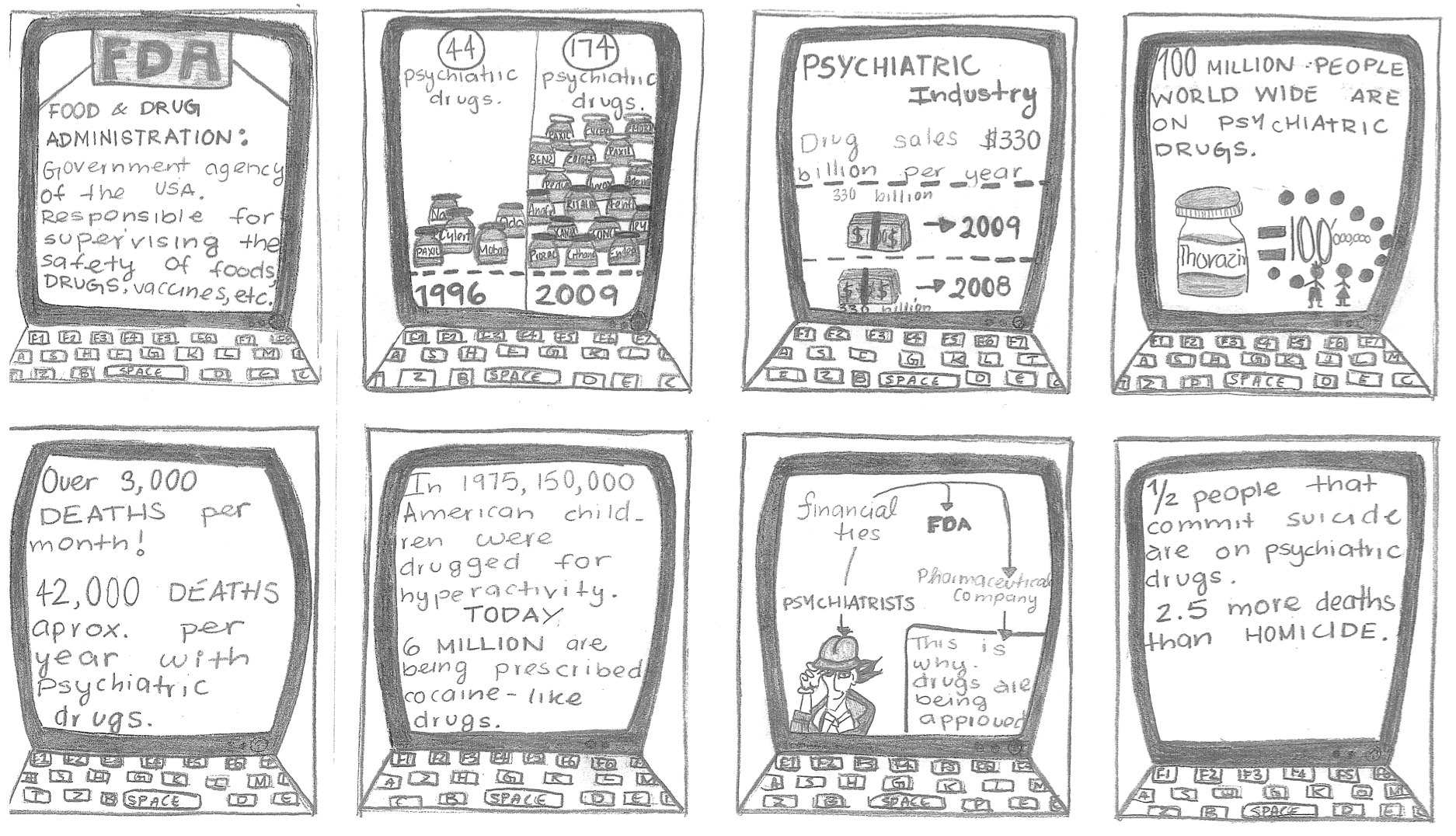 These books were a huge revelation. For some time we thought, well; maybe we are wrong after all. Maybe this is not significant. But the books proved this wrong; they showed us the importance of being informed. They made us realize that a change needed to be done.
We decided to make a change in our country of Mexico. Because as worrisome as the situation regarding the medication of children is in the US and other countries, it is perhaps more so in Mexico because there is very little controversy surrounding the issue. Although there have been advances, most notably legislation that prohibits mandatory use of medication in schools, few parents, teachers and of course students are aware of the law and fewer still ever voice any concern over the issue at all.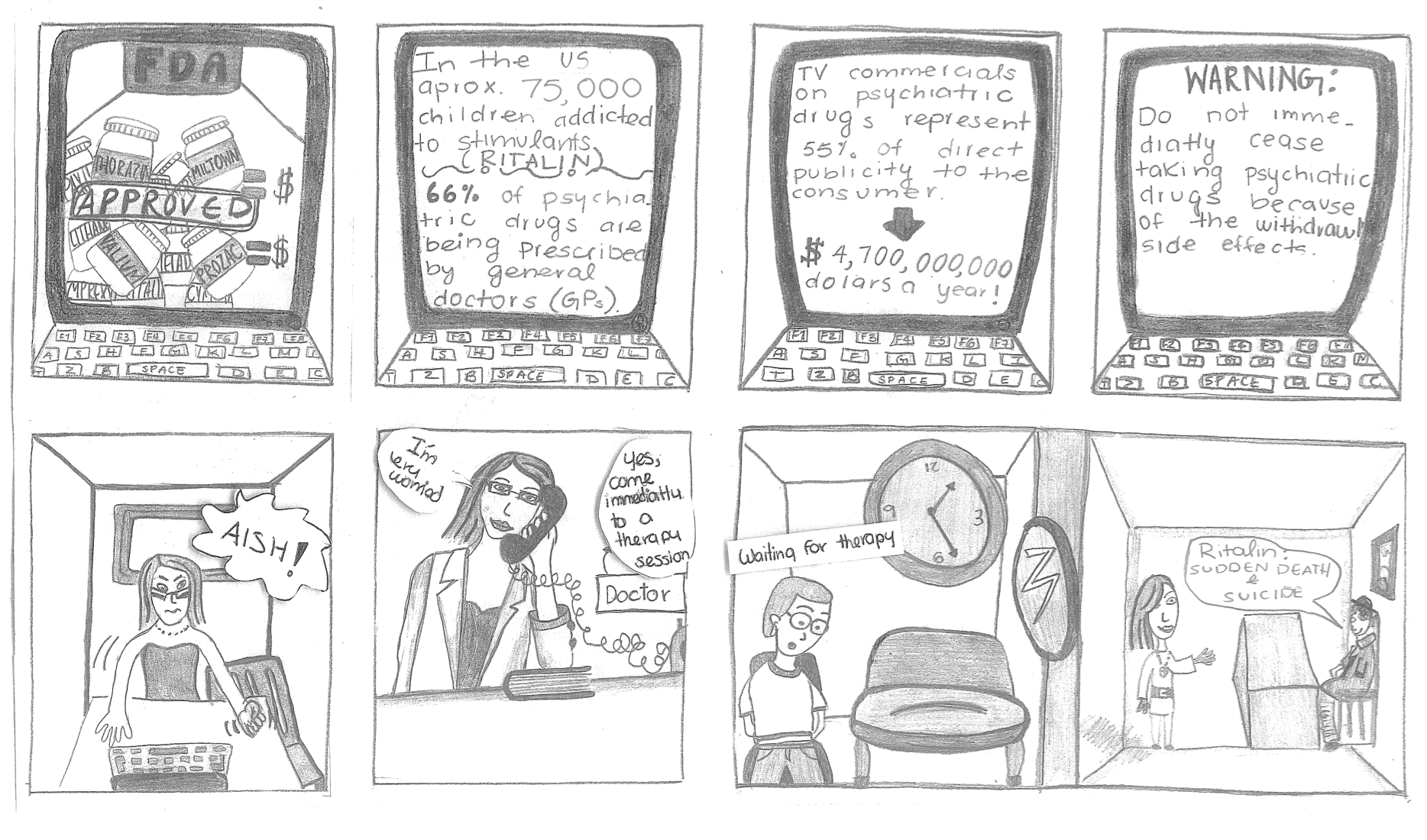 Today, more than four years have passed, and since we are teenagers group, most "professionals" don't really listen to what we have to say, because they believe were are just a cute project, but nothing relevant. We need to be heard, our voice needs to be heard. Currently we are forming our association with recognized organizations, doctors, neurologists, nutritionists, lawyers, human rights and addiction groups in Mexico in order to become a solid organization to inform people and give them secure and efficient alternatives.
Our mission is to help people understand the short-term and long-term effects of psychiatric medication on children, to expose the conflicts of interest within the pharmaceutical industry and to reveal their implications on our current health and education systems in Mexico.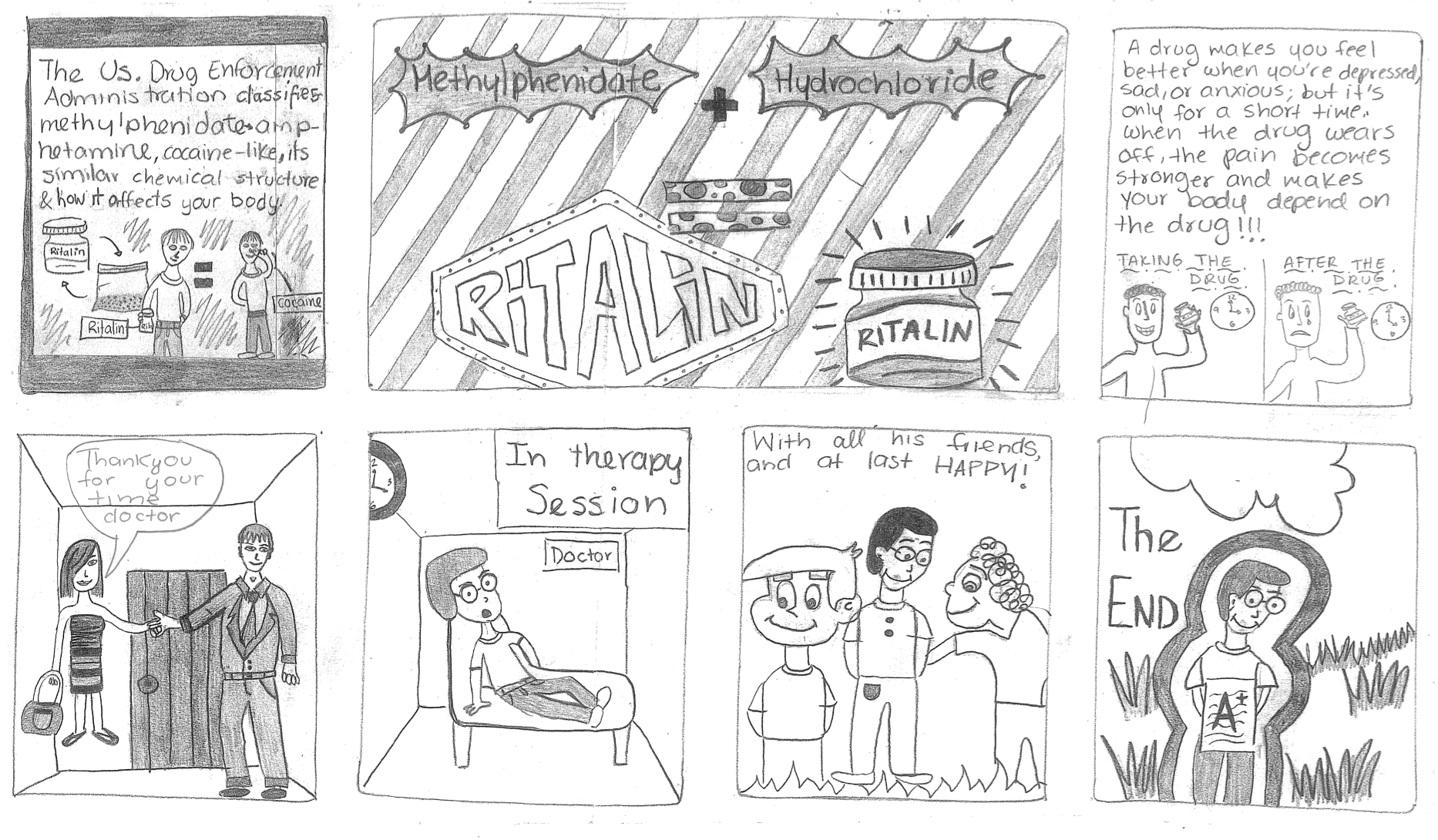 People always ask us why are we so into this project. They say it is not our war to fight. Why would we go against all common and accepted beliefs? Why did we want to fight with such an immense and lucrative system, such as the one that exists between the pharmaceuticals and the psychiatric industry. We always respond to this . . . If not us, then who?
"What we do or don't do right now will affect every generation to come, and too often we do nothing."
Another question some people ask is why we started this project? Did we lose a loved one or a relative of ours because of psychiatric treatment? The answer is no. None of our relatives have suffered from these treatments, but we wouldn't want them to. This is the reason we started this project. To inform people about what is hidden from them so they can make more informed and responsible choices about the treatments they blindly accept.
We believe our Indiegogo campaign (https://www.indiegogo.com/projects/teenagers-against-psychiatric-drugs/x/7251751) can help us achieve our mission and inform more people by raising funds that will be used to make a short video explaining the hazardous side effects and the complete information about these drugs.
We hope you can support us. We are in this together. Your fight is our fight.
We are with everyone out there who has suffered unjustly due to the use of these drugs. Let's spread the word about what is happening!
* * * * *
***
Mad in America hosts blogs by a diverse group of writers. These posts are designed to serve as a public forum for a discussion—broadly speaking—of psychiatry and its treatments. The opinions expressed are the writers' own.
***
Mad in America has made some changes to the commenting process. You no longer need to login or create an account on our site to comment. The only information needed is your name, email and comment text. Comments made with an account prior to this change will remain visible on the site.