To a classicist (a professor of Greek and Latin, like me), the psychotic illnesses detailed in the pages of the DSM look like nothing but the main characters of the classical tragedies of ancient Greece, only born anew under medicalized names. Medea is the distraught and desperate mother who kills her children, Hercules the loving father who shoots his wife and kids, and Orestes the resentful and dependent son who murders his mother and claims God told him to do it. And since the ancient tragedians do their utmost to make us sympathize with these characters, reading a tragedy or two—such as Euripides' Bacchae—might go a long way toward helping us understand—truly understand, on existential grounds—when and why an individual elects to engage in odd behaviors.
Last week I spent a day reading Euripides' Bacchae with alumni and adult students at Cornell's Adult University. We used the Hackett Classics edition and for the first half hour, we didn't make it past the book's cover.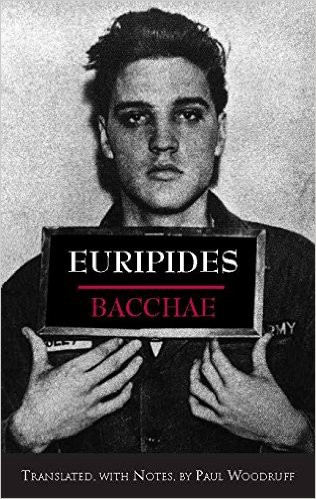 That's Elvis Presley. Why is he on the cover?, several asked. I've been reading this ancient Greek tragedy for years and assumed it was obvious, but it was only when I began rooting around YouTube that I came to appreciate just how truly ingenious that cover is.
It all becomes clear when Pentheus, the authority figure who dislikes Dionysus, enters for the first time. Sizing up the situation — and not happy about it — he announces (215–220, in Paul Woodruff's translation, which we used in class):
I happened to hear, when I was out of town, there's trouble in the city — a revolution: These women of ours have left their homes and run away to the dark mountains, pretending to be Bacchants. It's this brand-new god, Dionysus, whoever that is; they're dancing for him!
Got it? Now watch this clip of Elvis singing Hound Dog back in 1957:
Dancing for him, indeed! And a little later, Pentheus goes on (233–9):
Also, I hear there's a foreigner come to town, a wizard with magic spells from Lydia, who has long blond curls — perfumed! — upon his head, and the bloom of wine, the grace of Aphrodite, on his cheeks. Day and night he plays around with young girls, showing off his "VoHe" mysteries.
VoHe! is the ancient Greek equivalent of Hallelujah! (it's an ecstatic cry of joy), and though Elvis dyed his blond locks black, everything else fits pretty well. This Dionysus is hot, and he's driving the girls crazy — not so different from the King in his prime, as this 1956 clip makes clear:
By the way, Dionysus is about the same age as Pentheus, who seems jealous of all that female attention. Watch that clip again (specifically, from 00:25–00:33) and as you do, contemplate the sparagmos — the ritual mutilation—of Pentheus at the end of Euripides' play, starting at line 1075.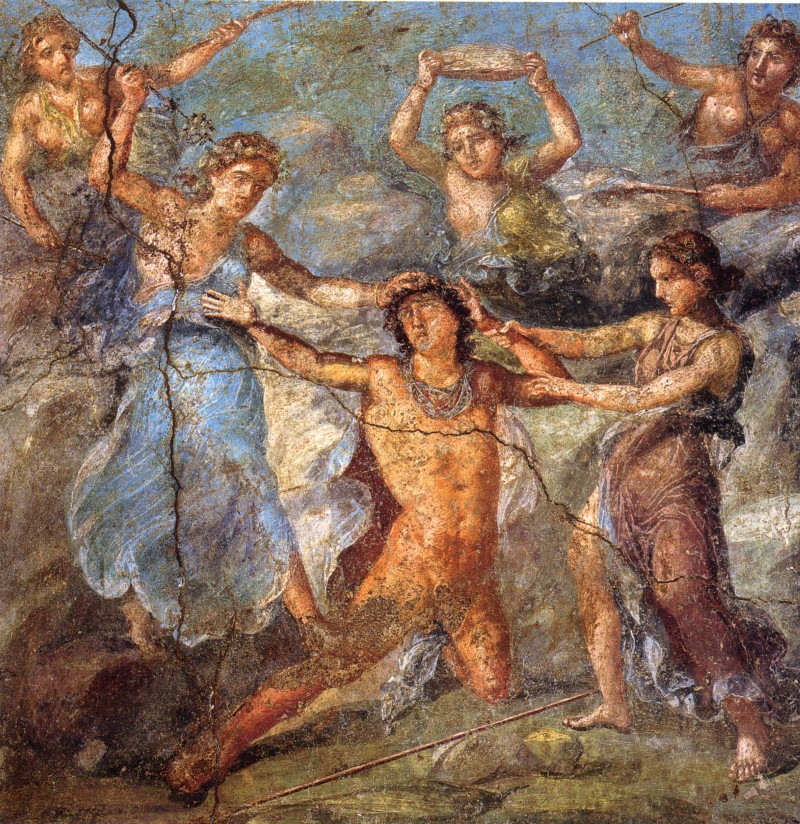 However we explain them, the quasi-magical effects that Elvis Presley wrought on America's women in the middle of the last century may yet have something to teach us. They help us better appreciate the tensions at work in Euripides' play and, in so doing, they help us better understand some mysterious aspects of the human condition.
Why don't young women in America today imitate the behavior of their grandmothers in these clips? And what ever happened to the hysteria that so plagued the young women of upper-class Vienna a hundred years ago? Thomas Szasz maintained that psychosis, like all other mental illnesses, could be explained on purely existential grounds; for him, there was no need to invoke infectious agents, faulty genetics, or cellular lesions in the brain. These clips suggest he was right. When society changes, and freedoms for women expanded, these behaviors went away.
* * * * *
This blog is adapted for MIA from
Michael Fontaine's post on Medium.com
***
Mad in America hosts blogs by a diverse group of writers. These posts are designed to serve as a public forum for a discussion—broadly speaking—of psychiatry and its treatments. The opinions expressed are the writers' own.
***
Mad in America has made some changes to the commenting process. You no longer need to login or create an account on our site to comment. The only information needed is your name, email and comment text. Comments made with an account prior to this change will remain visible on the site.