Recent findings from a mixed-methods study explore the under-reported experiences of Western meditation practitioners who encounter unexpected, difficult, distressing, or functionally impairing effects of their practice. The Varieties of Contemplative Experience (VCE) study, published in PLOS ONE, attempts to broaden Westernized notions of meditation experiences through qualitative interviews and quantitative data.
"The limited focus on the benefits of meditation for physical and psychological health and well-being is a modern and largely Western creation that neither represents the diversity of meditation practices nor the range of possible or even likely effects of those practices."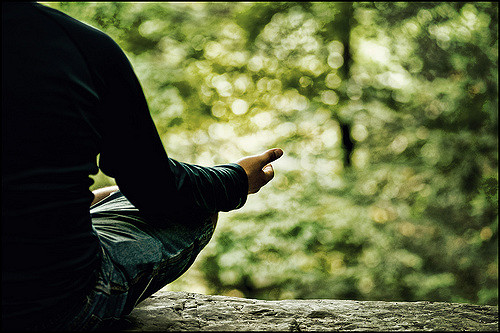 Already-existing literature has primarily focused on the health benefits of meditation practice, often discounting both its religious roots and the diverse range of experiences and associated effects. Traditional Buddhist sources recount blissful and painful meditation-related experiences alike, the latter including body pain, physiological disorders, paranoia, sadness, anger, and fear. Yet a delineation between positive and negative side effects may be reductionist, as traditional accounts relay that neither experiences of pain nor pleasure are certain markers of greater insight.
While the relationship between insight and the nature of practice experience is not portrayed systematically in traditional sources, Western representations of Buddhism attempt to brand it in concordance with values such as empiricism, secularity, and science. Mindfulness-based interventions (MBIs) are derived from this paradigm and have gained support in alleviating symptoms related to stress, addiction, chronic pain, mood disorders, psychiatric disorders, and medical conditions.
Interestingly, however, accounts of meditation-induced psychosis, seizures, depersonalization, mania, and other adverse effects are noted to occur and have even culminated in a DSM description, but the evidence of their origin, management, and prevention continue to be unexplored.
Lindahl and co-researchers sought to expand upon this research by investigating the following questions in the VCE study:
What is the range of meditation-related effects described by Buddhist practitioners in the West?
What types of experiences do they report as unexpected, challenging, difficult, distressing, or functionally impairing?
What are the hypothesized causes of those experiences?
What interpretations are they given by others?
What impact do these experiences have on the lives of meditation practitioners?
How do practitioners prevent, manage, navigate, or integrate such experiences?
How do teachers guide their students through such experiences?
"Because the widespread practice of Buddhist meditation in the West is a relatively recent phenomenon, and because Buddhist-derived meditation practices such as 'mindfulness' are increasingly being deployed in various novel settings such as schools, clinics, and hospitals, more information is needed on the range of experiences associated with the practice of Buddhist meditation in the West."
Western meditation experts and practitioners were interviewed across Theravāda, Zen, and Tibetan traditions totaling 60 interviews overall (57% male, 43% female). Participants were excluded if they endorsed any prior experiences that could be causally related to the meditation-related symptoms explored in this study. The team of researchers consisted of those with backgrounds in clinical psychology, neuroscience, religious studies, qualitative methodology, behavioral anthropology, and behavioral medicine.
Following the interviews, participants completed a quantitative survey. Responses to this survey underwent a comprehensive causality assessment, to assess whether reported symptoms were attributable specifically to meditation experiences, and a severity assessment to determine the degree of meditation-related distress and impairment. Lindahl and team acknowledge, however, limitations to claims of causality, noting that the best research design to determine this would involve the implementation of a randomized control trial (RCT) design accompanied by validated pre-and post-measures.
In this process, researchers discovered that a consistent distinction between positive and negative meditation-related changes was not evident. Rather, appraisals of experiences were personalized through interpretive frameworks shaped by systems of thought and sociocultural contexts.
Results of this study supported the notion that no consistent appraisal system could be applied across meditative experiences, and that practitioners encounter a diverse range of meditation-related experiences and intensities of those experiences. Participants' experiences were categorized into "cognitive," "perceptual," "affective," "somatic," "conative," "sense of self," and "social."
Cognitive experiences refer to effects related to mental functioning including thought content, decision-making, planning, and memory. Some cognitive side-effects, mental stillness, clarity, and meta-cognition, were reported as negative or positive depending their intensity and intersection with daily functioning. Respondents sometimes expressed that some side effects, such as changes in their world view, resulted in confusion. Similarly, one was more likely to report side effects as unpleasant if they had experienced a disintegration or disconnection between their perceptions and concepts, or if changes in concentration and memory felt problematic. Delusional, irrational, or paranormal beliefs were reported as well, but their impact varied according to the practitioner's accounts and their social context.
Perceptual experiences include changes to the five senses. A common change reported was hypersensitivity to light, sound, or sensation. In some cases, cessation of visual perception was reported in addition to instances involving the general dissolution of perceptual objects. Vision-related distortions of time and space, and a general "derealization" were described, in addition to experiences of illusions and hallucinations that occurred both independently from and in conjunction with "delusional beliefs."
Affective, or emotional, changes capture the type, frequency, or intensity of an emotion. Fear, anxiety, panic, and paranoia were the most frequently reported increased emotions (reported by 82% of practitioners). Others described experiencing a decrease in emotions overall, or "affective flattening." Emotions that are typically interpreted through a positive valence, such as increased empathy, bliss, and euphoria were described. However, experiences of bliss and euphoria were sometimes accompanied by later depressive symptoms, or "destabilizing conditions resembling mania or psychosis." Affective experience is a broad category encompassing changes in doubt and faith, self-conscious emotions, the re-experiencing of traumatic memories, involuntary crying or laughter, and agitation, irritability, or anger.
The authors included this note:
 "It should be noted that neither 'mania' nor 'psychosis' were phenomenological categories in our coding structure, even if practitioners, or more commonly, experts used such terms to describe an experience."
Somatic changes refer to meditation-related changes in observable bodily sensations and physiological processes. Commonly reported changes were alterations in sleep patterns, parasomnia (resulting in vivid dreaming, lucid dreaming, or nightmares), changes in appetite, and thermal changes. Some respondents spoke of feeling pressure, tension, or pain. These feelings would sometimes be described as growing more acute and releasing in session, a sensation that was oftentimes experienced pleasantly, yet other times alongside a re-experiencing of traumatic memories associated with negative affect.
Conative experiences were changes related to motivation. Practitioners described a generally positive sense of having to exert less effort in their meditative practice. Two reported changes were anhedonia, or the loss of desire to engage in activities previously enjoyed, and decreased motivation to pursue goals.
"Sense of self" changes were most often reported by participants as a change in their perception or self-world boundaries, typically involving reports of the self and world "merging." This experience could be described as blissful and euphoric, but also as terrifying as one feels a loss of agency and ownership. For some, they no longer felt they had a self, and believed that they were at times nonexistent or invisible from others. Alternatively, some experienced neutral affect in response to this merging of world and self. Another "sense of self" change involved a general alteration or re-writing, of one's personal narrative.
Social changes, which included changes in interpersonal activities and functioning also ranged in terms of diversity of experiences. While some reported estrangement, others reported increased extraversion and valuing of relationships. At times, respondents experienced a social destabilization, especially if they were transitioning between a practice context and a non-practice context. Participants also spoke about the widespread changes they experienced regarding their relationship to their meditation community.
Taken together, the researchers found that "The vast majority (88%) of participants reported that challenging or difficult meditation experiences bled over into daily life or had an impact on their life beyond a meditation retreat or beyond a formal practice session. The term "symptoms" is used here to denote the subset of experiences that were experienced as challenging, difficult or functionally impairing."
The findings of this study demonstrate not only that appraisals of meditation-related experiences are dictated by complex personal, interpersonal, and sociological factors, but that there exist "multiple, and sometimes conflicting," paradigms that influence Western Buddhist concepts.
"Without sufficiently attending to the role of appraisal processes at both individual and interpersonal levels, scholars may fundamentally misconstrue differential diagnosis as being about identifying inherent differences between religious experiences and mental illnesses, rather than seeing them as potentially more ambiguous categories or closely related phenomena that may well be grounded in common cognitive, perceptual, and behavioral mechanisms."
This obscuring between social and cultural processes also serves to uphold a discourse that experiences fall neatly between religious and pathological, write Lindahl and team. In addition to honoring the complexity inherently existent in these experiences, the researchers argue that this study offers helpful implications that may allow meditation and MBI teachers to identify students who may need additional support.
****
Lindahl, J. R., Fisher, N. E., Cooper, D. J., Rosen, R. K., & Britton, W. B. (2017). The varieties of contemplative experience: A mixed-methods study of meditation-related challenges in Western Buddhists. PloS one, 12(5), e0176239. (Abstract)