In a new article, published in the Journal of Theoretical and Philosophical Psychology, scholars Erin Thrift and Jeff Sugarman present a thoughtful analysis of the term social justice and its use in the field of psychology. They outline the term's multifaceted and complex history, illustrating that its usage today by psychologists may be reductive and problematic.
"History should give pause to psychologists who claim social justice as their mission," Thrift and Sugarman write. "Social justice has become a 'cultural keyword' and, consequently, whether psychologists realize it or not, invoking the term thrusts them and the discipline into a broader debate about human freedom, individual and collective responsibility, and the role of the state."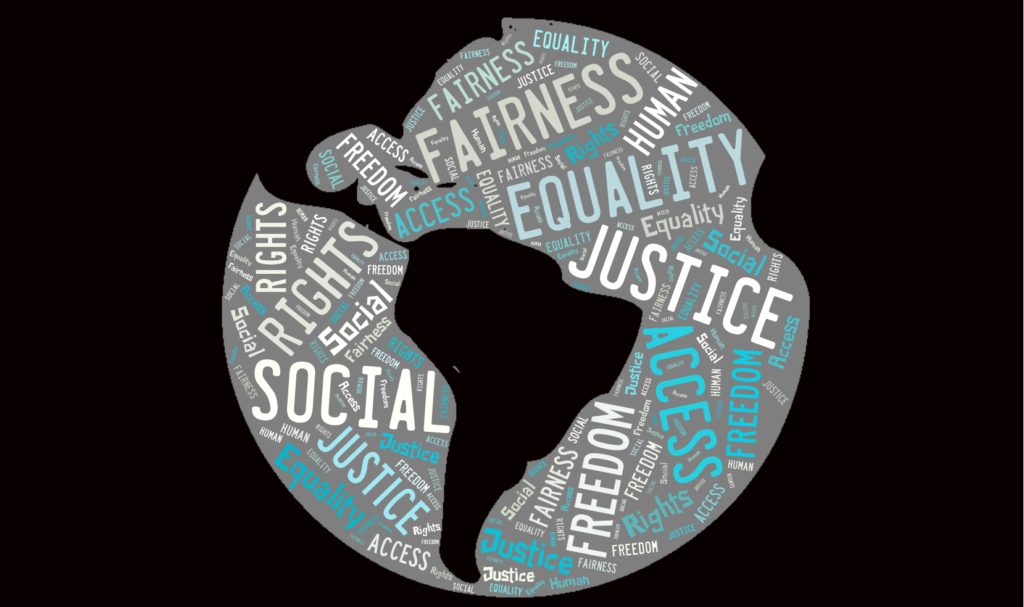 The meaning of the term "social justice," in Western, democratic states, has shifted throughout history.  It has transformed alongside cultural developments and milestones and has garnered increased attention in recent years. Thrift and Sugarman point out that the definition of social justice lacks specificity, clarity, and consensus. Nevertheless, the field of psychology has aligned itself with a social justice mission, leaving some to wonder what exactly that mission means and entails.
"Although many psychologists proclaim social justice as central to their disciplinary and professional mission, it is not at all clear what psychologists mean by 'social justice' and how they contribute to its aims," Thrift and Sugarman write. "Without clarity as to the meaning of social justice, we are no further ahead."
The authors begin by outlining the multifaceted history of the term "social justice" in English speaking Western democratic countries and follow this with an analysis of its meaning within the field of psychology. They trace back the usage of the term to debates concerning the fair economic distribution of material goods and power and the reduction of the risks inherent in the capitalist political system. The term social justice was not originally used in reference to movements for gender or racial equality, as those injustices were said to have "remained invisible" until around the 1970s. The meaning of social justice shifted around this time, and it began to be applied to inequalities in nonmaterial goods, such as the recognition of difference and identity issues.
Thrift and Sugarman argue that the term has been misappropriated with the rise of neoliberal economics in the 70s and 80s. In this context, its meaning has been employed to refer to social justice as an individual virtue rather than a collective endeavor, a usage antithetical to the term's original purpose. This shift in meaning transforms social injustices into conflicts reconcilable by private charity practices and self-care rather than movements for accountability and the reformation of systems and corporations. Discussing the neoliberal usage of the term social justice, Thrift and Sugarman write:
"Concepts can be reinterpreted over time. However, in this case, such a severe break with historical meaning is more likely opportunistic coopting of the term than a shift legitimately warranted by judicious conceptual analysis."
Despite its origin, the differing views and conceptualizations of social justice now represent "the nexus of a struggle among different political factions," they write. Not all views and conceptualizations sufficiently address the term in its complexity, however. Thrift and Sugarman argue that for the term social justice to be consistent with this complex history, its utilization must acknowledge (1) its historical development and meaning, and (2) the contemporary challenges that surround its usage.
"The history of social justice points to the necessity of understanding its complex and multifaceted nature," they write. "Therefore, any accounts of social justice that are overly narrow (e.g., attending only to the redistribution of material goods or to identity politics) cannot adequately represent the concept."
According to the authors, psychology, as a field, has aligned itself more closely with some conceptualizations of social justice than others. Psychologists have been criticized for adopting a more "identity politics" approach to social justice in which they reductively attend to issues of identity and recognition while overlooking the intersection of identity with economic inequalities and broader structural concerns. It is not just that the privileging of identity-focused views of social justice obscures economic inequities associated with capitalism, but, as Thrift and Sugarman emphasize, it takes a complicit stance that allows for the perpetuation of these injustices. In this sense, psychologists have predominantly aligned with a reductive approach to social justice and in doing so have undermined their stated mission.
Claiming expertise in defining and treating psychological problems, the field of psychology has considerable influence on the use and understanding of social justice. As a result, "confusion over the meaning of social justice has implications for psychologists interested in pursuing this aim, but also has broader political, social, and economic consequences," Thrift and Sugarman argue. When psychologists promote the idea that psychological suffering is a state resolvable exclusively through individual interventions, such as psychotherapy, behavior changes, or drug treatments, structural issues can be ignored and perpetuated.
"Psychological explanations often have diverted attention from social, political, and cultural injustices and, in so doing, at least deflected, if not prevented, individuals from political participation," they write.
The authors go on to outline how specific psychological explanations have deflected individuals from political participation and prevented systemic reforms. For instance, the suffering and subjugation of women was explained by hysteria, racial discrimination was justified by the inferior intelligence of people of color, homosexuality was classified as a mental disorder in the DSM, non-Western families are described as "enmeshed," and the negative impact of poverty on childhood academic achievement has been recast as a lack of self-discipline or as deficits in other internal characteristics.
Not only are structural problems obscured in these explanations, but they are replaced with interpretations that exclusively place responsibility on individuals or individual characteristics. The authors write:
"A widespread error in psychology is that failing to recognize the constitutive force of our sociopolitical and economic institutions has led to fixing features of persons to human nature rather than to the institutions within which they become persons."
Further, they illustrate that this approach is antithetical to social justice, as it was initially conceived, and contributes to neoliberal economics and the injustices that arise from current economic and political systems.
"Psychologists' endorsement of social justice may not only disguise the social and political sources of many mental health problems," they write, "but also further bolster the neoliberal ideal of individuals as self-responsible, competitive, enterprising, risk-seeking, adaptable individuals, who bear sole responsibility for their circumstances, who do not require or even eschew government support, and whose freedom is manifested by their capacity for choice."
Thrift and Sugarman point out that psychologists benefit from an individualized promotion of social justice. Psychology as a field is "embedded in the market economy," they write, so framing problems as arising from the individual may increase demand for psychological services. "Consequently, there may be little professional or economic incentive for psychologists to conceptualize personal difficulties other than in terms of the individual."
"Thus, psychologists aspiring to work for social justice should be judicious in their use of the term and cognizant of the political consequences they are promoting (even inadvertently)."
The authors observe this pattern in contemporary psychology practice. For example, lowered diagnostic thresholds and loosened criteria support claims that 46.6% of the U.S. population will experience a mental illness in their lifetime.  As demand increases, so does the value of psychological services. Thus, psychology profits from promoting a reductive form of social justice that is contrary to its perceived aims.
One way to address the issue of harmful practices in the name of social justice is to develop greater clarity and consensus around the term. The authors argue that there is currently no coherent framework for evaluating and implementing social justice claims. In response, they propose adopting a structure promoted by Fraser (2009), which addresses three fundamental questions:
"What is the good of social justice?" (principle of participational parity)
"Who is owed social justice?" (all-affected principle)
"How are we to make decisions related to all aspects of social justice?" (all-subjected principle)
Fraser argues for a "principle of participatory parity," meaning that all injustices should be considered as violations of social justice. Social justice and violations of social justice are evaluated in this framework "in terms of their effect on a person's ability to participate socially and politically on equal grounds with their peers." To address contemporary issues that surround social justice claims, the authors argue that globalization of social justice pursuits must be framed beyond the interest of a nation-state and must be able to recognize global injustices committed by transnational corporations.
For the field of psychology to apply social justice in terms of the principle of participational parity, Thrift and Sugarman suggest reflection on the following question:
"How does psychological theorizing, research, or interventions help create social, cultural, political, and economic arrangements that permit individuals to participate on an equal level with their peers?"
They argue that the response from the field must go beyond simply promoting and increasing access to psychological services. Social justice calls for a large-scale reshaping of psychological services to address rather than undermine sociopolitical and economic issues.
"If psychologists are to serve the interests of social justice, they cannot take their responsibility simply as helping individuals manage their anxiety in an unjust economic order," Thrift and Sugarman write. "Psychological services that merely help individuals adjust to circumstances of poverty and inequality, without doing anything to change these conditions, is a disservice to social justice. It perpetuates the role of psychologists as 'architects of adjustment' who preserve and protect the status quo, rather than as advocates for sociopolitical reform."
****
Thrift, E., & Sugarman, J. (2018, September 13). What Is Social Justice? Implications for Psychology. Journal of Theoretical and Philosophical Psychology. Advance online publication. (Link)