A recent article, published in the American Psychologist, assesses the concept of historical trauma on indigenous populations, or Indigenous historical trauma (IHT), in the United States and Canada. In the first comprehensive review of its kind, the authors articulate a collective understanding of the effects of historical injustices across generations. The team of researchers, led by Joseph Gone at Harvard University, also explore whether IHT is "most helpfully conceived in metaphorical or literal terms," and whether the concept risks pathologizing an already marginalized group.
"Psychologists, mental health researchers, and health scientists who collaborate with Indigenous populations might do well to reflect on the past achievement and potential promise of IHT," the authors write.

"In many ways, IHT has gained traction by bringing much-needed attention to historical events and processes that have powerfully shaped the experiences of contemporary Indigenous peoples, which allows for more accurate renderings of those experiences for the benefit of both psychological science and Indigenous peoples."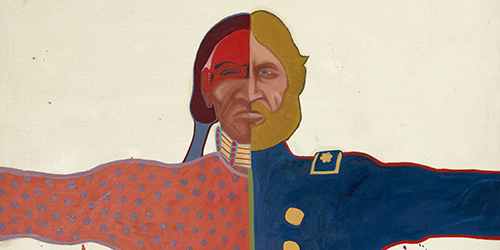 Over the past two decades, the concept of IHT has been developed in psychology and health literature. IHT is differentiated from PTSD by its colonial origin, collective impact, cumulative nature, and cross-generational risk.
The authors root IHT in the processes of colonization and the effects of "conquest, plunder, impoverishment, which resulted in population decline and subsequent subjugation of Indigenous peoples."
Gone and colleagues conducted a systematic review of the existing research, focusing on the question, "What do we know empirically about the health impacts of IHT among Indigenous populations in the United States and Canada?" Their population sample included American Indian, Alaska Native, First Nation, Metis, Inuit, and Native Hawaiian peoples. PTSD and other traumatic reactions were included only if some form of group-based discrimination or stress was also present.
Thirty-two articles met criteria for their review, which were grouped into three categories: (1) historical loss studies that use the Historical Losses Scale (HLS) or Historical Losses Associated Symptoms Scale (HLASS), (2) residential school ancestry (RSA), and (3) "other" studies. They found that while both RSA and HLS studies have generated data on the impact of IHT on health outcomes, analyses were too complicated and findings too specific, making conclusive inferences impossible.
They elaborate, "Despite these impressive fledgling efforts, researchers at this time have not yet produced findings that accrue into a coherent body of knowledge that can answer this [research] question."
While HLS and HLASS studies contain inconsistent adoption, adaptation, scoring, and interpretation of scales combined with intricate patterns of association, RSA studies are comprised of just a small number of Indigenous people that ever attended residential school and even a lower number of those who experienced trauma. Gone and colleagues discuss how "in the absence of standardized cross-item scoring conventions for these scales, researchers have adopted or created their own conventions in ways that prevent the ability to summarize conclusions across studies.
They conclude, "Many studies reported statistically significant associations between higher indicators of IHT and adverse health outcomes. Analyses were so complex, and findings were so specific, that this literature has yet to cohere into a body of knowledge with clear implications for health policy or professional practice." 
The authors also explore how the IHT construct itself may risk further pathologizing a marginalized group and miss a more "nuanced understanding of distinctive and historicized Indigenous experiences," if not more intricately understood.
The authors encourage additional attention in the IHT literature to "historical nuance and human diversity to avoid simplistic accounts and essentialist traps." The concept of resilience is also promoted to further explore and incorporate in the metaphorical and literal usage of IHT, that is, "the ability to thrive despite experiences of adversity or trauma."
As some Indigenous communities have begun to embrace and promote IHT, the authors advise mental health providers and researchers who collaborate with Indigenous populations to consider reflecting on the historical gains and potential significance of IHT.
"IHT, like racial trauma," they write, "grapples with contextual influences on psychosocial and health phenomena to better appreciate the experiences of historically oppressed and socially marginalized populations."
****
Gone, J. P., Hartmann, W. E., Pomerville, A., Wendt, D. C., Klem, S. H., & Burrage, R. L. (2019). The impact of historical trauma on health outcomes for indigenous populations in the USA and Canada: A systematic review. American Psychologist. 74(1):20-35. DOI: 10.1037/amp0000338. (Link)