The COVID-19 pandemic has sparked a media narrative of healthcare workers as 'heroes.' Although well-intentioned, calling healthcare workers 'heroic' can have unintended negative consequences. In a new article, featured in the Journal of Medical Ethics, Caitríona L. Cox, of the Healthcare Improvement Studies (THIS) Institute, examines some of these consequences.
Cox explores how this narrative leads to a failure to recognize the limits of the duties of healthcare workers, a lack of recognition of the role the public and governmental institutions have in combating the pandemic, and negative psychological impacts on healthcare workers.  Cox writes:
"Individual heroism does not provide a firm basis on which to build a systematic response to a pandemic: there must be recognition of the responsibilities of healthcare institutions and the general public."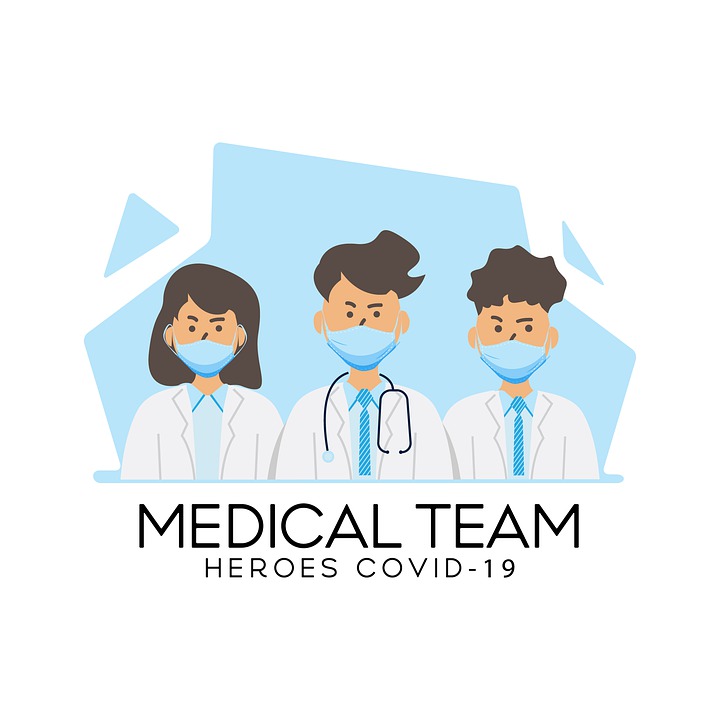 Heroes are broadly understood as individuals who engage in actions in the service of the greater good, or something greater than themselves, also referred to as 'supererogatory action' in the research literature. Heroism goes beyond just these acts; however, as supererogatory action includes things such as giving money to charity, which is not typically considered heroic. Additional criteria for heroism include it being a voluntary act, and it usually involves some degree of personal risk or sacrifice in the service of the other.
The day-to-day duties of healthcare workers can be considered to be heroic outside of a pandemic, as they are routinely confronted with situations wherein they help others despite personal risks, such as being exposed to infectious diseases like hepatitis or tuberculosis. Healthcare workers are aware of and accept these risks as part of the job – yet, they have not been widely praised as heroes in the media before the pandemic.
Looking at what has changed that has given rise to more widespread recognition of healthcare workers as heroes, Cox points to the increased risks that healthcare workers are faced with during the pandemic. She also highlights costs other than the risk of infection, such as encountering challenging ethical dilemmas, the physical and psychological toll of working through the pandemic, losing patients and colleagues to COVID-19, and for some, having to live apart from vulnerable loved ones for extended periods.
The lived experience of many healthcare workers having to leave home for work drastically differs from the messages to stay at home that the general public has received about how to handle the pandemic. This, coupled with the use of military-style language to describe healthcare workers as 'combating' and 'battling' the virus, makes it clear to see how the narrative of the healthcare worker as the hero has become so prominent.
Although healthcare workers do indeed fit the mold for the hero role, there are several problems with viewing them in this way. Cox describes how labeling healthcare workers as heroes prevent meaningful discussion about the limits of their duty to care for patients from occurring. It does not allow for exploration into the expectations and obligations of healthcare workers during a pandemic.
She argues that there needs to be a consensus developed as to what degree of personal risk healthcare workers are being asked to place themselves under. Although this topic has not been wholly ignored – for example, vulnerable healthcare workers who have underlying medical conditions have been cautioned to avoid face-to-face contact with patients – there needs to be a further exploration into how we can negotiate the boundaries of healthcare workers in the face of COVID-19.
Additionally, lauding healthcare workers as heroes ignores the vital roles that the public, healthcare institutions, and the government have in addressing the pandemic – it is not a one-sided fight. The purpose of healthcare institutions is to protect and support their employees by taking actions such as providing adequate personal protective equipment (PPE), clearly communicating risks and expectations to their employees, providing training and other needed resources, providing access to treatment if workers become infected, making therapy and psychological support available, and providing support, including financial compensation, to family members if workers die.
The general public's responsibility lies in both taking measures to reduce spread, such as by staying home, following social distancing guidelines, and wearing face coverings when in public, but also outside of times of crisis, such as through paying taxes and voting for elected officials that will support the healthcare system.
The media's emphasis on healthcare workers as heroes draws the focus away from the crucial responsibilities of the public, and healthcare and governmental institutions have to support healthcare workers. This, in turn, prevents healthcare workers' needs from being met. We have seen this in repeated cries for adequate personal protective equipment (PPE) by healthcare professionals throughout the pandemic. Cox writes:
"Media coverage which praises heroism among healthcare workers diverts attention away from the critical importance of ensuring that reciprocal social obligations to healthcare workers are fulfilled; as Reid notes, 'the obligation to noble self-sacrifice seems incompatible with insisting on proper protective equipment.'"
She highlights how, during the SARS epidemic, the hero narrative was used as a political tool to divert attention away from the errors made by the government in its response to the outbreak. The focus on the selfless sacrifice of healthcare workers neglects to emphasize the moral duties that the public and institutions have to support these workers, nor does it acknowledge that these societal obligations are crucial to healthcare workers being able to fulfill their duties.
These moral duties do not only pertain to the support of healthcare workers, but our vulnerable populations as well, such as the homeless, those in jails and psychiatric institutions, and other marginalized individuals. All of them have experienced increased challenges and risks of infection due to the pandemic.
Cox also directs attention to the negative psychological effect that being referred to as heroes can have on healthcare workers:
"We cannot ask all healthcare workers who go to work to accept personal risk beyond what is reasonably expected of them, as it is simply too demanding; we cannot, in short, expect heroism."
A study involving American physicians found that only 55% of them agreed that they are obligated to place their health at risk during an epidemic, and a study that included British healthcare workers found that 26% disagreed that they should have a duty to work even when confronted with high risk. Therefore, it is crucial to recognize that some healthcare workers might feel that they are being pushed beyond the boundaries of what they agreed to when they entered this line of work. It is unfair and unreasonable to expect heroism.
Moreover, expecting heroism fails to recognize and attend to the genuine fears and anxieties faced by healthcare workers. Healthcare workers are negatively psychologically impacted by COVID-19, and we must acknowledge their suffering and provide them with the support that they need.
Others have highlighted how healthcare professionals have a heightened risk of long-term emotional distress following quarantine due to their increased exposure to COVID-19 and have called for increased availability of mental healthcare for these individuals.
Further demonstrating the negative impact of being called heroes can have on healthcare workers, those in the healthcare industry have expressed feeling uncomfortable with this label. The unrealistic expectations of all healthcare workers as heroes and undue pressure this places on those working in the field brings to light the need for the media to reconsider using this term.
Cox ends her review with a call for meaningful action to be taken to support our healthcare workers better:
"Rather than praising all healthcare workers as heroes and clapping them every Thursday, we need to critically examine, as a society, what duties we think healthcare workers have to work in this pandemic, what the reasonable limits to these duties are and how we can reciprocally support them."
****
Cox, C.L. (2020). 'Healthcare Heroes': problems with media focus on heroism from healthcare workers during the COVID-19 pandemic. Journal of Medical Ethics, 0, 1-4. (Link)