A new study, published in the British Journal of Sports Medicine, investigates the effect of practicing yoga on the symptoms associated with depression. The large systematic review and meta-analysis, which reviewed data on over 1,600 participants, showed greater reduction in depressive symptoms among those that practiced yoga compared to waitlist, treatment as usual, or control groups.
"There is a clear need for interventions which are efficacious in improving both physical activity and depressive symptoms and multicomponent lifestyle interventions incorporating a combination of physical activity, exercise and diet. Treatment guidelines for mental disorders from leading international organizations now recommend the integration of physical activity-based interventions as part of routine psychiatric care," the researchers, led by Jacinta Brinsley from the University of South Australia, write.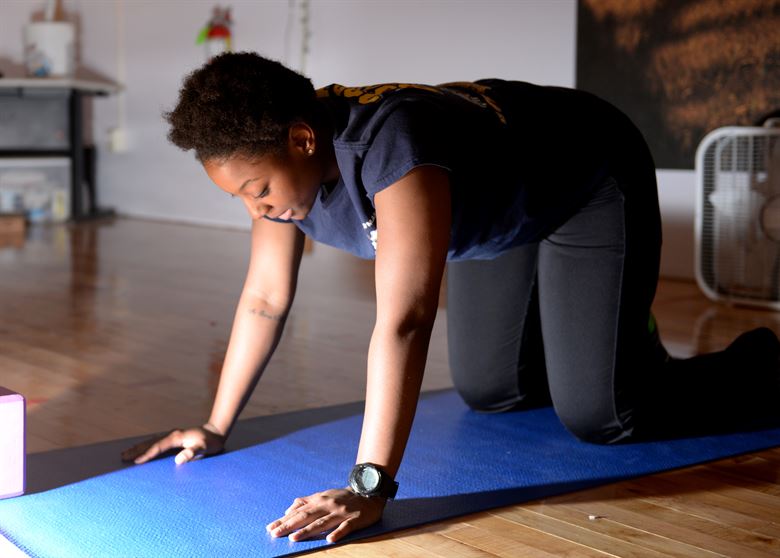 Research suggests that an increasing number of people worldwide are seeking treatment for depressive symptoms. While the American Psychiatric Association suggests psychopharmaceuticals as the first line treatment for depression, researchers have regularly suggested that physical activity and lifestyle interventions may be a more effective and safer option.
Yoga, a practice with roots in Eastern philosophy, has become an increasingly popular form of exercise in the West. Because the practice is a "multicomponent mind-body practice comprising physical postures, movement, mindfulness and meditation" it includes exercise, breathe control, and mindfulness, all practices that have been found to reduce depressive symptoms in both clinical and non-clinical populations.
Taken together, these practices may have greater effects than they do individually. Additionally, the authors of this latest review suggest that yoga may increase exercise adherence for those struggling with depressive symptomology, a common barrier to experiencing potential outcomes.
While research supports yoga as a promising treatment for depression, "depressive disorders are highly comorbid with other mental disorders." This means that people diagnosed with a wide range of 'mental disorders' often simultaneously report the symptoms associated with depression. No study has previously investigated the effects of yoga across groups of people with different psychiatric diagnoses.
The authors of the current meta-analysis and systematic review attempted to determine the effects of yoga on depressive symptoms in people diagnosed with any mental health diagnosis. They also identify the key aspects of a yoga practice associated with improvements.
After reviewing 3,880 records, the researchers included 19 eligible studies, 13 which reported changes in depressive symptomology. All studies included in the review were randomized controlled trails (RCTs) conducted with adult populations currently diagnosed with a 'mental health disorder' according to the Diagnostic and Statistical Manual of Mental Disorders (DSM).
The results of the review demonstrate that yoga has a moderate effect on depressive symptomology compared with all waitlist and control groups across mental health disorders.
Based on subgroup analysis, yoga was most effective for those with diagnoses of 'depressive disorders' and 'schizophrenia' as compared to 'post traumatic stress disorder' (PTSD) and 'alcohol use disorders.' While the review was unable to draw conclusions on the secondary physical health effects of yoga, due an insufficient amount of data, several studies suggested improved strength and flexibility following yoga as well as improved overall physical health.
A few of the studies within the review demonstrated significant remission rates among those that practiced yoga, including a study which reported over 50% of participants no longer met the criteria for PTSD following the yoga intervention.
The authors emphasize that the number of yoga session per week was a notable moderator on the effects of yoga on depression.
"There was a dose–response relationship between the number of yoga sessions per week and improvements in depressive symptoms," Brinsley and colleagues write. "This is an important finding … Interventions should aim to increase the frequency of their sessions per week, as opposed to the duration of each session or the overall duration of the intervention."
While the study highlights the potential for yoga to be a positive option for the treatment of depressive symptomology across a number of 'mental health disorders,' Brinsley and colleagues emphasize the need for standardization across components of yoga in order to examine which components are most meaningful for change. The authors conclude:
"Consideration of yoga as an evidence-based exercise modality alongside conventional forms of exercise is warranted given the positive results of this review. Yoga may provide an additional or alternative strategy to engage people experiencing depression in meaningful physical activity."
****
Brinsley, J., Schuch, F., Lederman, O., Girard, D., Smout, M., Immink, M. A., … & Rosenbaum, S. (2020). Effects of yoga on depressive symptoms in people with mental disorders: a systematic review and meta-analysis. British Journal of Sports Medicine. doi:10.1136/ bjsports-2019-101242 (Link)