A new article, published in the American Journal of Community Psychology, discusses how elements of neoliberalism and hyper-individualism erode the core tenets of a healthy society, damaging our personal and societal well-being.
Isaac Prilleltensky, a community psychologist at the University of Miami, employs a philosophical exploration of what it means to "matter" and claims that we must change the structures and environments that currently prioritize "me" over "we." If we do not, the United States will continue to see a decline in mental health and wellness. Prilleltensky writes:
"If we want everyone to matter, we must foster a We Culture and reject politics that use and abuse mattering…we should embrace movements that seek to balance feeling valued with adding value to self and the community."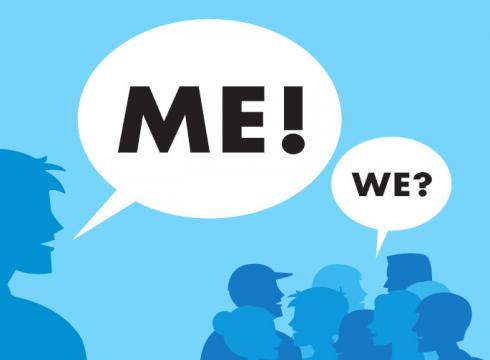 Researchers have previously connected measures of individualism, pressures to succeed, and relative inequality to decreased mental health and wellness, especially for young people. Prilleltensky, in his latest article, titled "Mattering at the Intersection of Psychology, Philosophy, and Politics," explains, philosophically, how this a "Me Culture," rooted in neoliberalism, corrodes mental health.
In contrast, Prilleltensky explores how We Culture is more beneficial to our mental health. In short, a We Culture seeks to ensure that everyone "matters." That is, that everyone can add value and feel valued. Dissimilarly, our current Me Culture, allows only some to add value, only some to feel valued, and only a select population to add value and feel valued.
Mattering is a fundamental human need; the experience of mattering promotes both health and happiness. For someone to feel as though they matter to their community and themselves, they must know that they can add value to others' lives and feel valued by those around them.
Prilleltensky employs philosophical argumentation to claim that individualism and Me Culture harm our mental health.
First, he claims that mattering is a need that consists of feeling valued and adding value.
He then argues that the need to feel valued derives from three motives: survival, social, and, most importantly, existential.
Then, he argues that the existential need to feel valued is tied to human dignity. Which is another way to say that "dignity is the backbone of mattering." Without dignity, we cannot feel human.
Next, he claims that we cannot experience dignity without fairness.
Both Me Culture and neoliberalism rely on inequality and unfairness to exist. In other words, inequality and injustice are necessary conditions for neoliberalism and Me Culture. It is this very unfairness that infringes on our humanity and dignity, disrupting our ability to feel valued. When we cannot and do not feel valued, we cannot matter, which harms our mental health and wellness. Prilleltensky elaborates:
"Constant exposure to social inequality, in a culture that extols material success, is a serious threat to dignity. It is a reminder that other people are worth more than me. These upward social comparisons, research shows, are especially pernicious for poor people. They are always primed to think that they do not measure up because they do not have the education, language, houses, cars, watches, clothes, or gadgets other people have. The social cues are everywhere, from TV commercials to social media…"
In contrast, a We Culture prioritizes and safeguards our dignity and worth. We Culture highlights empowerment, equity, and equality. We Cultures invest more in communities through redistribution of wealth and opportunities, demonstrating a prioritization of human dignity and fairness—creating an environment where everyone can and does matter.
Prilleltensky makes a convincing case that social inequity, unfairness, and individualism damage our mental health and wellness as a society and community. He suggests that to reach the goal of a healthier country, we ought to tackle social issues and inequity as well as personal emotional, and behavioral issues.
****
Prilleltensky, I. (2020). Mattering at the intersection of psychology, philosophy, and politics. American Journal of Community Psychology, 65(1-2), 16-34. (Link)