A new article, published in the Journal of Racial and Ethnic Health Disparities, presented a theoretical framework for community psychology and public health that integrates principles from the Black Lives Matter (BLM) movement. The author, Kaston D. Anderson-Carpenter from Michigan State University, argues that incorporating BLM into research, interventions, and policies is necessary to reduce health disparities across the United States.
"Despite acknowledging that race, gender, and socioeconomic status are important in understanding health inequities, the postpositivist underpinnings of many public health models may prevent them from explicitly demonstrating how Black queer and trans people, older Black adults, and Black women are critical partners—and not merely participants—in understanding health from a Black-centered perspective," Anderson-Carpenter writes.
"The BLM movement differs by affirming those identities; specifically, it asserts those identities as fundamental to understanding Black diversity in the USA. By affirming the identities, the BLM also validates those experiences and realities. Such validation may contribute to developing, implementing, and evaluating public health interventions for Black American health through a critical and intersectional lens."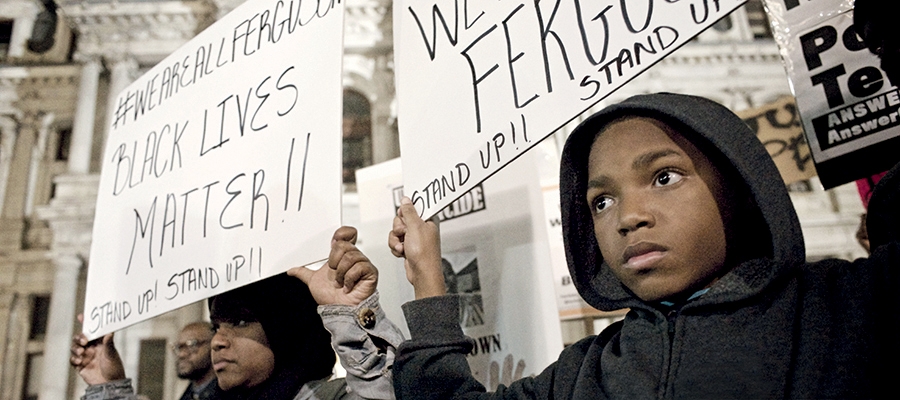 Researchers have historically found many physical and mental health disparities between Black and White Americans due to social and environmental determinants influenced by racism and other structural issues. Black Americans have a shorter life expectancy, Black women are more likely to develop cancer and diabetes, and Black transgender women and men who have sex with men (MSM) are more likely to have housing instability, to be incarcerated, and be diagnosed with substance use disorders. Experiencing racial microaggressions and other forms of discrimination have been found to increase the likelihood of developing mental health issues and contribute to mental health disparities.
Traditional psychological research and practice have failed to address how discrimination and socioenvironmental factors influence psychological health. New research frameworks and approaches to care are being developed to attend to the reality of Black Americans.
Anderson-Carpenter's alternative approach is unique and innovative. It seeks to understand "Black health from a critical Afrocentric" perspective, grounded in BLM principles and informed by ecological systems theory, planned behavior theory, and the social determinants of health model.
The ecological systems theory understands that health is embedded in context and that the multiple systems and structures within that context influence individual and community health.
The theory of planned behavior suggests that attitudes, norms, and skills influence our engagement in health-related behaviors.
The social determinants of health model highlight how a variety of environmental factors outside of individuals' control (e.g., poverty, racism, sexism, homo-, bi-, and transphobia, etc.) affect people's physical and mental health.
However, Anderson-Carpenter argues that these models stem from Eurocentric forms of knowledge creation. To develop an Afrocentric framework, he merged BLM principles into three constructs: (1) honoring diversity, (2) knowledge, attitudes, beliefs, and behaviors, and (3) group dynamics.
Under honoring diversity, are the black affirming, trans-affirming, queer affirming, age affirming, and black women principles. These principles imply that black people do not have to qualify their position, that spaces must be safe for black women, trans and queer people by rejecting male-centrism, sexism, misogyny, and heteronormativity, and that people of all ages have the ability to lead and learn. The intersecting identities of Black Americans are acknowledged, celebrated, and included.
Honoring diversity and inclusion requires including citizens in research projects and the creation of knowledge about their communities. Additionally, it calls to embrace the diversity of spiritual beliefs and practices. Finally, the framework considers the effects of geographic (dis)location and the role of capitalism in the disempowerment of black communities.
To improve knowledge, attitudes, beliefs, and behaviors, public health and community psychologists must engage in practices with empathy, restorative justice, and loving engagement–-two principles of BLM. These principles intersect with the concept of Ubuntu from African philosophy, meaning "I am because we are." This principle highlights the importance of community and the care for others.
Feminist and queer theories add to African philosophies of care, empathy, and love by challenging Western concepts that separate individuals from their larger community, resources, and support (e.g., individualism, nuclear families). Empathy and loving engagements improve community-oriented interventions by including community members in the development, implementation, evaluation, and sustainment of these interventions,
Finally, the group dynamics construct upholds the principles of globalism, black families and villages, and collective value. The construct of group dynamics refers to the behavioral and psychological dynamics and processes that occur within and between social groups. The integration of these BLM principles into group dynamics serves as a lens for acknowledging different privileges within different Black groups, for supporting spaces for families of all kinds, and for understanding that Black families extend beyond the nuclear family into communities, villages, and larger global connections. Focusing on groups and communities, addressing the structural issues they face, and including them in the efforts to change their circumstances leads to empowerment and well-being.
This approach challenges the existing framework for working and addressing the health disparities of Black Americans. It also dignifies the cultural values by centering scientific practice and psychological interventions using Afrocentric philosophies. By doing so, psychological praxis takes a collective approach to wellbeing that attends to issues at multiple levels, such as induvial behavior to systemic change.
****
Anderson-Carpenter, K.D. (2020) Black Lives Matter Principles as an Africentric Approach to Improving Black American Health. Journal of Racial and Ethnic Health Disparities. https://doi.org/10.1007/s40615-020-00845-0 (Link)