In a new article published in Psychiatric Services, Hemalkumar Mehta and his colleagues examine the relationship between pharmaceutical industry payments to physicians, prescribing of that industry's product, and Medicare expenditures.
Adding to previous studies, the authors examine these relationships with regard to a seldom-used drug, pimavanserin (brand name Nuplazid), an atypical antipsychotic approved for the treatment of Parkinson's disease psychosis. The authors find that in the case of pimavanserin, which has an uncertain efficacy and safety profile, payments made from the pharmaceutical industry to physicians are associated with increased prescription volume and Medicare expenditures.
"Higher payments to physicians by the pharmaceutical company for pimavanserin increased physicians' likelihood of having higher pimavanserin prescription volume and Medicare expenditures," the authors write. "Our study adds to growing evidence of the association between pharmaceutical industry payments to physicians and physician prescribing."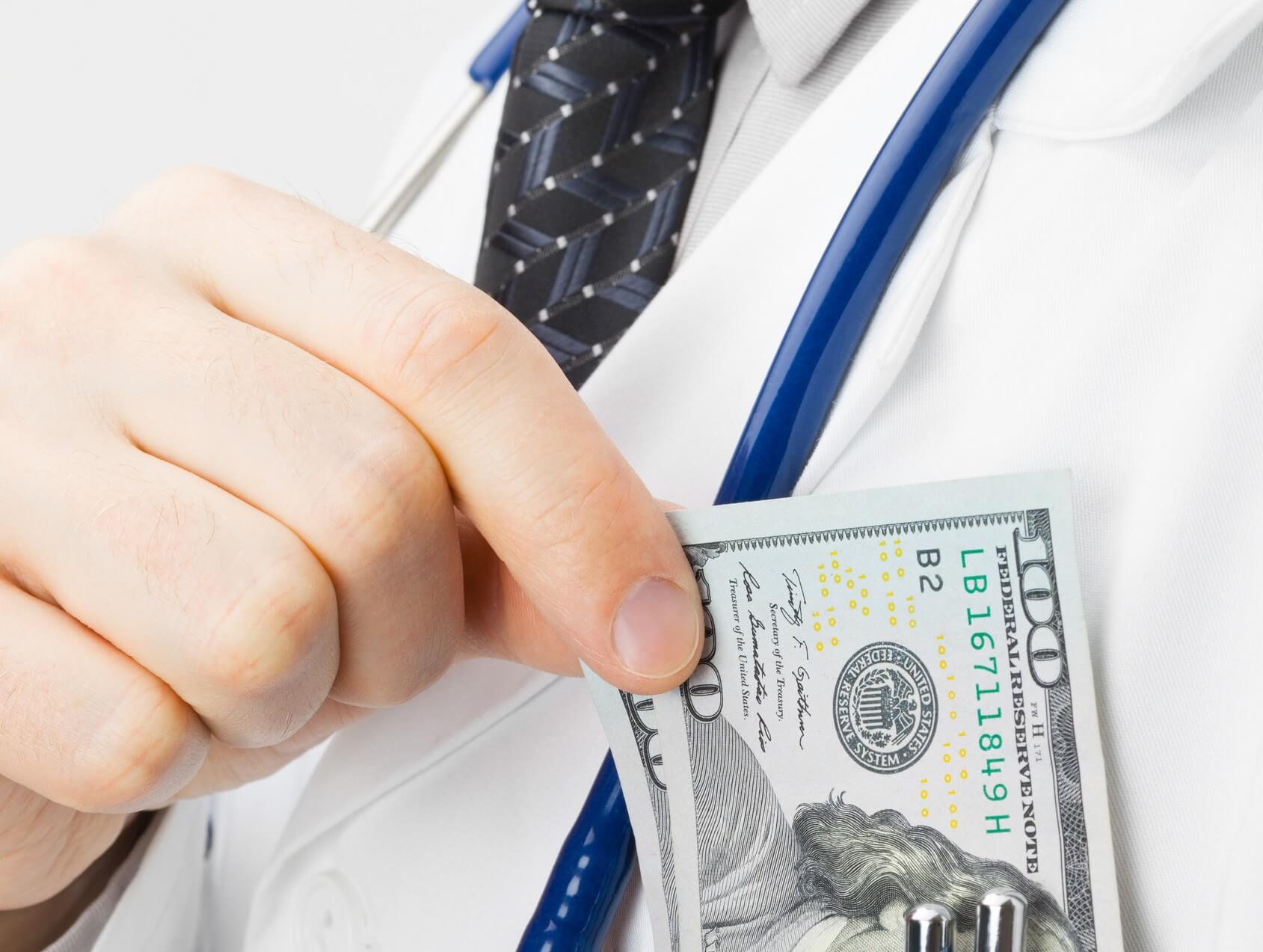 Many voices within the medical disciplines have criticized the practice of physicians accepting payments from the pharmaceutical industry by pointing to the corruption associated with such payments. Multiple studies have linked industry payments with an increased cost of care. Research shows that the practice of industry payments to physicians is likely causing more prescriptions of less effective drugs. Hemalkumar Mehta and his colleagues add their voices to numerous others questioning the practice of industry payments to physicians.
Industry payments are also likely affecting research. These payments undermine the integrity of unbiased evidence, a problem that is becoming such an issue in the medical fields that some authors have called these practices "killing for profit."
One such example is a study designed to defend the continued use of antipsychotics despite the numerous side effects and existence of equally efficacious alternatives. Another example is the pharmaceutical industry recruitment of "key opinion leaders" (KOL) within the medical fields. The pharmaceutical industry ghostwrites and publishes research in these KOL's names, often making the industry's drugs out to be much more effective and safe than they actually are.
Most of the research around industry payments to physicians examines the prescription of drugs with well-established efficacy and safety profiles in the literature. In contrast, the current research examines pimavanserin; a drug seldom used to treat Parkinson's disease with significant safety risks and uncertain efficacy.
By examining a drug with dubious efficacy and safety, the authors establish that the relationship of industry payments changing prescribing practices goes deeper than physicians prescribing brand names over generics or choosing to prescribe their benefactor's drugs over other drugs with similar safety and efficacy profiles.
The current research uses data from the Centers for Medicare and Medicaid Services Open Payments and the CMS part D Prescriber Public Use Files. The authors divide the physicians into five groups depending on how much payment they had received from Acadia Pharmaceuticals (producer of pimavanserin): $0; $1-$100; $101-$1,000; $100,1-$100,000; and >$100,000. They then examined the differences in prescribing pimavanserin between these groups.
Higher payments were consistently associated with more pimavanserin prescriptions. The physicians in the no-payment ($0) group wrote a median of 16 pimavanserin prescriptions. Physicians in the >$100,000 group wrote a median of 96 pimavanserin prescriptions. Higher industry payments to physicians were also associated with higher costs to Medicare.
Physicians in the no-payment group had a median Medicare expenditure of $26,817, where their counterparts receiving >$100,000 in payments had a median Medicare expenditure of $201,793. The authors sum up their findings as follows:
"Physicians receiving payments wrote 46% more prescriptions than those who received no payments … and their total prescriptions were 71% more costly in Medicare expenditure … every $100 spent by the manufacturer on physician payments was associated with a $175.84 increase in pimavanserin-related Medicare expenditures."
Additionally, the current research also echoes other similar pieces in finding those small payments for food, travel, and lodging are more associated with increased prescriptions than larger payments for speaking and consulting. The authors suggest that even something as small as a $20 meal can alter prescribing behaviors:
"In another analysis, physicians who received industry-sponsored meals, valued even as low as $20, were more likely to prescribe brand-name medication to Medicare patients than equally effective cheaper generic medications (9), suggesting a potential association between small gifts or financial incentives and physicians' prescribing practices (10). Even a small gift can create a mindset of entitlement and influence a physician's behavior to promote company products."
The authors acknowledge several limitations to the current research. They used a cross-sectional analysis rather than an experimental one, making any causal claims suspect. They only examined pimavanserin prescriptions associated with Medicare, making any generalization to the uninsured and privately insured difficult. They also note that they were only looking at a small slice of each physician's prescribing practices because they were examining Medicare data. Lastly, the authors note that the Open Payments database does not capture all industry payments made to physicians.
In line with many of their contemporaries, Hemalkumar Mehta and his colleagues point to pharmaceutical industry corruption and its price on public health. What this study adds is an examination of a rarely used drug with safety and efficacy concerns. Where previous research has revealed physicians' willingness to prescribe their benefactor's medications over others more well suited to treat the offending condition, here we see a willingness to prescribe potentially harmful drugs.
****
Mehta HB, Moore TJ, Alexander GC. Association of Pharmaceutical Industry Payments to Physicians With Prescription and Medicare Expenditures for Pimavanserin. Psychiatric Services 2021 Jan 1;72(1):77-80. DOI: 10.1176/appi.ps.202000251. Epub 2020 Aug 25. PMID: 32838675. (Link)