There are many theories regarding the cause of depression. Some, such as the "chemical imbalance" theory (which focuses on serotonin), have been debunked. Others, such as the association of emotional distress with traumatic experiences, have been consistently demonstrated. However, one of the more recent potential explanations is the link between brain inflammation and depression.
A new study in The American Journal of Psychiatry aimed to disentangle this link—how well does inflammation explain depression? The researchers found that there was little difference in inflammation between people with and without the depression diagnosis.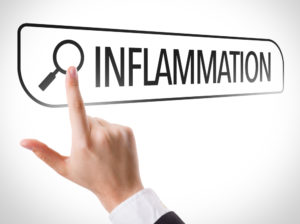 The research was led by Cathryn M. Lewis and Carmine M. Pariante at King's College, London. The study included 26,894 people with a diagnosis of depression and 59,001 people without any psychiatric diagnosis. The participants were all of European ancestry and were obtained through the UK Biobank.
The authors found a statistically significant effect—people with depression did have, on average, slightly higher levels of C-reactive protein (CRP; a marker for inflammation). However, this effect has little explanatory power.
The authors classified a CRP level below 3 mg/L as within the normal range. Above 3 mg/L was considered "low-grade inflammation."
In the study, 21.2% of people with depression had a CRP >3 mg/L, compared with 16.8% of people without depression. This means that most people with depression (about 80%) had a normal CRP level—compared with a similar 85% of healthy controls.
Additionally, the average CRP level was higher for people with depression—but not by much (2.4 mg/L compared with 2.1 mg/L for controls, which is well below the 3 mg/L cutoff point for "low-grade inflammation").
Thus, the researchers found that people with depression were just slightly more likely to have low-grade inflammation, but on average, inflammation levels were within the normal range in both groups.
Moreover, after adjusting for clinical and sociodemographic factors—including BMI, smoking, and childhood trauma—the relationship became even less powerful (though it was still technically statistically significant).
Finally, the researchers also used a polygenic risk score (PRS) to determine if the genetic risk for depression was linked to inflammation. They found that once they accounted for BMI and smoking, genetic risk for depression was not linked to inflammation at all.
"The association between the major depression PRS and CRP level disappears when we additionally regress out the effects of BMI and smoking," the authors write.
Despite these limited—and almost entirely negative—results, the researchers write that they still believe inflammation is a biological cause of depression:
"We suggest that the remaining association between depression and increased inflammation reflects, at least in part, a core biological process and thus possibly a crucial pathogenetic mechanism leading to the depressive phenotype."
****
Pitharouli, M. C., Hagenaars, S. P., Glanville, K. P., Coleman, J. R. I., Hotopf, M., Lewis, C. M., & Carmine M. Pariante, C. M. (2021). Elevated C-reactive protein in patients with depression, independent of genetic, health, and psychosocial factors: Results from the UK Biobank. Am J Psychiatry. doi: 10.1176/appi.ajp.2020.20060947 (Link)