In 2017, Joshua Spriestersbach was asleep on a sidewalk in Hawaii when the authorities came. His only crime was being unhoused—and falling asleep while waiting for food outside a shelter—but he was arrested for another reason. The police mistook him for a different man. They thought he was Thomas Castleberry (whose crimes had landed him in prison in Alaska the year before, in 2016).
Spriestersbach was imprisoned in a psychiatric hospital for almost three years. The more he told the doctors that he was not Thomas Castleberry, the more they believed that he was psychotic.
According to The Guardian, "For two years and eight months, hospital staff and Spriestersbach's own public defenders refused to believe him, until a hospital psychiatrist finally listened. According to the court document, all it took were a few Google searches and phone calls to confirm that he was on another island when Castleberry was initially arrested."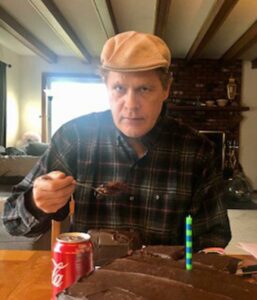 After almost three years of being imprisoned and forced to take drugs against his will, Spriestersbach was suddenly, quietly, released onto the streets. According to the news reports, he had just 50 cents on which to survive.
A defender of forced treatment would probably tell you that this was a sad mistake. At worst, it was incompetence on the part of the hospital staff and the criminal justice system.
There's an aura of outrage to the news articles about the incident, but it's a bit confusing. It's almost as if the papers don't know exactly why this was wrong. After all, Spriestersbach reportedly does suffer from "mental illness," and at least one report mentions schizophrenia. Forced treatment is commonplace for people with schizophrenia. So, really, because of this mix-up, Spriestersbach received treatment he would never have gotten if he remained on the streets. So why should we be angry?
Perhaps because we know that imprisoning someone—taking away their rights without just cause—is wrong? But, or so the argument for forced treatment goes, hospitalization is not the same as prison. After all, our society usually supports hospitalizing people with psychosis against their will and forcing them to take neuroleptic tranquilizers (euphemistically called "antipsychotics"). Every day, untold thousands of people are injected with tranquilizers against their will, or watched as they take a pill, forced to open their mouths wide and show nursing staff that they've really swallowed it, and they do this in "hospital" units with locked doors and in which they're allowed no visitors.
Indeed, if Thomas Castleberry—rather than Spriestersbach—had been locked in that hospital and tranquilized for three years, proponents of forced treatment would say this was a good thing. It was for his own benefit.  We certainly would never have read about it in the news as a case of horror.
Of course, psychiatric hospitalization is different from prison—but not in a good way. When a citizen is found guilty of a crime and imprisoned, the person is given a sentence, telling of some length of time the person can be expected to be in prison. And that sentence is supposed to be in line with the severity of a person's crime. But in a psychiatric hospital, the sentence is indefinite. You don't serve your time and get released into the world. You're locked up until the people in charge decide otherwise.
In fact, Spriestersbach's case never even went to trial because the psychiatrists deemed him incapable of standing trial for his supposed crimes.
And if forced treatment is for our protection, then why don't we lock up men with a substance abuse problem, or men who have a gun? After all, you're more likely to be killed by a member of either of those groups than by someone who's afraid of a voice they hear.
That would be ridiculous, because most men with a substance abuse problem—and most men who own a gun—aren't going to commit a crime. But neither are most people with psychotic experiences.
We're left with this question: Why aren't we, as a society that embraces forced treatment, glad that Spriestersbach got the treatment that he, as someone said to be mentally ill, needed?
Maybe it's because, in this instance, we were prompted to consider how Spriestersbach felt about the "antipsychotic" drugs he was forced to take.
According to The New York Times: "At the hospital, Mr. Spriestersbach protested when he was forced to attend group sessions for drug users, and employees responded by giving him antipsychotic medications that made him drool and struggle to walk, according to the petition and to Vedanta Griffith, his sister."
"His shirt was wet from drool, and he was shuffling his feet," she said. "He was just so medicated."
In short, psychiatrists locked a person up for almost three years, forced him to attend "therapy" he didn't want, and when he protested, tranquilized him so much that he was drooling and couldn't walk. Even if he were Thomas Castleberry, how could this have been helpful?
Perhaps the disconnect here exists because "mental illness" has been equated to physical illness—but somewhere, deep down, we know that that is a false analogy. If it were the case, then Spriestersbach was indeed receiving the treatment he needed, albeit under the wrong name. (There's no evidence that the doctors used Castleberry's medical records.) They admitted Spriestersbach (yes, they got the name wrong), they examined him, they found that he met the criteria for a "disorder," and they "treated" him accordingly.
If this had been a medical issue, here is a description of how he would have been treated:
Spriestersbach was brought to the hospital by emergency personnel after he appeared to be suffering from a heart attack. The police entered his name as "Castleberry." Spriestersbach informed the staff of his name, and his records were fixed.
Hospital staff examined Spriestersbach, performing an ECG (to check the conduction of heart muscle) and blood tests (to check for proteins leaking into the blood). The tests were informative but not fully conclusive. So the staff performed more tests: an X-ray to look at the size of the heart and blood vessels, and an echocardiogram, which uses sound waves to determine how well blood is moving through the heart.
Based on these tests, hospital staff determined that specific drugs which reduce blood clots and control blood pressure would be the best treatments. They determined that surgery was not necessary because of the specific findings. They wrote a prescription, and Spriestersbach was released from the hospital. He was not locked in the hospital until he had fully improved. He was not forced to take the drugs, and in fact let's say he forgot to fill the prescription and went back to his normal life. The doctors did not check his mouth and police were not called.
But what actually happened?
Spriestersbach was woken up on the street and arrested because the police mistook him for another man. When he protested that he was not that man, no one bothered to check his story or even his fingerprints (likely because he was a homeless person who was confused and agitated after being woken by police and arrested under a name that was not his). Instead, he was taken to a psychiatric hospital, as the authorities believed he was "delusional."
The hospital staff did not run any tests, as there are no tests for "delusions" or "schizophrenia." They did not check his genetic profile; there was no blood test; there was no brain scan—none of these tests exist. Or perhaps they did do a brain scan—to rule out the possibility that it was an actual medical illness. Once the scan came up negative—once they didn't find anything—they concluded that that meant he had schizophrenia and needed to be locked up indefinitely.
What was this determination based on? Well, he met several criteria—he was confused, since he had been mixed up with a different person. He was "delusional" because he said he was not that person. He was agitated and perhaps even became aggressive, since no one would believe him.
The staff promptly gave him a tranquilizing drug, against his will, and he was observed to calm down. Since the "antipsychotic" worked, calming him down, that was further proof that he had "schizophrenia." No brain scan needed.
For the next two years and eight months, a huge number of staff devoted themselves to "treating" Spriestersbach by tranquilizing him and forcing him to shuffle from room to room to receive "therapy" he didn't want. Unsurprisingly, his "condition" did not "improve," so he remained locked in the hospital indefinitely.
What this tells of is the fundamental difference between psychiatric diagnoses and medical illness. First, that there is no biological test for "mental illness." In fact, if you have a positive result on any biological test, that means you have a medical disorder—the diagnosis of "mental illness" is excluded. For instance, hypothyroidism can cause the experience labeled "depression," but in that case, a doctor would treat the hypothyroidism (the underlying disorder), and the "depression" (a symptom, not a disorder) would be remedied. Likewise, a brain tumor could cause psychosis, but if that were the case, doctors would treat the tumor (the underlying disorder), and expect the psychosis (a symptom, not a disorder) to be remedied.
Instead, the diagnosis of a psychiatric disorder—even one thought to be a "brain disorder" like schizophrenia—is based on the subjective opinion of a psychiatrist. Does a psychiatrist think that this belief is "delusional"? Does a psychiatrist think that you are too agitated or confused? Does a psychiatrist think that you are not very articulate, talking too much, or too quiet? All of these can get a person labeled "schizophrenic" and forced to take neuroleptics.
And because there is no specific medical finding, there is also no specific treatment. Psychiatrists use "clinical judgment" to select one of the scores of "antipsychotic" drugs that have been created over the past seventy years. How do they decide, when there's no evidence that any of these drugs are better than the others and no specific finding to guide treatment? They have to rely on their biases—such as believing that the newer drugs are always better, or the influence of ubiquitous TV ads, or, in the worst-case scenario, prescribing the one they receive money from the pharmaceutical industry for promoting.
Beyond all of that, though, what is most notable in Joshua Spriestersbach's case is that the "treatment" team failed to listen to their patient. Whenever their patient, Spriestersbach, disagreed with them—likely becoming agitated, and rightly so, as he tried to tell them he wasn't Thomas Castleberry—the psychiatrists drugged him further. They insisted that this meant that he was suffering from anosognosia, which is what psychiatrists call it when you disagree with them about whether you are ill. This is a fact—disagreeing with a psychiatrist about whether you are ill is a key "symptom" of psychosis. And it can prompt a judge to keep a patient under a forced treatment order.
Some psychiatrists may listen to their patients. After all, it seems that one did (after almost three years) eventually think to check out Spriestersbach's story. But when an individual is said to be seriously mentally ill, American psychiatry, as a profession, has adopted the position that the person is not a reliable witness to their own life.
If a person tells of experiencing the harmful effects of antipsychotics (or other psychiatric medication), a psychiatrist is likely to respond that it's due to the underlying condition, not the drug. If a person said to be seriously mentally ill stops taking antipsychotic medication (perhaps because of those negative effects), the person is seen as having anosognosia and therefore needs to be forced to take the drugs. If a person experiences withdrawal effects after stopping the drugs, it's considered a return of the underlying condition, and evidence that the person needs to be on drugs for life.
And if you tell them the whole thing is a case of mistaken identity? Well, just ask Joshua Spriestersbach what can happen then.
***
Mad in America hosts blogs by a diverse group of writers. These posts are designed to serve as a public forum for a discussion—broadly speaking—of psychiatry and its treatments. The opinions expressed are the writers' own.
***
Mad in America has made some changes to the commenting process. You no longer need to login or create an account on our site to comment. The only information needed is your name, email and comment text. Comments made with an account prior to this change will remain visible on the site.