In a new international survey, the largest one to date, researchers found that more than half of antipsychotic users report only negative experiences with the drugs. The online study was conducted by John Read and Ann Sacia of the University of East London, and published in the leading journal, Schizophrenia Bulletin. Six hundred fifty people from 29 different countries responded to questions asking about their first-person experience of being on antipsychotic drugs. Researcher John Read commented:
"These 650 people confirm the findings of smaller drug trials in which antipsychotics are better than placebo for only about 20% of people and cause a frightening array of severe adverse effects. For decades the drug companies have exaggerated the benefits and downplayed the side effects of these powerful tranquillizing agents."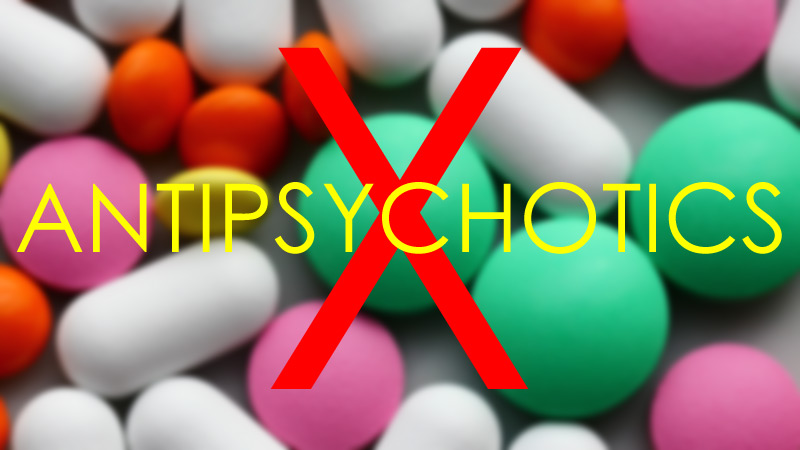 Traditionally, psychiatry has only focused on the reports of mental health professionals to declare a treatment successful or ineffective. This is especially true of the evidence base for antipsychotic drugs, which have been marred in controversy for decades.  However, antipsychotics remain the most prominent treatment for schizophrenia and other psychotic disorders, and are regularly used for other conditions like "borderline personality disorder," "depression," and are routinely administered to children in foster care.
While studies have attributed cognitive decline and stunted recovery to antipsychotic use, less attention has been paid to patients' first-person experiences on these drugs. In one case where a psychiatrist tried the drugs and documented his experience, he wrote:
"I can't believe I have patients walking around on 800mg of this stuff. There's no way in good conscience I could dose this BID (sic) unless a patient consented to 20 hours of sleep a day. I'm sure there's a niche market for this med though. There has to be a patient population that doesn't want to feel emotions, work, have sex, take care of their homes, read, drive, go do things, and want to drop their IQ by 100 points."
Other adverse effects of antipsychotics include poor heart health, brain atrophy, and increased mortality. Only recently have researchers started exploring patient experiences on antipsychotic medication. There is some evidence to suggest that some service users believe that they undermine recovery. However, these first-person reports do not play a significant part in how these drugs are evaluated.
Psychosocial approaches, like the open dialogue approach, the hearing voices movement, and other indigenous forms of help, suggest that psychotic symptoms can be addressed with minimal drug use.
This current survey touted as the largest one yet comes at a time when antipsychotics are under increased scrutiny. Six hundred fifty survey users across 29 countries answered questions on The Experience of Antidepressant and Antipsychotic Medication Survey. For this study, Read and Sacia used the responses on two open-ended questions: "Overall in my life, antipsychotic medications have been ____" and "Is there anything else you would like to say, or emphasize, about your experience with antipsychotic drugs?"
A thematic analysis was conducted, and three units of study were categorized: positive, negative, and mixed. Read and Sacia found that only 14.3% reported that their experience on antipsychotics was purely positive, 27.9% of the participants had mixed experiences, and the majority of participants (57.7%) only reported negative results.
Around 22% of participants reported drug effects as more positive than negative on the Overall Antipsychotic Rating scale, with nearly 6% calling their experience "extremely positive." Most participants had difficulty articulating what was positive about their experience, but around 14 people noted a reduction in symptoms, and 14 others noted it helped them sleep.
Of those who stated they had adverse effects, 65% reported withdrawal symptoms, and 58% reported suicidality. In total, 316 participants complained about adverse effects from the drugs. These included weight gain, akathisia, emotional numbing, cognitive difficulties, and relationship problems. One patient stated:
"My first and only suicide attempt was because of the restlessness of akathisia. No one would believe how much pain I was in."
Another noted: "They took away the one thing I had previously been able to rely on: my mind, and rendered it useless."
Similar results were reported in a recent review, which found that while some patients reported a reduction in symptoms on antipsychotics, others stated that they caused sedation, emotional blunting, loss of autonomy, and a sense of resignation. Participants in the current survey also complained of the lingering adverse effects of antipsychotics, long after they had discontinued their use.
Importantly, these negative themes also included negative interactions with prescribers of the medication. Participants reported a lack of information about side-effects and withdrawal effects, lack of support from prescribers, and lack of knowledge around alternatives; some noted that they were misdiagnosed, and the antipsychotics made matters worse.
One participant said: "I was not warned about the permanent/semi-permanent effects of antipsychotics which I got." Another noted: "Most doctors do not have a clue. They turn their backs on suffering patients, denying the existence of withdrawal damage."
This is an important finding as previous research has shown that positive relationships with one's mental health provider are considered essential to recovery by many patients experiencing first-episode psychosis.
Read and Sacia write that the main conclusion is that service-users want clinicians to develop respectful and collaborative relationships with them. They write that this requires:
"… the provision of full information about all possible adverse effects, including sedation, suicidality and withdrawal effects, and about alternative treatment pathways; and responding respectfully and therapeutically when patients voice the sort of concerns raised in this study and the previous 35 qualitative studies."
The researchers note that the study has certain limitations, like the use of convenience sampling. Additionally, its online nature could restrict use to the economically advantaged, given that they have easy access to the internet.
****
Read, J. & Sacia, A. (2020). Using open questions to understand 650 people's experiences with antipsychotic drugs. Schizophrenia Bulletin. First published online: 12 February 2020. https://doi.org/10.1093/schbul/sbaa002 (Link)