From The Conversation: "For three decades, people have been deluged with information suggesting that depression is caused by a 'chemical imbalance' in the brain – namely an imbalance of a brain chemical called serotonin. However, our latest research review shows that the evidence does not support it.
Although first proposed in the 1960s, the serotonin theory of depression started to be widely promoted by the pharmaceutical industry in the 1990s in association with its efforts to market a new range of antidepressants, known as selective serotonin-reuptake inhibitors or SSRIs. The idea was also endorsed by official institutions such as the American Psychiatric Association, which still tells the public that 'differences in certain chemicals in the brain may contribute to symptoms of depression.'
Countless doctors have repeated the message all over the world, in their private surgeries and in the media. People accepted what they were told. And many started taking antidepressants because they believed they had something wrong with their brain that required an antidepressant to put right. In the period of this marketing push, antidepressant use climbed dramatically, and they are now prescribed to one in six of the adult population in England, for example.
For a long time, certain academics, including some leading psychiatrists, have suggested that there is no satisfactory evidence to support the idea that depression is a result of abnormally low or inactive serotonin. Others continue to endorse the theory. Until now, however, there has been no comprehensive review of the research on serotonin and depression that could enable firm conclusions either way."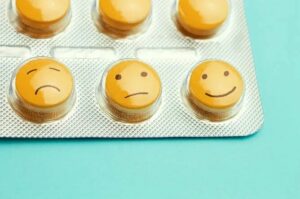 ***
Back to Around the Web