I don't know how many times I've been told I shouldn't have kids because I'm "bipolar." If you are not already aware, people like me who end up in psych wards get told in subtle and not-so-subtle ways that we shouldn't have children because we might pass down our biological brain disease. While I generally identify with that language of "bipolar" when talking about myself, that's not what kept me from having kids for so many years. I didn't have kids because what I remember of my childhood is that I was lonely and confused and sad a lot of the time. Those feelings lasted into adulthood, and I didn't want the responsibility of potentially inflicting that kind of psychic pain on anyone else.
Like many people who end up diagnosed with serious mental illness, I grew up in a strange pressure-cooker environment. My parents were both raised in the working class of New York City and were ambitious enough to make it to the upper middle class. They worked hard to escape unhappy homes where they felt stifled, but they both brought with them insecurities and hurts from their own childhoods. From a very young age, I absorbed their intensity and desire to prove themselves and believed that my worth was connected to my accomplishments rather than who I was. I was not raised to feel a sense of inherent dignity.  I am definitely not alone in this experience. From my home, and my school, and the larger society I was raised in, I inherited a particular kind of loneliness and shame. And that feels like a critical piece in understanding my relationship to "mental illness."
Beginning in kindergarten, I went to an academically rigorous school where we were told we were the smartest kids in the city and destined to do "important things." But from a young age I struggled with all kinds of basic tasks: I wrote my letters backwards, I had no sense of direction, and anything to do with numbers or making straight lines was incredibly frustrating for me. I was at the bottom of the pecking order on the playground and was teased and bullied. I always got picked last on the teams because I was a slow runner. I remember school as an exercise in developing deepening levels of shame and self-hatred. Was this my latent biological mental illness?
It might have been. I don't remember ever having a sense of inherent self-worth, feeling that it was okay just to be myself. I only mattered if I could show others that I mattered. I was raised to compare myself with the people around me and I often felt like I was less than everyone else, that I just couldn't compete with the world spinning around me: a young child looking up at the tall buildings of the city and feeling very small and alone.
My mom and dad divorced when I was three and for a decade I was shuttled back and forth between two apartments on the Upper West Side of Manhattan. The same TV shows kept me company after school no matter which home I was in, but I had to adopt different ways of acting. I was an only child and my parents had conflicting philosophies about how to raise me. I learned to manipulate my environment to get the love I needed by telling lies and playing my parents off of each other. This created a complicated inner world in my mind, where I was never exactly sure of the truth. From a young age, I had the sense that I wasn't real, but rather an impostor pretending to be real. All these years later I still find myself sometimes struggling with this sense of not being a real person.
The toxic relationship between my parents, the way they fought over me and played me off of each other, the way they modeled love and relationships, had a very strong effect on my life. When I think of being young, I remember feeling that I didn't actually belong anywhere. Was this my latent biological mental illness? Was I too sensitive to my environment? Would another child with a different set of genes have grown up how I grew up without having a psychotic breakdown? Maybe.
My mother was raised to have a sense of self-worth from being a caretaker. She was playing out an old story from her childhood and my autonomy and independence were sacrificed to her fears and need for control. Meanwhile, my dad was dying of a painful, degenerative illness and was full of his own anger, insecurity, and fear. I absorbed so much of it. He died when I was 13 and I carried heartbreak with me like a cloud over my head. I was a really unhappy and angry kid. I had a hard time in school. When I was a teenager, I told my mom that I wished she'd never had me, and I meant it. I spent a lot of time wishing I'd never been born.
First Hospitalization
When I was first hospitalized for bipolar disorder as an 18-year-old, my mother found an organization of other parents called NAMI (National Alliance on Mental Illness). They had a support group for parents of children with mental illness and taught a class for new members. In the class she learned:
Mental illness is a disease like any other.
It's not the parent's fault.
There are medications that can help.
My mom found a lot of comfort and support in NAMI. Seeing how much I was suffering, she felt a lot of guilt, and it was helpful for her to realize that I was suffering because of my biological brain disease. For many parents, NAMI is the only organization that offers a narrative of hope, and a peer-support network for family members. Unfortunately, that narrative also ends up keeping a lot of people trapped in a kind of reductionist medical model, and they don't get the help they really need to transform their situations.
I'm glad that my mom got concrete help and support through her NAMI meetings during those hard times, but I can't help wishing there had been another kind of group for her to encounter with a more nuanced analysis of the situation. The society that we live in is, in fact, really sick and toxic, and distilling all of our issues down to biological mental illness prevents a lot of people from examining the larger structures of society and their own family dynamics that can lay the groundwork for what gets called "mental illness." Of course, it's worth stating that NAMI has been, and continues to be, primarily funded by pharmaceutical companies who economically benefit the most from this biological narrative. It's a way of thinking that keeps a lot of stories brushed under the carpet. Including mine.
Unraveling the Nightmare
In my 20s, I lived as if I were going to be dead by 30 and gave myself permission to have a pretty exciting life. I unraveled a lot of my childhood darkness out on the road and turned it into fuel for understanding the world, a way to break free from my childhood demons. I was actively involved in creative and radical social movements. I played in punk bands and was nurtured by the vibrant and wild anarchist squatter community of New York City. I blockaded roads with Earth First! activists in the Northwest to keep old-growth forests from getting cut down. I hopped freight trains across the continent and lived in the Lacandon jungle of Southern Mexico with rebel Zapatista communities defending their land from the Mexican military.
I no longer felt small. I felt like I was part of something larger than myself, a global movement to make the world more just and free. And it felt really good to have a like-minded community all over the world. I kept the company of people who didn't mind that I was a little awkward and scattered; all my friends were strange, and we reveled in being different. I also got locked up in psychiatric hospitals a bunch of times and had to wrestle with the reality that my brain works differently than most other people's. Call it what you will, there was just something about me that was intense and made life harder and more complicated. I decided that "bipolar" was a good enough word to describe my behavior and predicament.
Icarus Times
When my friend Jacks and I founded The Icarus Project, I had just turned 28, and I proceeded to spend the next 12 years building a radical mental health movement that was my best attempt at creating a family for myself. We were a support network and media project determined to lay the foundations for radical community and change the popular culture. I flipped the script on my diagnosis of "serious mental illness" and instead wore it as a badge of honor and a way to start a new kind of conversation about what it meant to be human. By being honest about my mental health struggles, I found a sense of dignity in my work that allowed me to come into my own as an adult.
But the thought of having children seemed like an incredibly fantastical, crazy, and definitely irresponsible thing to do. I saw other mad people struggle with raising their children. Twice I had girlfriends who ended up pregnant and I erected a cool and friendly psychic wall between us. In neither case did it make sense for me and those awesome people to be parents, but I also didn't have the maturity to emotionally handle the intimacy that surrounded the enormous decision. The chaos that young children throw into your life, the lack of sleep, control, and predictability throws off the delicate equilibrium of "sanity" for even the most stable among us. Additionally, mental illness can make one really self-centered, which doesn't work if you're taking care of kids. I was in no position to be taking care of kids.
Given the way I was raised, it was hard for me even to have intimate relationships, but I was very good at networking and building peer-support groups. Thousands of people found a kind of home and family in the Icarus Project, which was very gratifying to me. It healed parts of me that felt like an outsider, and it fulfilled some of that need to do "important things" that I had learned as a child.
Clinical Work
I first stepped into the role of a clinician during a social work internship at the Parachute Program in New York City, which worked with families of young people who had just been diagnosed with a psychotic disorder. This program was different from other First Episode Psychosis programs. There are First Episode Psychosis (FEP) programs all over the country that recognize that young people diagnosed with psychosis need a special kind of support and that the earlier they get it, the less of a "burden" they will be to society. Most FEP programs are pretty medically focused, meaning that they don't do much family therapy and they prescribe a lot of antipsychotic drugs.
The Parachute Program trained us all in Open Dialogue, a model based on systemic family therapy. At the heart of the model is the idea that psychosis doesn't exist in a single individual the same way a biological disease like cancer or diabetes exists in one person. At the Parachute Program, psychosis was seen as relational, meaning it exists in families where one person is the "identified patient." But that person is often just the sensitive one who's picking up all the issues that are happening around them. In order for the "psychotic" patient to heal, there has to be healing within the family system as well.
This philosophy and practice resonated with me deeply. It clarified a lot about my own childhood, and the ways I absorbed the unresolved psychic issues of my parents and the larger society around me. It provided an alternative to the NAMI worldview my mom had encountered, which said that my bipolar diagnosis was all about biology. For so many young people in North America, whether they've been diagnosed with a psychotic disorder or not, this sense of not having inherent worth is endemic. It's a kind of sickness that is transmitted through families and through our society, and I would argue it deeply complicates all the different issues that get called "mental illness." When we have dignity, it is much easier to see our issues clearly.
Healing
Because of my upbringing, I prioritized my work in the world and avoided serious intimate relationships. I could be loving and caring, but I always ended things before I got too close or too deep. It was almost as if I'd written a secret contract as a child not to let anyone get near me so I couldn't get hurt. I had fantasies about having children of my own, but with those thoughts came a kind of pain about my lack of ability to even successfully take care of myself.
But after a long string of romantic relationships that left me heartbroken and lost, I shifted my priorities and started doing the emotional work, in and out of therapy, to heal. It took years, but I learned how to push the boundaries of my avoidant attachment style. I got better at staying present and engaged in my relationships, at being less self-absorbed, at sitting with my discomfort in being close to others, and not running away from love.
When other people talked about "listening to their gut," I never understood what that meant. Out of loneliness, I made a personal decision to prioritize being in a healthy, sustained romantic relationship. With the help of a somatic therapist, I practiced what it felt like in my body and daily life to make that kind of commitment. It might not sound like a big deal to some people, but it was a very scary thing to openly admit to myself and others that I wanted a long-term partner. It made some parts of me feel very vulnerable. I began to understand that having close relationships with others often begins with having close, healthy relationships with our own internal family.
Love and Parenthood
In the middle of the pandemic, I met a woman. We felt comfortable around each other but initially, there were no shooting stars or love lightning bolts. We were both happy to have company in the winter months during a global crisis.  About three months into our relationship, she found out she was pregnant. I surprised myself by not being terrified or emotionally shut down. Instead, I listened to my gut, and all of that somatic work about committing to a healthy sustained romantic relationship took me to a very different place than my conditioned tendency of fear.
Potential environmental collapse, economic strife, my long-term insomnia issues, the terror of inflicting my "serious mental illness" and trauma on another person, all of these were on the table for discussion, but they weren't shutting down the conversation. I barely knew this person, but I suddenly felt this wild deep love for her and a wonder at the potential to bring new life into the world together. It was terrifying and exciting, the prospect of building a family, of blending our fates and becoming parents to a new generation. And then we found out she was having twins. Twins!
I went through a kind of mourning period during those nine months. All that accumulated sadness I'd held onto about my own childhood, those young parts of me who'd made a pact to never really fall in love, to never have my own children, came to the surface. I had to recognize those parts for what they were: a really sophisticated set of inner relationships attempting to keep me from feeling deep pain. And if there is one lesson I've learned in all my healing work, it's that suppressing pain just keeps us stuck; it keeps us trapped in the fear of allowing ourselves to feel. Standing on the edge of fatherhood forced me to feel a lot of things I didn't even know were inside of me.
In a very short period of time, I went from being a man who was scared of commitment and love to becoming fiercely committed to the boy and girl who are now the center of my life. It is an incredible joy to come into parenthood and I'm deeply in love with them and with their mom. And it's definitely not that my childhood sadness has gone away, but that I'm creating a different relationship with it. Being a parent to little babies helps me play that role of parent to the younger, hurt parts inside of myself that didn't recognize their own dignity.
Since the birth of my children, I've been way more emotionally stable than I thought I would be. I've adjusted to a different sleep schedule that involves waking up and going to bed very early. It feels like something old in me has settled, that I've found what I've been looking for all this time even though I didn't realize it. I'm so grateful for all the years I spent building radical community based on a vision of social transformation and solidarity. I think having children brings a whole new level of understanding to the visions of my larger community and I'm grateful to my friends who have stuck around as we build our nest.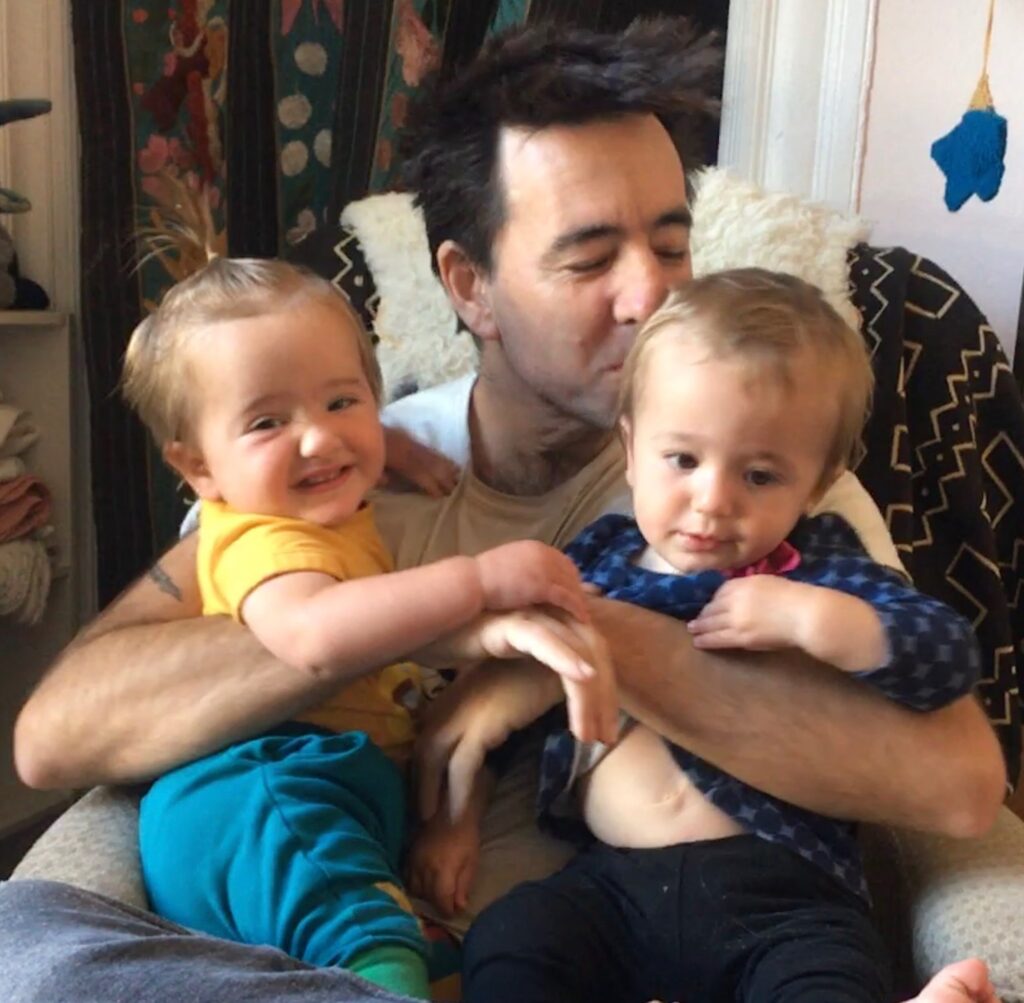 When the kids were born, I started writing little stories about being a father who's been diagnosed with a "serious mental illness." I wanted to write publicly about being a mad parent because I still sometimes have that voice in my head from the people who told me I should never have kids because of my "bipolar disorder." As far as I'm concerned, those people can go fuck themselves.
The stories I write about my kids are often sweet, but I do my best to be honest about my shadows: I write about swaddling my babies and how it felt like putting on little straitjackets in the psych ward; I write about the way my heart cracks open changing my kid's diapers early in the morning and how I remember all the pain I caused from my avoidant attachment in romantic relationships; I write about how loving so deeply can make you crazy with fear. I enjoy this writing; it keeps me connected to a larger community and helps me forgive myself and the people that raised me. I'm doing the best I can. I want my kids to know their inherent dignity and feel that they are valued for who they are rather than what they accomplish. In order for them to feel it, I know I have to do the work of feeling it myself.
I work with a lot of people who struggle with all kinds of issues that get called things like "bipolar" and "psychosis." I believe people like us are born sensitive and that society does terrible things to our inner worlds, but fundamentally we are whole beings with inherent dignity. If we can find the fundamental curiosity and compassion inside of us, we can use our sensitivities and our trauma histories as mad gifts to understand ourselves and the world and realize that the fact that we are here is enough. The universe is very mysterious and much bigger than us.
This blog post is an invitation for you to join me as I write about being a parent diagnosed with "serious mental illness." I would love for you to join my Substack, Dad of Lilah and Silas, and comment on and share it with others. It is my very personal way of continuing to build mad family.
Editor's Note: Mad in the Family will periodically republish especially pertinent posts from Sascha's newsletter.
***
Mad in America hosts blogs by a diverse group of writers. These posts are designed to serve as a public forum for a discussion—broadly speaking—of psychiatry and its treatments. The opinions expressed are the writers' own.
***
Mad in America has made some changes to the commenting process. You no longer need to login or create an account on our site to comment. The only information needed is your name, email and comment text. Comments made with an account prior to this change will remain visible on the site.