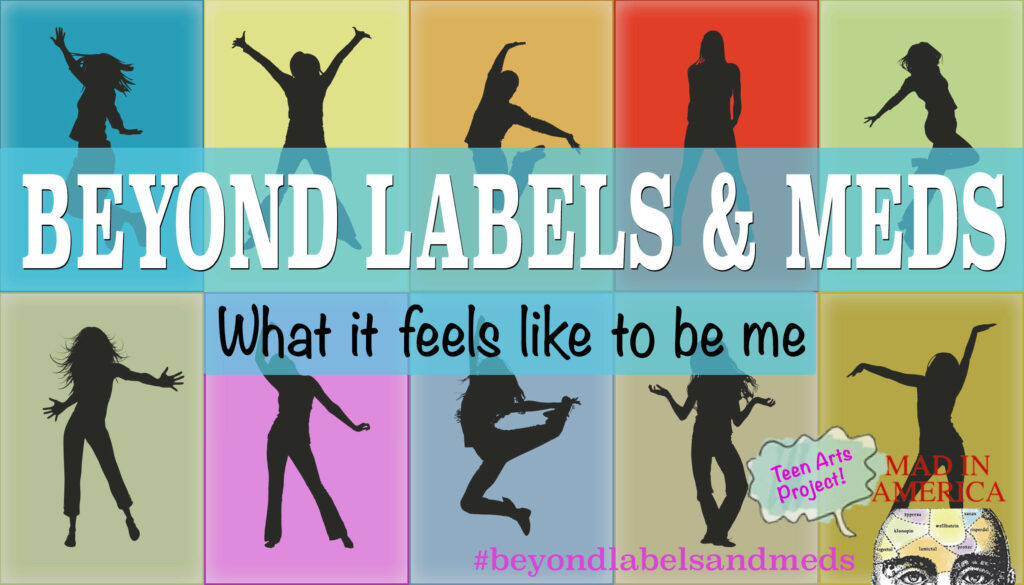 Attention all family, friends, and other supporters of youths ages 13-19! Mad in America's Family Resources and Arts sections are co-sponsoring an online multimedia art exhibition with the theme "Beyond Labels and Meds: What It Feels Like to Be Me."
There are many initiatives focused on the intersection of adolescence and mental health these days, and the adults behind them typically define the narrative. So, we are offering a platform to encourage teen artists in all genres to define their unique experiences, identities, struggles, and dreams on their own terms.
The exhibition's theme asks teen artists to show us their experience with emotional distress, labels, meds, and their interactions with psychiatry. Their work should answer the question:
"What do you want the world to know about what it is like being a teen today?"
Entries can be in any creative medium including painting, photography, or other visual art; sculpture; music; video; dance; poetry or spoken word; or mixed media.
The artworks they submit will be displayed on madinamerica.com and shared across our social media later this year. (All rights will remain with the creators.) Besides gaining an opportunity to be featured on the site, teen artists may be invited to participate in an artist interview series.
This call will be open for two months starting September 1, 2022. Deadline for submissions is January 1, 2023. Artists will be notified of acceptance soon thereafter.
Please share this announcement with the young people in your life. Submission guidelines, including eligibility requirements and an application form, can be found here. If you have any general questions or concerns, please email Miranda Spencer at [email protected]; for questions or issues with art submissions, contact Karin Jervert at [email protected].
Editor's Note: The original deadline was November 1, but due to some plans we have in the works, we've decided to extend it till the end of this year.
***
Mad in America hosts blogs by a diverse group of writers. These posts are designed to serve as a public forum for a discussion—broadly speaking—of psychiatry and its treatments. The opinions expressed are the writers' own.
***
Mad in America has made some changes to the commenting process. You no longer need to login or create an account on our site to comment. The only information needed is your name, email and comment text. Comments made with an account prior to this change will remain visible on the site.