It's been one year since I had a healing homebirth for my first child. I was treated with dignity throughout my entire pregnancy. Throughout my pregnancy and labor, I felt power (ful) and not power (less), (em)powered and not (dis)empowered. As a survivor of psychiatric violence which compounded on years of abuse in my childhood and adolescence, I couldn't help but see how disparallel these experiences were.
My midwives advocated for me whenever I had to encounter other professionals, asked for my consent always, gave me options, respected my choices, and also informed me of what each option meant and consisted of. I had the privilege of interviewing them before choosing to work with them. My partner was there during almost all my appointments with both midwifes and doula, they ensured that he was included, informed, and empowered as well. They also challenged me in caring ways and did not shy away from "big feelings."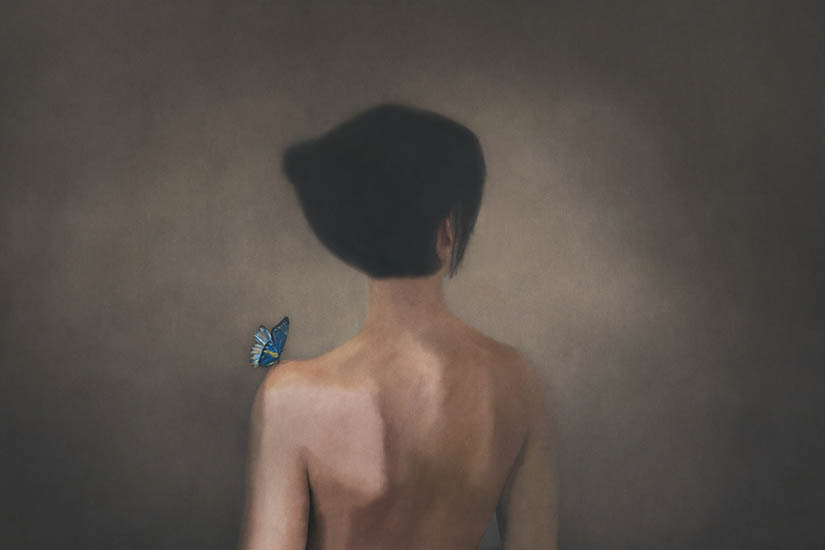 I was fearful when I was filling out my health forms after we'd agreed to work together. They asked about mental health history. "Should I lie or should I be honest?" I asked myself. I decided to be honest and was expecting them to reject me as a client thinking someone with such a highly-stigmatized history and visible scars would deem me unfit to birth at home. I was thinking of all the stereotypes assigned to the labels I have received: "dramaqueen, psycho, dangerous, non-compliant, unstable." I also called one of my midwives and told her; she basically told me this was not a problem at all, which was a relief.
Then it was time to get my blood drawn, which would expose my scars to them. Often this means there will be medical gaslighting, a shift in how I'm treated, usually characterized by ignoring my pain and symptoms.  In turn, my midwife Kateryn said, in a comforting tone "Self-harm scars are like any other scars." This reassured me that we would be respected and heard.
Homebirth did not seem scary to me at all, but being in a hospital setting seemed terrifying. Whenever I find myself in medical scenarios, I try to cover my scars around colleagues and medical professionals, and get tense when I realize someone has seen them. In an emergency room after having been beaten by an ex-partner and attempting suicide, I was told by the doctors "You probably did that to yourself." As I told them I had not, they said, while looking at my forearm, "Well, you did those didn't you." The response by the police when I wanted to file charges was to tell me, "You probably like getting hit right?" I was then told that I had to voluntarily go to the psychiatric hospital or be forcefully taken there since I had attempted suicide. As I repeatedly told the professionals there what happened, I was ignored and threatened with long-term psychiatric incarceration.
My prognosis became more catastrophic than before: I would have no future, no children, no healthy long-term relationships, and would relapse and have mood changes repeatedly. On another occasion I was also needlessly restrained in an emergency room: "Well, you have a history of mental illness so that is the protocol." I was there because of chest pain.
These experiences have cultivated a lack of trust in medical professionals. Sometimes my self-inflicted wounds would have ideally needed suturing but the thought of being humiliated, asked to justify them time and time again, and threatened with psychiatric incarceration felt much worse.
Clinical psychologists are often assumed to not have lived experiences of psychic distress, especially of highly stigmatized forms of distress such as self-harming behaviors or psychosis. Being in the field as an infiltrator, I have been able to see behind the scenes, to see the ways in which professionals speak of the people they are working with as so-called "patients."
I repeat this often, but being in the field of clinical psychology as someone who has been subjected to multilevel layers of harm is not easy. It is often enraging, isolating, and saddening. Being a trainee is difficult; you are basically expected to keep your head down and demonstrate openness towards learning without challenging those in authority positions. Finding support is nerve-wracking, as you know of the stigma that exists and witness it on a daily basis.
The behind-the-scenes view is eye-opening as you witness providers who seemingly assume no one around them has had lived experiences of psychic distress speak about—sometimes brag about—and teach others to treat those with lived experiences in disparaging ways. They boast about maligning, punishing, and generally dehumanizing us. I have witnessed this at every level of my training and in other professional settings.
An emergency doctor once told me about a patient who came in with a broken jaw, and how they immediately restrained him because he had a history of psychosis. She told me about how the patient asked to not be restrained but they had to restrain him, because even though he did not report any current symptoms of psychosis he was possibly still dangerous. I asked her to explain how he was dangerous and she said, "Well, because he can snap; that's what schizophrenics do."
Individuals such as myself, who are assigned a borderline personality disorder diagnosis, often experience their entire identity being reduced to that label, and everything around them revolves around that label, effectively symptomizing every aspect of their being. Clinicians, including myself, are often instructed to "withhold warmth," be tough, be cold, direct, and dry; "Don't let them get to you, they will test you and your boundaries."
As someone who has both experienced the disparaging behind-the-scenes and the firsthand dehumanization, punishments, indignities and put-downs of having lived experience of psychic distress, homebirth felt extremely safe to me. The entire process was a reflection of how the mental health system should work. It was the ability to work with someone you feel comfortable with, who really listens to your subjective experiences and provides informed person-centered care while respecting your agency, your decisions and adapting to that.
The day of the big event came along, and I have never felt safer. If I would have needed to transfer, it would have been with them and our doula as advocates, supporting us in every step of the way, and most importantly, it would have been an informed decision, my decision. The pain of laboring seemed very easy compared to the pain of violations to my bodily autonomy and my rights, and those of the child I birthed.
The exertion of power was scarier. Just as the carceral industrial mental health system has been normalized, so has birthing within the medical industrial system. The contractions and pain of childbirth were temporary but the potential psychic wounds would take years to heal from. This is often underestimated by individuals, handing themselves off to the so called-experts, sort of kept ignorant to the fact that expertise includes them as well. Individuals associate homebirth with the chance of risk, often ignoring that birthing within the medical system is not without risk.
I reflect back on my birth often, thinking of how we were held by our birth team. Those we wanted present were almost all there, including our pets. I gave birth on my side of my bed in the position I felt more comfortable in, gently guided by our birth team. I laid there in scents, sounds, and spaces which were familiar. I moaned and roared, without anyone telling me to lower my voice or telling me to be completely quiet.
They gently guided me to change positions, kept me fed and hydrated throughout, took me to the bathroom, showered me, and then cleaned the house and prepared our room for our first few days with a newborn. Words of encouragement empowered me throughout; they asked me at all times for consent and communicated openly with me. They patiently waited for me to be ready.
I said no and it was a no that was heard and respected. I said stop that and it stopped; sometimes they would explain the why and a no would shift to yes. I wanted to be naked and I was naked, nobody was forcing me to be in xyz clothing or position. After the alumbramiento (the birth), our doula had brought me chocolates, my mom had cooked a vegan sancocho and we were there in our bed with our new baby. The birth assistant checked our baby with love and care while talking to her, narrating what she was doing to both her and us. Further, treating our baby as a little human with her own needs and wants. We took bets on how much she weighed. It was blissful. I felt like some semblance of my dignity was returned to me by my birth experience. I felt deeply empowered and respected.
All in all, birthing outside of the system with the birth team I had felt like an analogy for the mental health system we should have. This means one where subjective realities and desires are elevated, and flexible shifts are possible. Where intense feelings take place undisturbed in a space of holding while safely containing, and gently accompanying.
Shoutout to my midwives Kateryn, Kimm, and midwife-to-be Jenny Rebecca from Heartscience midwifery in New York City, and my doula Elizabeth Guerra, matron of Seamarron Farm in Danbury, Connecticut.
***
Mad in America hosts blogs by a diverse group of writers. These posts are designed to serve as a public forum for a discussion—broadly speaking—of psychiatry and its treatments. The opinions expressed are the writers' own.
***
Mad in America has made some changes to the commenting process. You no longer need to login or create an account on our site to comment. The only information needed is your name, email and comment text. Comments made with an account prior to this change will remain visible on the site.