This is the third of four interviews spotlighting some of the talented individuals behind the pieces they submitted to Mad in America's "Beyond Labels and Meds: What It Feels Like to Be Me" art exhibition. Each contributor was asked the same questions about themselves, their perspectives, and the inspiration and intention behind their work. This blog series will run each Tuesday through March 7.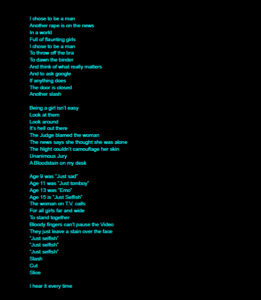 (Please follow this link to read the entire poem)
Title: "Turn Coats"
Medium: poem (words on colored paper)
Artist: Madeline Aliah
Age 16
What do you want the world to know about what it is like being a teen today?
Being a teenager in general is intense. We have all the issues the past generations made and failed to solve pushed onto us with a casual shrug, and everybody else just expects us to find the answers like there is some magic we have that you all didn't. Everybody just ignores it, hiding behind humor and instant gratification and the illusion that everybody else will fix the problems and you can just sit back and let them do all the work.
Please tell us about your poem. What inspired it? What is its main message? What would you like readers to know about it?
This poem was written in my first year at a queer-positive school and is processing the new forms of guilt and shame I experienced and was exposed to. It was inspired by accounts from trans-masculine students alongside my own personal experience with guilt as a trans-fem. I did not write this poem with any message in mind, as I intended to provide a snapshot of the mindset being internalized by trans people that I feel isn't being talked about enough. If you are gender-queer, then I feel the message is not to blame yourself for something you cannot control. You can't leave a community if you were never a part of it in the first place. If you are not gender-queer, then I guess the message is to look out for your queer friends. Even if they seem fine on the outside, they may still be hurting.
What are some of your biggest stressors and how do the arts help you cope with them?
I do not know where to begin. I get overwhelmed by intense social interactions, memorization, deadlines, the list goes on. I cope with all of my problems by writing. For me, writing is an environment in which I can safely process my emotions and experiment with new ideas without consequences or accountability.
Is there anything else you'd like to share with us?
We can make the world better for ourselves and the people we love, but to do so we need to get up, roll up our sleeves, come together, and bring people together. I believe that the future has never looked brighter, but the only way we'll get there is by working together.
****
MIA Reports are supported, in part, by a grant from The Thomas Jobe Fund.