"When I am sane, I'm an atheist, but when I am mad, I'm driven by the hand of god." This one-sentence summary of my experience is the inspiration for my PhD thesis, which ended up with the not very snappy title: "Theorising Disruption at the Intersection of Madness, Mental Disorder and Acute Religious Experiences: A Mad Studies Approach."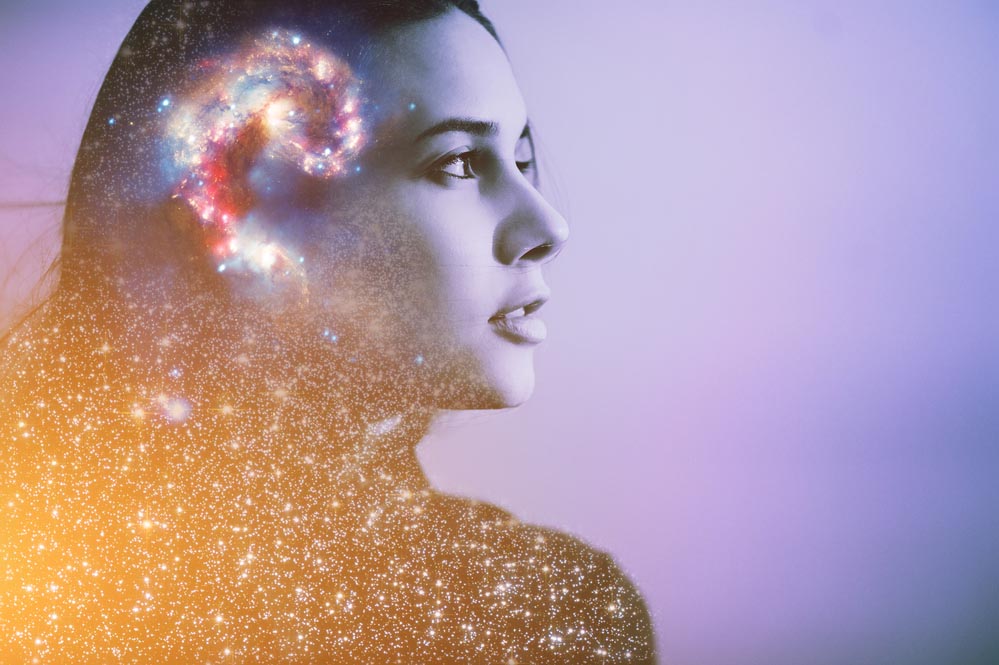 I went back to university as a recovery strategy to get over my most recent detention in a locked ward in Inverness, Scotland; one of those "nice" modern buildings on the grounds of an old asylum, where the original expansive gardens had been paved over to put up a parking lot (very Joni Mitchell). Being at the University of Edinburgh gave me an easy identity and an electronic card which accessed beautiful buildings and liberating libraries shelved with shining books, some of which winked—I. M. Lewis's Ecstatic Religion, Ann Taves's Religious Experience Reconsidered, and, of course, William James's The Varieties of Religious Experience.
Being in a "School of Divinity" provided some entertainment value; what the hell is a School of Divinity? I wasn't "looking for god," I was trying to understand extraordinary/anomalous/extreme states of consciousness. As I had a sense these were nothing new, that they were part of the human story, a School of Divinity seemed a fair alternative to sociology, anthropology, psychology, or psychiatry.
I study in a "subject area" called religious studies, which has nothing to do with theology, orthodoxy, or Christianity. Religious Studies is a secular approach which utilises mixed methodologies to study religion in all of it diverse manifestations and forms. I chose mad studies as a standpoint. This provided a novel approach which allowed me to re-read the literature on the phenomenality of madness in both psychiatry and the humanities. It is pretty well understood that psychiatry has traditionally sought to diminish religious experiences by either pathologizing them or instrumentalizing them. But I found that, over in the humanities and social sciences, madness was distorted by a kind of self-censorship to protect those who exhibited the phenomenality of madness from being pathologised.
This strategy of sanitization is applied by religious leaders to protect the people their texts describe. So, for example, when Moses is in conversation with a talking fire, he's always having a "religious experience" and never a "psychotic break." Around the turn of the 19th century, when psychiatry provided the shock troops for the assault on Christianity, as part of the wider ascendency of naturalism, modernity, and science, Jesus's sanity came under concerted attack. Showing Jesus to be mentally disordered struck at the supernatural heart of the Christian religion. The response of theologians and biblical scholars was not so much to defend Jesus's sanity, but to ignore the debate. Moses, Jesus, and all the rest couldn't be mentally disordered because they were religious figures. It was a stand-off between incommensurate rhetorical positions which served the philosophical and socio-political interests of antagonistic participants.
This sanitizing of the phenomenality of mental disorder—visions, voices, possessions—extends well beyond the interest of religious practitioners to protect "their people" from the reductionism of psychiatrists. It permeates contemporary western scholarship in the humanities and social science, scholars who also resist psychiatric reductionism to "protect" participants in, for example, shamanism, spirit possession, mysticism, and psychedelics from psychiatric reductionism.
The more I read, the more I realized that there were two competing discourses: The psychiatric discourse, which reduces experiences of extraordinary/anomalous/extreme states of consciousness to mental disorder, and the humanities and social sciences discourse, which seeks to protect the cultural interpretations of such experiences against psychiatric reductionism. Conformity to one or the other of these binary discourses was not so much a choice scholars made as a set of assumptions they inherited, based on their position within the academy. Whilst there is a well-understood sub-discipline of the psychology of religion, the bitterness in the conflict means there is no established psychiatry of religion. Certainly, there are psychiatrists who have an interest in religion but they rarely engage with religious studies texts and their work is spurned by those in the humanities and social sciences who still see psychiatry as a threat.
As a mad person, this didn't make any sense to me. I may reject the language of psychiatry as much as I like, I may question the labelling of my own diagnosis, but when I am driven by the hand of God, I damn well know something extraordinary/anomalous/extreme is going on—and if I choose not to use psychiatric language, it doesn't stop psychiatrists locking me up… and just because they locked me up, didn't mean they'd won. So, back at university, my task was to find some way in which the states of mad consciousness, understood as religious experiences, could embrace the madness without succumbing to the reductionism of psychiatry.
From a mad studies standpoint, the problem takes on a whole new dimension. The authenticity of Moses or Jesus or shamans, or practitioners of spirit possession, etc., was not the problem. The problem lay in the 20th century approach to a normative sanity and the (moral) presupposition that mad is bad. If madness is not necessarily badness, if madness is a way of talking about experiences and experiential states of consciousness which individuals endure and may overcome, the idea of a constructive madness which is articulated in religious terms becomes thinkable.
After Moses had his chat with the voice in the fire, he went on to lead a liberation struggle; after the shaman engages with the spirit world they return with power. Is it possible to think about the crazy which is marbled in the world's holy books and echoed in long traditions of oral accounts of religious experiences as instances of non-pathological madness? And if so, such instances could be identified and problematized, rather than smoothed over, in order to reveal the constructive power of madness within the human story.
That's the idea, but how to write about it? I'd have to do something more interesting than jump up and down asserting my point that MADNESS IS A VITAL PART OF HUMAN HISTORY. Just pointing to Arjuna's account in chapter 11 of the Bhagavad Gita or the Sufi traditions of fanā or the power of the ecstatic at the margins of mainstream religious practices isn't enough. Instances don't make a theory and simply providing case studies of the crazy in religion was never going to do more than produce a catalogue—of contestable evidence.
My solution was to take the two discourses I'd identified and, rather than setting them against each other, I set them alongside each other as parallel interpretations. My thought was to expose these as (no more than) alternative academic discourses which were both written by rich, white, educated, western men emerging from a legacy of western colonialism. Both discourses engaged in a process of "othering." The psychiatrist othered the "mad" and the anthropologists and religious scholars of the 19th century othered the "primitives." Both engaged in a self-serving comparison with their own normative values. My hope was that this approach could show that the problem is not in the experiences, but in the way we think about them in the 21st century, shaped by whether one was inculcated into the sanitization of the humanities and social sciences or the reductionism of psychiatry.
It was straightforward to identify the psychiatric discourse—it was fully articulated in the changing process of the DSM series with the twists and turns from DSM-I to DSM-5. But in reading the texts I was blown away to discover that the DSM-5 introduces a formal recognition of what I now understand as explanatory pluralism. In the DSM-5 chapter on dissociative identity disorder, which is a recent replacement for multiple personality disorder, the DSM-5 takes an idea out of an appendix in DSM-IV and slaps it right into the main criteria as a contra-indicator. You do not have dissociative identity disorder if the disturbance is "A NORMAL PART OF A BROADLY ACCEPTED CULTURAL OR RELIGIOUS PRACTICE." There is a disruption of self, there is a crisis, but it is not necessarily a mental disorder, if there is a better cultural or religious explanation.
Wow. Here was I setting up two conflicting discourses of interpretation and the DSM-5 had already conceded that the situation was not as polarized as I first supposed. But, before patting the DSM-5 authors on the back in congratulations, remember this contra-indicator only applies to dissociative identity disorder—which explicitly includes the ancient concept of possession. Over in the schizophrenia and other psychoses chapter, where visions and voices reside, there is no such contra-indicator, even though visions and voices are, certainly in the west, the dominant indicators of religious experiences. This situation hasn't changed in the text revisions of DSM-5 in 2022, so there is still some way to go.
It was less straightforward to set out the discourse in the humanities and social sciences as, unlike the consensus authority of psychiatry, there are just individuals punting their best ideas, dressed in language and concept they'd either inherited or invented, but made no claim to having experienced. But critically reading, in search of texts which treated mad consciousness as non-pathological, several examples were identifiable. Only one, William James in The Varieties of Religious Experience, had a methodology which actually addressed the pathological. James acknowledges "the medical materialists" (which translates as "reductionist biological psychiatrists") but rejects their attempts to devalue religious experiences on pragmatic grounds. The rest just avoided the problem.
For example, Rudolf Otto, who popularized the term "numinous" in his book The Idea of the Holy, deploys a barrage of language in his description of this irrational experience: the ineffable moment, the overplus of the holy, the paradox of the unnamed something, subjectively experienced, the wholly other, beyond ethics and morality, the tremendous mystery which is fascinating and awful (filled with awe) energy, shuddering and dread. As a mad person, the sheer exuberance of his language declares the power of being driven by the hand of god, but the traces of madness are only discernible by a careful reading of the footnotes.
Similarly, Walter Pahnke, whose PhD thesis Drugs and Mysticism still underpins second-generation psychedelic theory, introduces the idea of the psychedelic experience as explicitly contrasting with psychosis. Whilst it is established fact that "psychedelic" was introduced as a term to rebrand "psychotomimetic" (the mimicking of psychosis) drugs, Pahnke acknowledges that the experience of "the subject-object dichotomy transcended and the empirical ego extinguished" can be found in both the psychedelic experience and the psychotic experience. Still, he wants to put clear blue water between these concepts.
The self-serving psychedelic politics of this may be obvious, but the category error is in making his category of psychedelic experience dependent on outcome rather than describing a state of consciousness. By making psychedelic experiences good and psychotic experiences bad, he sanitizes the psychedelic experience whilst overlooking the abundant contrary evidence.
These are two out of the seven instances of texts from the humanities and social sciences on which I focused. In the end I included seven chapters, these two along with two philosophers (T. K. Oesterreich on possession and Walter Stace on mysticism), two psychologists (William James's pathological programme and Abraham Maslow on peak experiences) and a religious historian (Micea Eliade on shamanism). There were more I couldn't fit in due to limitations of space—I. M. Lewis's Ecstatic Religion, Lee Sannella's The Kundalini Experience: Psychosis or Transcendence? and Ann Taves's concept of the Special in Religious Experience Reconsidered.
What I discovered was that many of the 20th century authors I was writing about had actually read many of the other authors in my sample. It is this fact which gave me the confidence to think of this as a fractured discourse on extraordinary/anomalous/extreme states of consciousness. What I also discovered was that the intentions of these authors have been consistently abused in the subsequent literature. Roland Barthes' idea of the death of the author is vividly at play. There are no conceivable grounds to make Mircea Eliade's concept of shaman universally accessible to anybody who paid a bunch of money and went on a retreat with a drum. Similarly, the overwhelming nature of Otto's "numinous" was de-theologized by Carl Jung and has subsequently been watered down to mean some vaguely spiritual feeling.
The reason for establishing these two discourses was to introduce the idea of Acute Religious Experiences as a way of bridging the psychiatric discourse and the humanities and social science discourse. The fact that the DSM-5 accommodated explanatory pluralism provided grounds for accepting that Acute Religious Experiences were extreme enough to be of interest to psychiatrists, but grounds to resist conceding the reductionist power psychiatry has historically demanded. But, as a concept, Acute Religious Experiences could also reorganize the data of the humanities and social sciences.
For example, in religious studies, shamanism and mysticism are generally treated as two distinct tropes whose cultural specificity places them beyond comparison. Seeing both shamans and mystics as distinct instances of a religious enculturation of extraordinary/anomalous/extreme states of consciousness doesn't involve reducing one to the terms of the other; it provides a way of recognizing that mad consciousness is plastic and can and does manifest diversely. This anti-reductionist approach places the value on the recognition of the extent to which mad consciousness has manifested diversely, whilst bringing into view just how extensively mad consciousness has shaped the history of religions.
My book Acute Religious Experiences is a single argument which leads to my proposal for naming such experiences "Acute Religious Experiences." The term is not a compromise between the pathologizing discourse of psychiatry and the non-pathologizing discourse in the humanities and social sciences. Acute Religious Experiences are always phenomenally mad, but not necessarily pathological. What I'm proposing is not a case-by-case compromise, but a different way of seeing. The concept of Acute Religious Experiences puts an end to the psychiatric predilection for retrospectively diagnosing the great figures of religion as "mentally disordered." It puts an end to the humanities and social sciences having to defend the sanity of their subjects.
People who have Acute Religious Experience are "out" of the mad closet and liberated from the threat of being pathologised. It is the capacity of mad studies to advance the idea that mad is not necessarily bad, which opens up the need to identify and name madness within the human story.
The practical consequences ripple out from the idea of Acute Religious Experiences. For example, if shamanism or spirit possession or mysticism are understood as ways of constructively socializing madness, how might this affect the psychiatric presumption that returning a person to their previous "normal" is the only or best objective? The analogy with psychedelic therapy is obvious: by stimulating a crisis, psychedelic therapists seek to guide rather than repress. If psychosis is always defined in negative terms, the positive outcomes can never be imagined let alone achieved.
Certainly, it would be helpful if the contra-indicator in dissociative identity disorder was included in the psychosis chapter, but this would involve psychiatry re-imagining a more complicated approach—something that would require engaging with people rather than symptom suppression. It is this kind of change which could lead to acceptance and empowerment of Acute Religious Experiences: that when I am driven by the hand of god I'm having one of the most important moments in my life.
***
Mad in America hosts blogs by a diverse group of writers. These posts are designed to serve as a public forum for a discussion—broadly speaking—of psychiatry and its treatments. The opinions expressed are the writers' own.
***
Mad in America has made some changes to the commenting process. You no longer need to login or create an account on our site to comment. The only information needed is your name, email and comment text. Comments made with an account prior to this change will remain visible on the site.