"You never change things by fighting the existing reality. To change something, build a new model that makes the existing model obsolete." ― Richard Buckminster Fuller.
This is why entrepreneurship is our way out of the mental health mess. It is very hard to get someone to compare an option that exists everywhere in the US with an option that only exists in one region of Finland or in 8 peer run crisis alternatives in the US or in a research study that happened in the 1960's and was controversial back then. Business people think massive. Social entrepreneur coaches like the Ashoka foundation say that your business has to help a million people before it is making a significant social change. Social entrepreneurs are people building businesses whose goal is to make change. Our primary goal is to make social improvements instead of making money.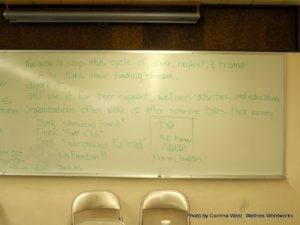 There are  other important approaches to advocacy, like changing the existing system or making the existing system illegal, and these are valid approaches. However, both of these approaches will be MUCH more productive if there is a big, strong, data proven, transparent, non-money grubbing, Whitaker informed, ethical, humane, peer provided viable alternative. I'm busy making Wellness Wordworks and Connect Power a force to take down big pharma, but  20 other peer business playing in this same market would be way stronger.
So we need YOU.
How to Be an Entrepreneur:
You can be an entrepreneur. I think many of us that get mental health labels are natural entrepreneurs. I know that I myself became self-employed because I simply didn't have any ability at all to suck up to bosses who weren't both knowlegable and trustworthy. I was fired from almost every job I ever had as an adult until I thought I'd found a fit as a peer specialist. But then they made a less competent person my boss and that was all she wrote. I know that on April 26, 2010 at 4:15 pm when I was ushered out of my last employer's building with a possibility of 18 months of unemployment income coming, I never felt better. So I've made it happen.
Simply look up your local small business resource center, and most cities have one. They will have some free classes you can attend. Or you can get books on starting a business from your library. You can create a Twitter account for free in 5 minutes and follow me @PeerWordworks and then follow all the entrepreneurial coaches that I follow. You can read websites and blogs that talk about building a business that is big enough to expand across the whole country. Very few people who ever start a business know much about business – they just want to grow a powerful idea they have.
At a Global Women's Entrepreneur Forum that I attended this year, they said, "We don't want you to create a million dollar business……We want you to create a billion dollar business."
When we do this, we will make the existing system obselete.
***
Mad in America hosts blogs by a diverse group of writers. These posts are designed to serve as a public forum for a discussion—broadly speaking—of psychiatry and its treatments. The opinions expressed are the writers' own.
***
Mad in America has made some changes to the commenting process. You no longer need to login or create an account on our site to comment. The only information needed is your name, email and comment text. Comments made with an account prior to this change will remain visible on the site.