Anyone who spends time around this site (Mad In America) knows that there has been a lot of talk lately about neuroscience and the future of the medical model of "mental illness." However, many people who are affected by mental health practice and policy, for whatever reason, may not be aware of the current controversy and concern regarding the recent decision by the National Institute of Mental Health (NIMH) to steer funding away from research that is rooted in the definitions and delineations of the Diagnostic and Statistical Manual of Mental Disorders (DSM).
In NIMH director Thomas Insel's late-April statement, the DSM is characterized as having poor "validity." This means, plainly, that there is no consistent evidence that the DSM classifications of experiences deemed "mental disorders" correlate to any specific or measurable process of disorder. The diagnostic categories of the DSM are based on subjective symptoms, for which there are often no identifiable causes.
The dominating reign of the DSM has been dealt what may well be a terminal blow. There may not be a DSM-VI.  Our entire "mental health" system may need to begin considering vast revisions of coding and service. Because the DSM has been publicly declared (by a presumed authority, the NIMH) to lack validity, anyone who uses the book in practice or policy will have to think hard about the integrity of the ethics that govern their professional practice. In some ways, the NIMH announcement was a great boon to the efforts to build support for alternatives.  In other ways it is an insult, given that advocates and activists have been criticizing the DSM as unreliable, inaccurate, distorting and ultimately useless for decades.
The DSM is on its way to being history. However, with the NIMH announcement came a new set of research domains that will affect the future of sciences pertaining to the human condition, with a specific focus on identifying neurobiological markers and processes that may be linked to manifest human difficulty that is currently seen as "mental illness."
Yet, recent reports from the American Psychiatric Association clearly state that there is not a biological marker that can be identified using neuroimaging, indicating a vast abuse and squandering of funds that could have actually supported the research and development of additional evidence-based healing practices. Research that has purportedly identified variation in genetic or neural function or structure is minimally informative, as any phenomenon of the brain is:
A) dependent upon a great number of variables
B) likely to change, given the fact that we are in a constant state of growth and response
So, where does that leave us?
There is a fear that the research directions charted by the NIMH may lead to a hypermedicalized view of the human condition, and that many more billions of dollars will be spent developing invasive technologies designed to affect our neurobiological function, possibly in ways that may be toxic.  Given the exploitative collusion that regularly happens among researchers and industry, this is a legitimate concern.
"Scientific" research has, historically, been the driving impetus for vast and insidious human rights abuses and the formal literature has contributed mightily to distortions in our conceptualizations of normative function and expression. This is not, of course, to dismiss "science" or present an "anti-intellectual" view of the existing body of literature. However, a systematic review of said literature will reveal vast reams of flawed methodology, theoretical bias, and a dearth of the simple logic that informs us that our lives are complex, messy, and dynamic, with multiple variables acting upon one another in ways that make it difficult to generalize any conclusions across large portions of the human population.
Two people (or 7 billion people) can be genetically related and be, within their subjective experiences, very different. They can go through the same tragic events and experience them uniquely.  Even people who share tendencies of experience are not the same and what might be helpful for one person may prove to be unhelpful – or even harmful – to another.
However, in spite of the barriers to generalization, there are correlational trends among people who experience struggle between themselves and their life circumstances, with potential causal links between trauma, stress, and psychosocial dynamics as these factors relate to difficulty in experience. We are all affected differently by constructs of economy, opportunities for education, and the other factors which shape the landscapes of our lives, be they plush or war torn.
There are numerous psychosocial/emotional/existential/spiritual theories about what may cause difficulty in human experience. Entire fields of science and inquiry are based on hypotheses of the mind and musings on the heart. Obviously, we are more than our neural connections. Yet, we do have brains. We do have neurons and synapses, enzymes and chemicals, areas of tissue that mysteriously hold networks of memory, others that map our anticipations.
Do we need to know the specific neurological correlates of internal conflict?
How does the fear of being alone pass between our synapses?
Does hope light up our brains, or just our hearts?
Is it even possible to know? Is it important?
Perhaps it would be more useful for us to focus on what seems to help, rather than trying to identify some elusive shared trait among those who struggle for some reason or another with their human experience. By establishing evidence of the efficacy of alternatives, the "problem" may become less important than the possible (or obvious) solutions. It doesn't take a Ph.D to know that when we are empowered, accepted and loved for who we are we tend to feel better and enjoy our lives more.
For the sake of fairness and acknowledgement of reality, there are some instances that neurological duress or wounding can be implicated in difficulty within our human experiences. The effects of chemicals and certain elements (such as illicit and pharmaceutical "drugs" and lead, for example) can wreak havoc on the functions of our brains, as can (actual and measurable) diseases like cancers of the brain. Even in the absence of drug effects, the neurological effects of an actual disease, or environmental toxins, some people do experience some significantly difficult recurring experiences. Sensory integration issues, distinct features of processing or thought tendency, and regulation of emotion and energy are genuine and very real struggles that many people often attribute to neurological differences.
First and foremost, difference is not disease. This cannot be said enough. Difference is not disease, by definition. Some differences are caused by diseases, but difference itself is not a disease. A disease requires an evident process, with indicators and predictable outcomes. Based on those exceedingly simple criteria, the bulk of challenging human experiences cannot be attributed to anything remotely resembling a disease.
Some people do have what they have found to be characteristics of experience that can be, in part, attributed to elements of our human function that are considered to be at least somewhat neurological, such as sensory integration. These differences – some of which can be experienced as disabling depending on the expectations that establish "normal ability," contributing to severe sensitivities and learning differences, among other struggles – are often identified through neuropsychometric testing (e.g. IQ tests) of some sort. These measures are often problematic themselves. Yet, they do measure something, and those inventories of attribute do have the capacity to inform us of some aspect of our human experience, even if it is only whether or not we "test well."
Acknowledging neurodiversity is in no way endorsing a biomedical disease model. There is an entire movement of people who identify with concepts relating to neurodiversity, which acknowledges that some people do fall well outside of the range of statistically normative neuropsychological features and that these variances from neurotypical function are a good thing, rather than a disease. The human species is diverse by nature, and rightfully so. We encompass artists, musicians, architects, astronomers, storytellers, engineers, farmers, cartographers and healers…and we all, as humans, struggle.
Yes, for some the struggle is tremendous.
Yet, just as we all struggle, we all also, as humans, have the capacity to live our lives well to the best of our abilities, which ought not be impeded or discouraged by circumstance or belief. We grow and change. We find out, through trial and error,  who we are, what we like and what we are scared of. We learn what works for us and un-learn the belief that we can't learn.
It ultimately may not be important for us to know the specific rate and content of exchange across neural networks. Even if we figure out how something works in one person, or even in a supposed group of people, the variables that shape our lives and experience are complex. It is difficult to conclusively generalize any broad truth about why we are human in the ways that we are and what the future may hold for any of us.
If the NIMH spent as much funding on accessible, trauma-informed, integrated, choice-driven community wellness centers and lobbying for better quality of life opportunities as they do trying to find evidence of elusive brain diseases, we would not have the "mental health" crisis that we currently have.
We would, perhaps, have more of what we deserve, not as people identified as having a "mental health disorder" or as people that could "qualify for disability" but as human beings with universal human rights.
Do we really need research to tell us that kindness and compassion are healing, that options are good and that the more perspectives we have access to the better able we are to figure out a meaning and strategy that may best work for us?
Due to the resources afforded to the pharmaceutical industry, state institutions and the military, research funding has been unequally distributed. Therefore, the ideas and theories that have been formalized as "science" are largely representative of the interests and paradigms that research institutions and grantors may ultimately profit from.  In what directions will the NIMH fervor for a new nosology drive this science devoted to answering questions that don't need answering, or which cannot be answered by a medical test? What good comes about from looking for a disease and what will they make of what they may find? Are so they so desperate to find something that they would be willing to create disease where there is none, simply so that they may find it?
So far, they have found, for all their sophisticated techniques, surprisingly little. There are no lesions, no consistent protuberances, no void grey areas of neurological scarring. Potential variations that have been identified could have been caused by anything, and may simply be the fact of human diversity in function and expression.
So, is there anything good or useful that could come out of new NIMH research directions?
Well, some innovative researchers may be able to secure some renewable research grants to conscientiously and strategically contribute to the body of literature on alternative non-invasive evidence-based practice, perhaps relating to the neurological benefits of naturally occurring micronutrients in delicious food or the measurable effects of mindfulness, stress reduction and life enjoyment programs. Perhaps someone could conduct research on the beneficial neurochemical effects of hanging out in fields with friends, laughing.
Researchers may gain insight into the effects of stress.
They may learn more about the specific ways that neuroleptics damage our brains.
All in all, we may not need research to tell us what we most need to know about human struggle and human healing, which is simply that both phenomena are intrinsically human and, by virtue of that, we are all different in what hurts and in what may help. It is, however, fair to conclude that for most people fear can be toxic and that love/acceptance/nurturance can be healing.
I do believe in the potential for bad ideas and dysfunctional systems to destroy themselves and I am hopeful for the development of an ethical science of the human condition. At the basis of this science would be a commitment to framing the human experience in a manner which is realistic and informed, with a resolution to not call things diseases which are not diseases. I am hopeful that young scientists paid attention in their philosophy of science classes, their ethics courses.
To me, it seems that it would be far more interesting and exciting to destroy a useless and harmful paradigm than it would be to try to prove evident mistruths. It would be a lot more fun to research the neurological characteristics of a life well lived than it would to be to spend life sitting in a laboratory looking at numbers about some poor little kid's dopamine levels as they may be affected by neuroleptics.
*Laura Delano's excellent recent post "Mental Illness," the DSM-5, and Dreams for a Post-Psychiatry World explores the implications of recent shifts in the direction of formal understandings of human struggle as our realities relate to misinformation, oppression, and multisystemic trauma. In the comments is a really great discussion of the body, mind, heart, environment dynamic as it relates to potential hypermedicalization of our perspectives of human experience.
Here is a poem that I wrote about scientific paradigm shifts as such things may relate to brain research and a picture that I drew during a period of involuntary outpatient commitment, while I was thinking about how strange it sometimes is to be human.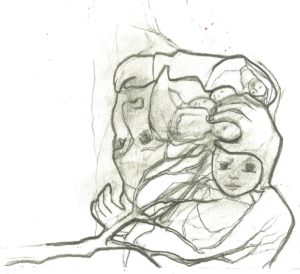 The Scientist's Lobotomy
Did you look inside her brain
at that place
where you imagined
all those demons, that disease?
Was her skull split open
like a shell
for its soft fruit
to be examined
by the stainless tines
of your science?
What did you find, in that shimmering inside?
Was it not so dark as you thought it might be?
Did you see, there in the folds, the pits that you had pictured?
Did you find
the small empires
you expected
in a chemical rot and lesion?
Did you swim
in the swamps
tucked into the coasts between
this region and that region?
Were there valleys and layers, tangles like cities on a roadmap?
Or was it softer, smoother…perfect?
Did the gentle pink edge remind you of a shell
that you once picked up from the shallows of the ocean?
Did the salt on your lips taste like waves?
There were patterns in the sand and you traced them
as mountains.
You saw the pools, your eyes reflected against the sky reflected and…
…you knew the truth.
You found it in that shell that held the sunset.
That soft slick bruise
of grey and blue
that felt, to you,
soft like your scalpels
could never be.
For a moment, the whole world was there
and you felt
the sound inside
like music.
It's so easy to forget
that you wanted to live
inside that place
where the ocean roared
against your ear
for you alone to hear.
When you looked at her brain did you see
the landscape of her memory?
Was it a castle
a library
a junk store
a field?
Was the universe in there?
Did it look like sand?
Or did it look like stardust?
Does stardust look like sand?
…or did you only see a small grey region, asleep
and of a certain weight
that you carved out
and placed on a scale?
Was it barely alive at all?
Did you find, in her crenellated warmth, the place
where voice is born?
You never heard it.
She never spoke.
You never listened?
It doesn't matter now.
You've forgotten
what it was
that you were looking for
in that space behind her eyes.
Do you see that, even sleeping, her mouth looks like a bow?
You have no way of knowing that as a child
she sang the same song
over and over again
because it made her happy.
Tell me, when you pulled
the two halves apart
did they make
any noise at all?
Tell me, what did you see inside?
Did you find God?
Or did God find you?
***
Mad in America hosts blogs by a diverse group of writers. These posts are designed to serve as a public forum for a discussion—broadly speaking—of psychiatry and its treatments. The opinions expressed are the writers' own.
***
Mad in America has made some changes to the commenting process. You no longer need to login or create an account on our site to comment. The only information needed is your name, email and comment text. Comments made with an account prior to this change will remain visible on the site.