I know the popular thing to do right now is rail against the Murphy Bill, and with good reason given its devastating implications.  (I plan to do my fair share of railing.)  Yet, I can't ignore the less sensational tragedies of the day.
Today's tragedy?  'Who Cares About Kelsey?'
'Who Cares About Kelsey' is a documentary by Dan Habib described as follows:
"When Kelsey Carroll entered high school, she was a more likely candidate for the juvenile justice system than graduation. Diagnosed with ADHD and carrying the emotional scars of homelessness and substance abuse, as well as the actual scars of repeated self-mutilation, Kelsey was volatile, disruptive and, by her own admission, "not a nice person" to be around. As a freshman at Somersworth (NH) High School, she didn't earn a single academic credit, but she did get suspended for dealing drugs."
It would seem, from this description, that perhaps the filmmaker has a sense of the potential connection between all those factors. You know… like, between the homelessness, substance abuse and 'ADHD?'  Yet, the film nonetheless opens by letting us know that "Approximately 20 percent of adolescents have a diagnosable mental health disorder."  In other words, there's the trauma… and then there's the 'mental illness;'  Separate and not particularly equal.
Now, granted, I have to acknowledge that some of the film's finer points were lost on me.  My older child is just beginning to age into the worse depths of the public school system, and I don't work in academic settings so I don't entirely 'get' some of the problems the film primarily sets out to address.  Here's what I did get, though (loud and clear):
Kelsey is a 19-year-old woman who…
Has parents that split up at some point when she was a kid
Has a mother with a serious drug/alcohol problem
Lived in her mother's car for some unspecified period of time after they lost their home
Went to live with a dad that never tells her he's proud of her and a step mother with whom she doesn't get along
…And the film suggests she is angry because she has 'ADHD.'
Oh, but wait… Soon after, we learn she also:
Witnessed her mother slashing her own wrists after her father moved out
Was sexually abused by her mother's friend when she was little
Had a  mother and father who – to varying degrees – both ignored or denied the abuse
And the film still seems to suggest she is largely angry because she has 'ADHD.'
Worse, the film (and several of the adults in it) repeatedly label her as having an 'emotional/behavioral disability' (charmingly acronymized as 'EBD').  At one point she says on camera that she doesn't want to say that she has a 'disability,' but that is largely glossed over and long forgotten by the end.
Back to the upsides:  Apparently, what this documentary is really about is a school-wide shift in framework away from 'zero-tolerance' policies and short-tempered responses toward a 'Positive Behavioral Interventions and Supports' (PBIS) approach.  I came away from the film not entirely understanding what components make up PBIS.  (The film seemed to favor Kelsey's meandering over actual explanations of the approach itself.)  However, in an academic world where kids seem to get suspended for such devastating 'wrongs' as calling administrators (with over-sized egos) naughty names, there does seem to be some value in this shift.
In other words, the main point of this film seems to be that schools need to approach kids who are struggling with far more creativity and compassion.  Yes, indeed.  But why does it seem to be such an unfathomable leap from that point to the fact that so much of what's happening with these kids is about their environment in the first place?  If they can recognize that the environment can help shift things in a better direction after problems have begun, why would they not be able to recognize that perhaps environment precipitated them?
In truth, I don't know Kelsey, so I can't really claim to know what her full story may be.  However, I find it nothing short of tragic that this system has invested so much time in telling this young woman that she has a disability, rather than recognizing the fact that she's led an incredibly difficult life of abuse, neglect and poverty.
I'm glad that (spoiler alert) Kelsey ends up graduating and moving on to a career of inspiring others with her own story.  But what does this  film and this framework really suggest for our children's future?   The film's website says that it will "spark new conversations about an education revolution that's about empowering—not overpowering—our most emotionally and behaviorally challenged youth.  But where does shoving the idea of 'EBD' down some barely formed beings throat fit into all that?  The film simply doesn't address my question.  In fact, it acts as if it doesn't exist.
Unfortunately, that's the norm in most school systems; Not just Chelsea's.  In October of 2013, I wrote a blog called 'The Story of My Perfectly Wonderful Children and the Change WE Need to Make in the World to Save Them,' that was published on the Foundation for Excellence website.  There, I shared how I learned of my son's guidance counselor approaching him privately when he was struggling with his school work and suggesting the idea of "distraction meds."  (He told me this several days later when we were driving home from the movies.)  My kid.  My just-barely-developing, not-having-entered-puberty-yet, 10-year-old child.  Was this guidance counselor trying to "empower" him?
Well, the school got the message that they'd messed with the wrong mom when – within days – I'd been in touch with the state Department of Education and local superintendent, and had gifted them copies of 'Anatomy of an Epidemic' and 'Beyond the Medical Model.'  (They actually offered to ban contact between my son and that particular guidance counselor for good.)  But what of the kids without such pain-in-the-ass moms as me?
After 'Who Cares About Kelsey,' I'm left wondering even more so how on earth we might develop systems that make space for us to be compassionate and creative with kids without needing to stamp them with a disease.  Why aren't our children precious enough to deserve support without first being deemed broken?  Why do the adults in the film seem to need to believe Kelsey can't help herself because of her 'disability' before they can conjure some sort of understanding for her?  When will we come to realize that it's that very framework that pushes so many people to the breaking point in the first place?
So, hooray to the message in 'Who Cares About Kelsey,' that our kids need support, patience and tolerance when they've been put through the wringer and need some extra help to transition into adulthood.  But to the idea that Kelsey is angry because she has 'ADHD?'  I call bullshit (not otherwise specified).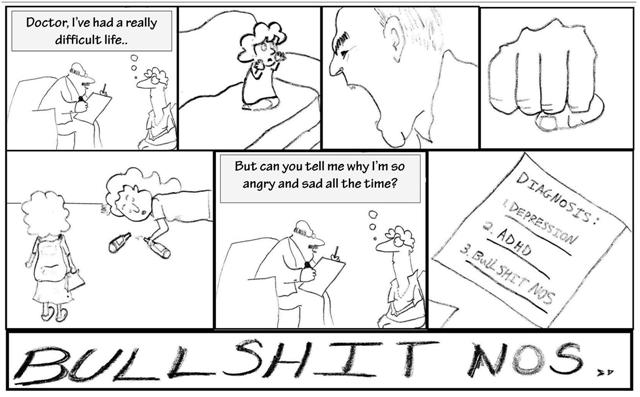 ***
Mad in America hosts blogs by a diverse group of writers. These posts are designed to serve as a public forum for a discussion—broadly speaking—of psychiatry and its treatments. The opinions expressed are the writers' own.
***
Mad in America has made some changes to the commenting process. You no longer need to login or create an account on our site to comment. The only information needed is your name, email and comment text. Comments made with an account prior to this change will remain visible on the site.