After safety concerns about the use of benzodiazepines in older adults led to updated guidelines, researchers expected the use of these drugs to decline. According to a new study in the Journal of the American Geriatrics Society, however, these dangerous prescription practices have not changed. Instead, benzodiazepine use has increased among those most at risk of adverse effects like increased falls, memory problems, delirium, motor vehicle crashes, and death.
"Some of the most common reasons for which benzodiazepines are prescribed, especially for the oldest adults, have proven alternative treatment options, many of which have better side-effect profiles," the study authors wrote. "Further efforts should be made to educate providers in all fields of medicine on the appropriate prescribing of benzodiazepines and alternative therapies."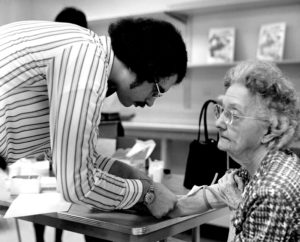 Benzodiazepines, or "benzos," are a class of psychotropic drugs that augment the GABA neurotransmitters in the brain, which are thought to have inhibitory effects on the nervous system. They are most frequently prescribed for anxiety, insomnia, seizures, and pain but can have severe side-effects including psychological changes like cognitive impairment and emotional deadening in long-term use. Benzodiazepines are particularly dangerous, however, because of their addictive properties and severe and traumatic withdrawal effects.
Last September, the British Medical Journal (BMJ) reported that the use of benzodiazepines is associated with an increased risk for Alzheimer's disease. In a similar analysis, researchers from China found that the likelihood of dementia increased 22% with every additional twenty daily doses of benzodiazepine medications that people took annually. Another study found that the rate of deaths among people taking the benzodiazepine Xanax (alprazolam) has increased 233.8% from 2003-2009- the second highest increase in mortality after Oxycodone (264.6%).
It has been repeatedly demonstrated that the elderly are at an increased risk for the adverse effects of benzodiazepines. As a result, prescribing guidelines, such as the Beers criteria and the Screening Tool of Older Persons' Prescriptions (STOPP) criteria, have classified benzodiazepines as inappropriate for use with the elderly in many instances. Nevertheless, it is estimated that as many as one in four (25%) elderly people living, outside of hospitals or treatment facilities, in the United States are prescribed benzodiazepines.
A new study, led by Dr. Erin Marra of the Department of Emergency Medicine at the Long Island Jewish Medical Center, set out to test the hypothesis that these updated guidelines would reduce the rate of benzodiazepine prescriptions in emergency and ambulatory settings. Using publicly available data, Marra and her colleagues identified every ambulatory and emergency department (ED) visit from 2001 to 2010 where an individual over age 65 presented with complaints that could potentially lead to benzodiazepine use. All told the analysis included 133.3 million of these visits.
After analyzing this data, the researchers found that 12.4% – or 16.5 million seniors- in these situations received a benzodiazepine prescription. Overall, from 2001 to 2010, despite the changes to guidelines, there was no change in the use of benzodiazepines in the elderly in ambulatory clinics or emergency departments. Within this same period, prescriptions for individuals over the age of 85, those most at risk for ill effects, roughly doubled.
In ambulatory clinics, elderly patients presenting with anxiety were nearly five times more likely to be prescribed a benzodiazepine and in emergency departments seniors with anxiety received these drugs in forty-two percent of cases. The effectiveness of benzodiazepines for treating anxiety has been questioned, however. Some studies suggest that the drugs can interfere with learning and memory and can decrease the effectiveness of therapy, thus preventing non-pharmacologic reductions in anxiety.
Elderly patients in ambulatory clinics were also found to be two and a half times more likely to be prescribed a benzodiazepine if they presented with insomnia. Roughly 25% of those with insomnia were given such a prescription even though metanalyses reveal that improvements in sleep are small in magnitude and do not outweigh the risk of adverse effects in the elderly.
"Despite concerns regarding adverse events, several of the top reasons for which an individual received a benzodiazepine (anxiety, insomnia, vertigo or dizziness) at ambulatory clinic and ED visits have better first-line treatment options that do not have side-effect profiles like those of benzodiazepines."
The researchers speculate that the high prescription rates may be because doctors and families are looking for alternatives to antipsychotic drugs, which carry black-box warnings of increased mortality in older adults.  They point out, however, that both anxiety and insomnia have safer treatment options than antipsychotics or benzodiazepines, including cognitive-behavioral therapy and antidepressants.
*
Marra, E. M., Mazer‐Amirshahi, M., Brooks, G., Anker, J., May, L., & Pines, J. M. (2015). Benzodiazepine Prescribing in Older Adults in US Ambulatory Clinics and Emergency Departments (2001–10). Journal of the American Geriatrics Society. (Abstract)