Acknowledging that current depression treatments are failing many people, researchers from Michigan State and MIT have developed a new model for understanding how multiple psychological, biological, social and environmental factors contribute to the onset of depression.
"This model opens the gate to understanding depression as it relates to the whole person and all of his or her experiences," said Andrea Wittenborn, the study's lead investigator. "It helps us understand how depression varies by person – because we know depression varies widely across people, and we think that has something to do with why treatment is not always effective."
Wittenborn and her colleagues point out that while major depressive disorder (MDD) is the leading cause of disability worldwide, antidepressant drugs have not demonstrated a decided advantage over placebo pills. The reason our treatments have not advanced, and the public health problems persist, is a result of overly narrow theories about depression.
To move treatment and practice forward, the researchers put forward a new "causal loop diagram of adult depression dynamics." Feedback loops are a central component of the new model. They provide the following example to illustrate this concept:
"For example, economic hardship is a stressor that can increase depressive symptoms. On the other hand, one consequence of increased depressive symptoms is the loss of motivation and an increased chance of hurting one's economic wellbeing, e.g. due to job loss. Together, the two causal links create a reinforcing loop, which may trap an individual in increasing financial hardship and depression."
To develop this model they reviewed the literature on various drivers of depression (including cognitive, social, environmental, and biological) and mapped how each of the different factors may create feedback loops connected to other drivers.
"Clinicians who treat depression tend to work on a trial-and-error basis, whereas this model could give them a more systematic and effective method for making decisions about treatment," said Wittenborn. "Most importantly, this model provides a method for personalizing treatment to each unique patient."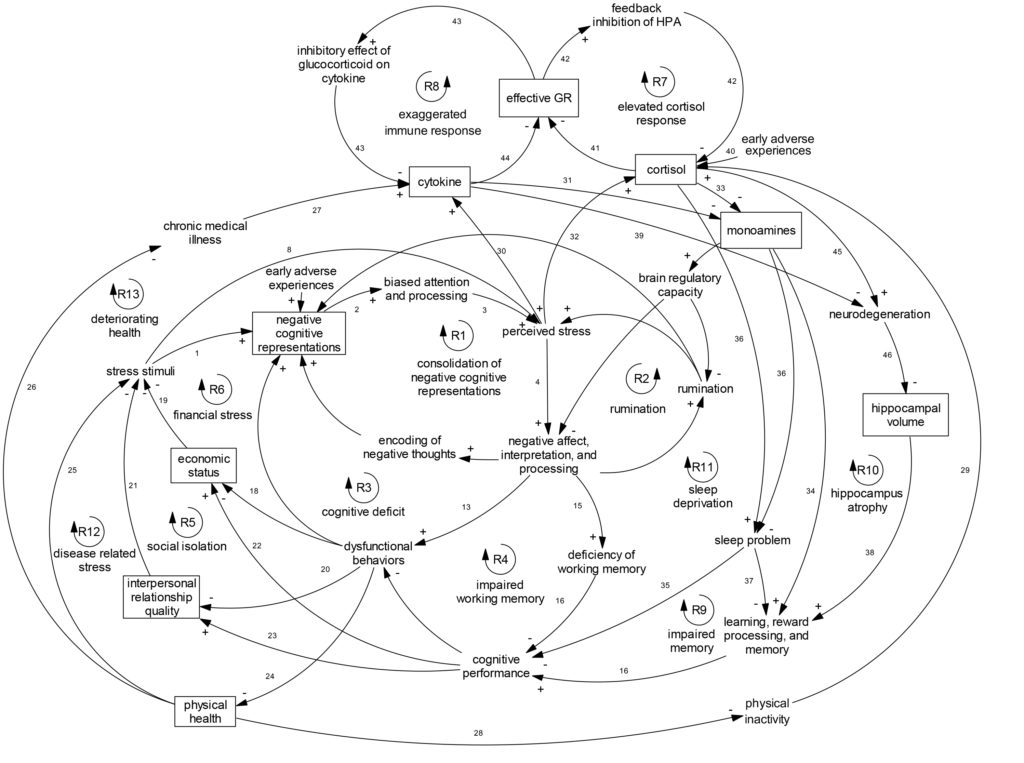 *
"Depression as a systemic syndrome: mapping the feedback loops of major depressive disorder" by A. K. Wittenborn, H. Rahmandad, J. Rick and N. Hosseinichimeh in Psychological Medicine. Published online December 1 2015 (Abstract)