It's taken me a while to write part 2 of this series, and honestly I've been torn between several compelling topics.   But, here I land.  Just a brief re-cap before I get rolling:  The foundation of this 'False Arguments' series is that sometimes I, you, we… all get drawn into arguments and belief systems that are based on a particular starting point that is assumed to be, or acted upon, as if they are valid.
For example, when people engage in the same-sex marriage debate, their starting point is generally 'Should people vote to legalize marriage between two people of the same gender?' Arguments for 'yes' or 'no' votes typically follow.  However, the very question (or at least, how it tends to be approached) presupposes that same-sex marriage should even be up for vote.  On the other hand, those who believe that it is a civil right might argue that such rights should not be subject to popular vote at all.
What's this have to do with stigma?  'Anti-stigma' is one of those phrases bandied about by people in all corners of the conversation on 'mental health,' and it generally goes unquestioned.  Many refer to the 'awful stigma of mental illness,' as if it were something practically tangible.  But what assumptions underlie the concept of 'stigma' in this context?
Interestingly, the medical definition of stigma (at least, according to www.dictionary.com) is as follows:
'A mental or physical mark that is characteristic of a defect or disease'
In this lovely definition, 'stigma' appears to have little to do with how others perceive or treat a person, but rather seems to be speaking about the symptoms of a disease itself.  Now, surely, not everyone who speaks about 'stigma' is operating within the constraints of this particular definition, but most do generally seem to be saying, "You should not judge me or treat me differently because of my mental illness."  Take a moment to watch the following 'anti-stigma' video featuring Glenn Close.  No, really.  Watch it.  It's only about a minute long.
One can only assume that the intended message is something along the lines of what I described above, though other conceivable messages include, "Look, even famous people have mentally ill family members, and aren't they so brave for admitting to it?" or, "We had a big budget and reasonably good taste in music and this is what we did with it."  But what on earth is the point?  Is it 'destigmatizing' to have human beings walking around in psychiatric label-laden t-shirts next to their arguably strengths-based label-laden friends and family?  The numbers of congratulatory remarks toward Close about her 'courage' for appearing in the commercials are also perplexing in their way.  Why SHOULD it be scary for a famous, wealthy, white, well-established actress to reveal that someone ELSE in her family is labeled with a psychiatric diagnosis?  Are we expected to blindly laud her for wearing a t-shirt with the risky label of 'Sister'?  Personally, I think this might be more along the right track.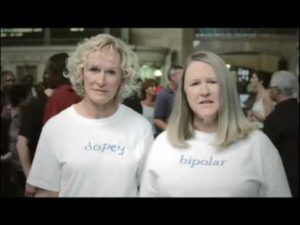 In all seriousness, I think it WOULD take courage for Close, Ron Howard and others involved in this particular campaign to admit that they were 'dopey' (sorry, I was limited in the words I could make out of 'bipolar' and 'sister'!) for using their money and power to lead us further down this wrong track.  I hope that they come to that revelation and find that courage soon.  In the meantime, I hope everyone else will join me in wondering whether or not anti-'stigma' is even worth talking about anymore.
In 2010, the American Journal of Psychiatry (as produced by the American Psychiatric Association [APA]) printed an article titled, "A Disease Like any Other?" It explored the results of a research study that evaluated (among its other points) the current 'state' of 'stigma' in our culture.  In the process, the researchers acknowledged that, "Clinicians, advocates, and policy makers have presented mental illnesses as medical diseases in efforts to overcome low service use, poor adherence rates, and stigma."  Wonderful.  It would seem that the APA has now finally acknowledged that the medical model is an intentional creation and not an objective reality.  (If only they would so clearly acknowledge that psychiatric labels themselves are also subjective man-made concepts!)  Their conclusions are also helpful and include:
"More of the public embraces a neurobiological understanding of mental illness. This view translates into support for services but not into a decrease in stigma."
Although no one's quite been able to put their finger on it, most seem to recognize there's a problem lurking in this process.  While the APA and others involved are now onto renewed explorations (including suggested initiatives to offer more "positive stories" as reportedly proposed in an article titled 'Stigma: Alive and Well' and featured on the American Psychological Association's website) in this hard-fought war on 'stigma,' I have another thought.
Perhaps the problem is that the idea of developing and then promoting a solely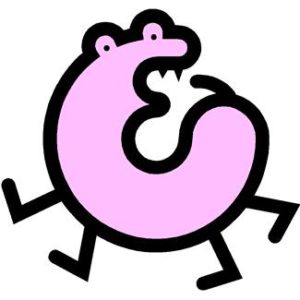 medicalized way of understanding our distress is creating the very 'stigma' it seeks to eliminate.  For me, it conjures up images of a dog chasing its own tail.
Round and round we go.  Did the concept of mental illness itself create the stigma toward the concept of mental illness?  Is it our reaction to the labels or to the people (or to the labeling of the people) that is the problem?  The relentless othering of people expressing strong and yes, sometimes frightening human experiences, emotions and pain seems the most relevant.   The question can no longer be 'How do we break down stigma?'  Instead, it must evolve into 'How do step off of the merry-go-round of psychiatric labeling of which stigma is but a part?'  (And how do we do that, even if that merry-go-round continues to spin at a breakneck speed?)
In February of 2013 the Connecticut Mirror featured an article very much connected to this topic.  It was a highly imperfect article in some ways, but there were two great things about it.  First, it featured the impressive work of my friend and colleague, Deron Drumm and several others at Advocacy, Unlimited.  Second, it asked the question, is it 'stigma' or is it discrimination about which we should really be talking?  And, here's where I'll go further than the article did.  It spoke to the issue of 'stigma' verses discrimination against those with 'mental illness.'  Instead, I will go so far as to say that it is NOT about the 'stigma' or discrimination we direct toward those with so-called mental illnesses, but about how we discriminate against people who have been labeled by a system over which they have no control.  It's about how our culture decides what are and are not acceptable ways of being in and moving through this world.  What are the socially proper ways to harm yourself and/or express your pain?
The best way out of the game is to stop playing altogether, and to acknowledge all experiences – even the more unusual and/or extreme ones – as human.    The best way to flip the conversation is to talk about discrimination and the phenomenon of othering, rather than to assume we must continue to exist within a 'mental illness' and 'stigma' framework that seems to largely be working against us.
And, let's not kid ourselves.  This is not just about erasing lines and boxes and treating one another better.  It's about power.  As another friend and colleague, Sean Donovan (check him out here speaking at a recent rally sponsored by the aforementioned Advocacy, Unlimited) has pointed out to me, there is no 'legal standing' for 'stigma,' but there certainly is for discrimination.  Apparently, all 50 states allow their bar associations to ask applicants seeking to be licensed as a lawyer about their mental health records.  Connecticut just passed a law that would prohibit people who have voluntarily requested admission to a hospital for help with emotional pain from purchasing a gun.  Outpatient Commitment laws regularly allow for people to be forcibly medicated and hospitalized.  People lose jobs, homes, children, health and liberty on a daily basis.  Do we fight these by whining about 'stigma,' thus essentially accepting the framework of 'mental illness' in the same breath?  Talking about this thing called 'stigma' and the anti-'stigma' campaigns it begets sure does keep us busy.  Instead, we need to invest our limited resources in taking hold of our power and fighting for our rights with all the heart and energy we can muster.
The choices we make, the next steps we take, and the language we use are all critical.  It's our move and the stakes are high.  I hope you will join me in being anti anti-stigma, and allow the tail to wag (or lead) the dog no longer.
***
Mad in America hosts blogs by a diverse group of writers. These posts are designed to serve as a public forum for a discussion—broadly speaking—of psychiatry and its treatments. The opinions expressed are the writers' own.
***
Mad in America has made some changes to the commenting process. You no longer need to login or create an account on our site to comment. The only information needed is your name, email and comment text. Comments made with an account prior to this change will remain visible on the site.