On January 7, 2016 my newly 13-year-old son (he helped me fashion the title for this blog!) brought home two permission slips from the middle school where he is currently (hopefully) making his way through the 7th grade. One of the slips was for a class trip to the Bronx Zoo. Okay, fine. However, the other asked me to give my okay for him to participate in a "Signs of Suicide" (SOS) curriculum and the perhaps-too-honestly-named 'Brief Screening for Adolescent Depression' (BSAD) that accompanies it. (Does no one else see the perverse humor in a depression screener that seems to actually be encouraging those screened to "be sad"?)
Yeah, not happening.
The attached letter from the principal explains the goals of the program as follows:
Help students understand that depression is treatable and assess whether or not they may have some symptoms of depression
To explain that suicide is a preventable tragedy that often occurs as a result of untreated depression
To train students in identifying serious depression and potential suicidality in themselves or friends
To impress upon teens they can help themselves or a friend by taking the simple step of talking to a responsible adult about their concerns
The letter concludes with the following statement: "Although we encourage you to permit your child to participate in this important and effective suicide prevention program, it is completely your decision."
Yes, thanks for that acknowledgement of my parental decision making powers. But, what of all the other parents who simply won't have enough information to give truly informed consent? How will they know to question the Principal's assertion that this program is "important and effective"? And shouldn't we be in a position to collectively demand higher ethical standards from the school itself?
Because, make no mistake, this is an ethical issue. SOS exists under the umbrella of Screening for Mental Health, Inc (SMH), a non-profit founded by Douglas Jacobs. So, let's just start at the beginning and see what ethical issues arise along the way. (Any predictions?)
Douglas Jacobs (who remains as the organization's Medical Director) has a long and well-established history with pharmaceutical companies. In the book 'Our Daily Meds' by Melody Petersen, his long-term consultation to pharmaceutical companies was noted, but that's not the only source documenting such ties. In fact, it would appear that Jacobs has not only longstanding relationships to both McNeil and Pfizer, but to almost every other pharmaceutical company under the sun in one way or another.
For example, in a 2014 article published on davisvanguard.com, it was estimated that (at least at that time) about 75% of Jacobs' income typically came from paid court appearances. Paid by whom, you might ask? Pharmaceutical companies? How did you know!? Yes, it would appear that Jacobs regularly accepts funds to testify as an 'expert witness' on behalf of various drug companies. This includes Roche who apparently paid him in between $30,000 and $40,000 in 1998 alone.
Meanwhile, drug companies are the ominous shadow that lurks behind (or sometimes out in front of) just about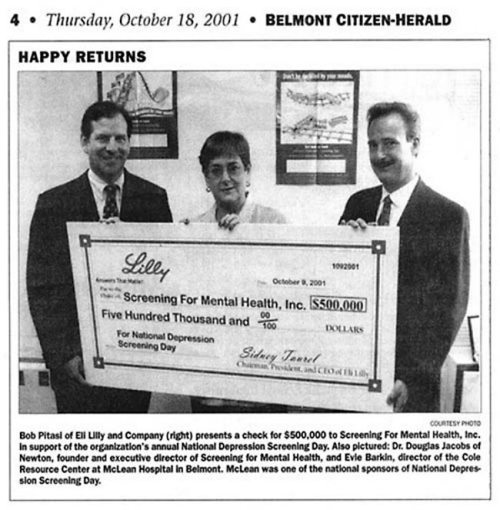 every initiative that Jacobs heads. Back in the early nineties, Jacobs founded the 'National Depression Screening Day', which, at one point, reportedly took 70 to 80% of its backing from pharmaceuticals. Once the singularly focused screening day initiative blossomed into the more diversely focused SMH, his connections followed in force. (See, for example, the image to the right picturing Jacobs himself with a giant check for $500,000 from Eli Lilly.)
In 2006, even a New Zealand-based publication, Scoop, took note, and focused in not only on SMH, but on SOS in particular.  Here's a direct quote:
"SOS claims it is the creation of the "nonprofit" Massachusetts-based corporation, Screening for Mental Health, Inc (SMH). However, as it turns out, the development of the firm's screening programs, was funded with millions of dollars from Big Pharma."
And that brings us back to where we started: SOS. Although in the aforementioned book, 'Our Daily Meds', Peteresen points out "In 2004… a panel of experts brought together by the federal government warned that there was a lack of evidence that such screenings decreased suicide attempts or actually helped more than hurt them," the program's parent organization continues to claim that their "primary goal is to find and help people who may be on the verge of committing suicide." Meanwhile, the same source also points out that "careful inspection" of the organization's website reveals backing from five different pharmaceutical companies, all of which market so-called antidepressants. (Unfortunately, they seem to have 'cleaned up' their site a bit in recent times, and so that reality is substantially harder to uncover.)
Sigh.
Yesterday (January 15th, 2016), I went to the school to meet with their "adjustment counselor" who consented to my getting an advanced screening of the SOS video intended for middle school audiences. Here's what I found:
Within the first two minutes of the film, the child lead exclaimed, "Did you know that most people who kill themselves have depression?" (Oh, the tautological trap of, "He killed himself because he's mentally ill because he killed himself! But more on that another time…)
Moments later, a group of middle schoolers discussing their supposed friends 'with depression' make comments such as that their friend's behavior is "kinda scary," and one child says, "This boy that I knew, he was really nice but then he started breaking all the rules…" (Reminds me of Bruce Levine's 'Why Anti-Authoritarians are Diagnosed as Mentally Ill')
While no one used the phrase "chemical imbalance", the 'expert' in the film (a guidance counselor) did suggest that one reason kids get depressed is a "chemical piece in your brain." (I guess she was aiming to perpetuate this particular myth in more accessible, 'kid friendly' terms?)
Although no one uses the NAMI-popularized line of depression being "just like diabetes," the 'expert' does offer that it's "like any other illness you'd see your doctor for." (Again, making it kid friendly… Maybe middle-schoolers aren't so familiar with Diabetes?)
The 'expert' also repeatedly states that being depressed is a "serious illness," and adds in that it is one for which you should "get treatment…right away before it gets worse." (Is this a horror film? Are we talking about Ebola?)
While medication is not the only 'treatment' mentioned (therapy is given a cursory nod), it is suggested on more than one occasion including a notation that one of the reasons alcohol and drugs are dangerous is because they can "interfere with the medication you may be taking."
So, yes, this film is essentially an advertisement for 'going to get treatment'. And, in our current world, this of course generally means getting a diagnosis and a 'happy pill' prescription (or two).
This all brings me back a bit. Perhaps one of my most powerful Internet finds was one I shared in my blog, "Dear NAMI, Apologies. I've Been Unfair," back in May of 2014. The find was a 2004 article written by Pharmaceutical Executive Josh Weinstein called, "Public Relations: Why Advocacy Beats DTC." A particular excerpt bears re-sharing here:
"DTC promotions result in excesses in spending, awareness overkill, mistargeted messages, and an overall negative image for our industry . . . DTC promotion regulations obligate advertisers to frighten the public with laundry lists of side effects… As a veteran pharma marketer, I have witnessed that the most direct and efficient tool for driving long-term support for brands has been, and continues to be, a well-designed, advocacy-based public education program . . . working with advocacy groups is one of the most accomplished means of raising disease awareness and enhancing the industry's image as deliverer of new and tangible value to patients. Often this advocacy work is unbranded, stimulating consumers to ask doctors about their symptoms. Then, companies can compete by promoting their brands to physicians."
While the connection to SOS is slightly less obvious than the one to the National Alliance on Mental Illness (NAMI), the same principles are at play: It's less useful to explicitly push people toward psychiatric drugs than it is to simply convince them their sick and that they need to go to the doctor who will then push the pills on the pharmaceutical's behalf. Big Pharma (clearly) know this. (Hell, they're posting about it where anyone can see!) So, why aren't more of the rest of us conscious of this obvious truth?
Meanwhile, here's what didn't show up in the SOS kiddie marketing tool:
Involvement in the mental health system as a child appears to increase the likelihood that one will enter adulthood also in the mental health system.
The 'chemical imbalance' theory has been thoroughly debunked, and there's no conclusive evidence to suggest that 'depression' is biological in its roots.
Treatment outcomes related to medication (particularly long-term) are pretty dismal, and there's research to suggest that activities like increased exercise are at least as effective (without all the risks).
Speaking of risks, antidepressants are now understood to sometimes play a role in eliciting violence toward one's self (i.e., suicide) and/or others, particularly in children. (Hence that pesky black box warning added in 2004.)
And so on.
After watching the video, I asked the adjustment counselor, "Why do you think pharmaceuticals would fund something like this?" She responded vaguely that pharmaceutical companies "have their hands in everything these days." But, in fact, they don't. They have "their hands" in those things that they believe will benefit them either directly or indirectly by creating (or preserving) 'customers'.
I understand the effort to find a way to support kids who are struggling. I also understand the effort to make space for kids who are struggling in isolation to come forward and talk about what's going on. But isn't there a way for that to happen that doesn't also attempt to turn them into psychiatric patients or the newest drug company customers? Aren't our schools (or someone) able to put together a program that supports kids to call out bullying, recognize when their friend seems to be having a hard time, and ask for help without making it an illness issue?
Frankly, it strikes me as flatly unethical for our schools to participate in the dissemination of such marketing tools, especially without full disclosure (and especially given that what's being sold can have hugely detrimental and sometimes deadly effects).
In truth, I think most school officials are probably acting out of ignorance on this matter. They aren't the ones who came up with the idea that SOS (and other programs like it) are "important and effective". They were sold that message, right along with the rest of us.
The real test comes when people begin stepping forward to disabuse them of such notions. Do they take the time to listen and learn? Do they make a change? Or do they proceed with their blinders on?
Time will tell, but in the meantime, our kids' lives are on the line.
***
Mad in America hosts blogs by a diverse group of writers. These posts are designed to serve as a public forum for a discussion—broadly speaking—of psychiatry and its treatments. The opinions expressed are the writers' own.
***
Mad in America has made some changes to the commenting process. You no longer need to login or create an account on our site to comment. The only information needed is your name, email and comment text. Comments made with an account prior to this change will remain visible on the site.